States' rainy day funds hit record high thanks to surpluses, fiscal planning
It took years for many states to climb out of the fiscal hole left by the nation's Great Recession. But budget conditions have been getting better and better over the past decade, punctuated most recently by two years of exceptional growth (see bar graph) and the opening of new revenue streams such as online sales taxes and sports betting.
These trends have state fiscal experts such as John Hicks, executive director of the National Association of State Budget Officers, now asking this question: "Are we still climbing the mountain, or are we at its peak?"
That's how he began his presentation to state budget leaders during a July session of the Midwestern Legislative Conference Annual Meeting in Chicago.
He offered some words of caution for legislators about recent surpluses and what to expect in the fiscal years ahead. For example, recent spikes in income-tax collections, both individual and corporate, have driven much of the state revenue growth, and some of these gains are only temporary — they're the result of how the new federal tax law impacted the timing of filings made by individuals and corporations.
If a revenue slowdown or downturn does occur, though, many states have now built up hefty reserves to cushion any blows. The median balance in state rainy day funds has reached a record high, Hicks said: 7.5 percent of general fund spending.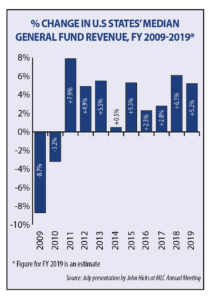 More states, too, are fully funding their pension contributions, and some are putting in extra dollars to these systems in order to chip away at unfunded liabilities. "Twenty years ago, you would never have seen that," according to Hicks. Other recent developments of note: more money being targeted to raise teacher pay, expansions of early-childhood education, and additional resources going to child-welfare programs (due in part to a rise in caseloads from the opioid crisis).
Over the longer term, Hicks said, perhaps the most notable change in spending has occurred in two areas: Medicaid and higher education, with states spending much more on the public health insurance program (20.2 percent of general-fund dollars today compared to 14.4 percent in 1995) and less on public colleges and universities (9.7 percent today vs. 12.9 percent in 1995).
On the revenue side, a majority of U.S. states (including Illinois, Indiana, Iowa, Michigan, Nebraska, Ohio and South Dakota in the Midwest) have increased their per-gallon taxes on gasoline since 2013. In addition, many states have begun to establish new or higher fees on electric and hybrid vehicles (the median fee is $120 a year).
Hicks told legislators that states also have been quick to respond to a U.S. Supreme Court decision that gave them the authority to require remote sellers to collect and remit sales taxes.
"If you think state governments are slow [to act], then you haven't watched what's been going on with regard to the online sales tax. … In two years, we've completely changed the process to get the benefits of that decision," Hicks said.
Nearly every state now has a statutory requirement on online sales taxes in place. And to relieve small businesses from administrative burdens, states such as Illinois, Indiana, Iowa, Nebraska, North Dakota, South Dakota and Wisconsin are requiring Amazon and other "marketplace facilitators" to handle the work of remitting and collecting sales taxes.
On average, revenue from online sales taxes is equal to about 2 percent of states' sales-tax totals, Hicks said.
Illinois, Indiana and Iowa will be the first states in the Midwest to begin getting dollars from another new revenue source: sports betting. Legislatures in those three states legalized the activity this year; their new laws include a mix of new license fees and taxes.