Under Ohio mentoring program, more students get chance to explore work in manufacturing
With nearly 700,000 workers employed in more than 12,000 firms, Ohio has the third-highest number of manufacturing jobs in the nation. That number, state Rep. Mark Romanchuk says, could be even higher. "Many good-paying manufacturing jobs are going unfilled," he notes.
Ohio is not alone.
According to the National Association of Manufacturers, 2.4 million manufacturing jobs will go unfilled across the nation over the next decade. Among the factors: low unemployment, a shortage of qualified workers, and retirement rates that are outpacing the entry of younger workers into this sector. In addition, despite competitive pay and good benefits,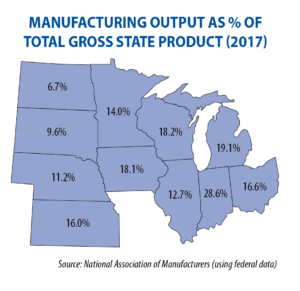 manufacturing jobs are often viewed as being low-skilled and undesirable, carrying the image of dirty factories filled with assembly lines and repetitive work.
Ohio policymakers are hoping to dispel these misconceptions by giving more young people early exposure to real-world, on-the-job experiences. Included as part of this year's biennial budget bill, HB 166, the Manufacturing Mentorship Program will allow 16- and 17-year-old students to work part-time in manufacturing jobs. Previously, any minor working in a manufacturing facility had to be enrolled in a career technical education program.
Participants in this new Ohio initiative will work under a mentor, and receive training in safety and the use of job-related tools and machinery. While being exposed to potential careers in manufacturing, students also will be encouraged to consider enrolling in career technical education programs. "Manufacturers can reach out and start training a potential employee who is as young as 16," Romanchuk says, "and the student will learn firsthand what a career in manufacturing looks like."
He believes many young people will like what they see.
As for the current labor-market challenges, Romanchuk knows them well. He is the owner of a manufacturing and fabrication firm, and represents a part of north-central Ohio with a strong manufacturing base. At a time when students are encouraged and assisted with career exploration as soon as middle school, Romanchuk sees early exposure to manufacturing as a way to help firms attract workers — by replacing old stereotypes about these jobs with the realities of today's manufacturing workplace.
Mentored students, meanwhile, will be better positioned for success.
"If they complete the program, there might be a good-paying job that will lead to a long, fruitful career," Romanchuk says.