Nebraska study lays out options for closing broadband divide, including use of 'reverse auctions'
---
---
In rural areas that lack access to high-speed internet, the productivity of farm operations is hurt, and access to telemedicine, distance education and e-commerce opportunities is hindered. That disconnectedness, Nebraska Sen. Curt Friesen says, is the reality for too many of his state's residents.
Officially, about 37 percent of rural Nebraskans lack access to broadband, a figure based on data from the Federal Communications Commission. But Friesen believes the percentage is even higher, because the FCC's use of census blocks to measure broadband likely overestimates access. (The federal agency is, in fact, now changing how it collects data in order to get more accurate figures.)
Friesen is hopeful, though, that a mix of recent policy changes and new recommendations can help begin closing the state's connectivity gap. This fall, a rural broadband task force laid out a plan for state action. According to Friesen, who served on the task force and sponsored the legislation creating it (LB 994 from 2018), two strategies stand out as ways to help build out broadband in Nebraska: one, modernizaton of the state's Universal Service Fund (USF); and two, support for the Public Service Commission's use of "reverse auctions."
Over the last five years, remittance to Nebraska's USF has decreased by one-third due to fewer people having landline phones. However, a recent change by the Public Service Commission is expected to stabilize funding — instead of a residential user's payment being based on a percentage of his or her phone bill, it is now based on the number of connections. As a result, fees from multiple cellular phones in a single household can be collected.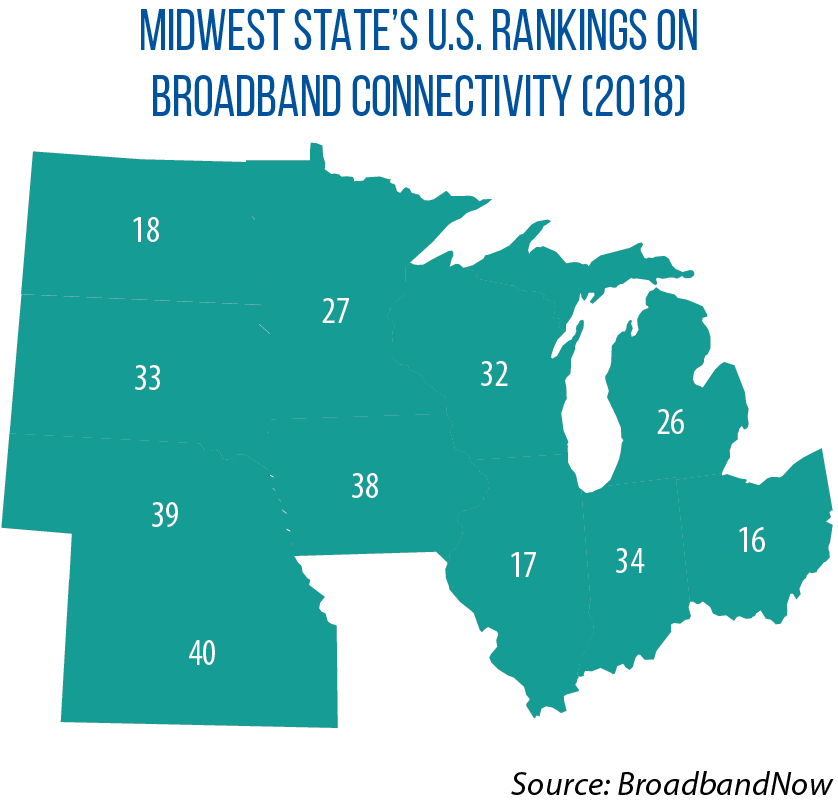 A stabilized USF better positions the state to partner with telecommunications providers to expand rural broadband. Still, the size of the fund is limited, the task force says, underscoring the need for greater state accountability of USF-supported projects. One idea: Withhold state reimbursement for a project until after the buildout has occurred.
The use of "reverse auctions" also is being explored as a way to make the best use of limited dollars in the Universal Service Fund. Friesen's legislation from 2018 authorized the commission's use of reverse auctions, and at the federal level, the FCC has been experimenting with this approach as well. In Nebraska, these auctions would be used to spur development in unserved areas where the incumbent carrier is not expanding broadband. The Public Service Commission would allow other service providers to bid on projects in these areas. The lowest bidder would then be eligible for USF dollars.
As in Nebraska, rural areas across the country are much less likely than urban areas to have fixed, high-speed internet access — 73.6 percent vs. 98.3 percent. In a 2018 study examining statewide adoption of rural broadband in Indiana, Purdue University economist Wally Tyner concluded that for every $1 dollar spent, there would be a nearly $4 return in economic growth.
Friesen says the current digital divide in Nebraska is causing many rural communities to fall behind. To close it, he adds, more public-private partnerships are needed — for example, between the state's public power districts (which already have the infrastructure in place to help with broadband buildouts) and local telecommunications suppliers.
"That communication is now occurring," Friesen says, noting one of the most important outcomes of the legislation from 2018 and the task force it created.