Growing pains likely as hemp production, and regulation of it, comes to states across Midwest
---
---
It didn't take long for the Midwest's legislators, and farmers, to jump at one of the new opportunities provided in the 2018 federal farm bill — the legalization and cultivation of industrial hemp. According to a CSG Midwest survey of state departments of agriculture, more than 70,000 acres of land were licensed in 2019 for hemp production across eight of the region's 11 states.
The three states without any licensed hemp growers in 2019 were South Dakota, where the governor has vetoed legislation to allow production, and Iowa and Ohio, which have been awaiting U.S. Department of Agriculture approval of their regulatory plans. (Ohio's plan was approved in early 2020.) Most U.S. states (including all in the Midwest except South Dakota) now have laws in place allowing for legal hemp production, for research and/or commercial purposes.
Despite these major policy changes, though, questions remain about how hemp will be regulated and where farmers will find markets for this crop. In October, the U.S. Department of Agriculture issued its interim final rule outlining requirements for state licensing programs. Many of these requirements match what states are already doing, but parts of the rule will require states to adjust.
According to the North Dakota Department of Agriculture's John Mortenson, his department has enough concerns about the USDA rules that it plans to continue to operate under the 2014 farm bill's pilot program. For it to be cultivated legally, hemp must contain 0.3 percent or less of THC (the chemical responsible for most of marijuana's psychoactive effects), and the USDA rule requires testing every field within 15 days of harvest. This is difficult to achieve for farmers and regulators alike.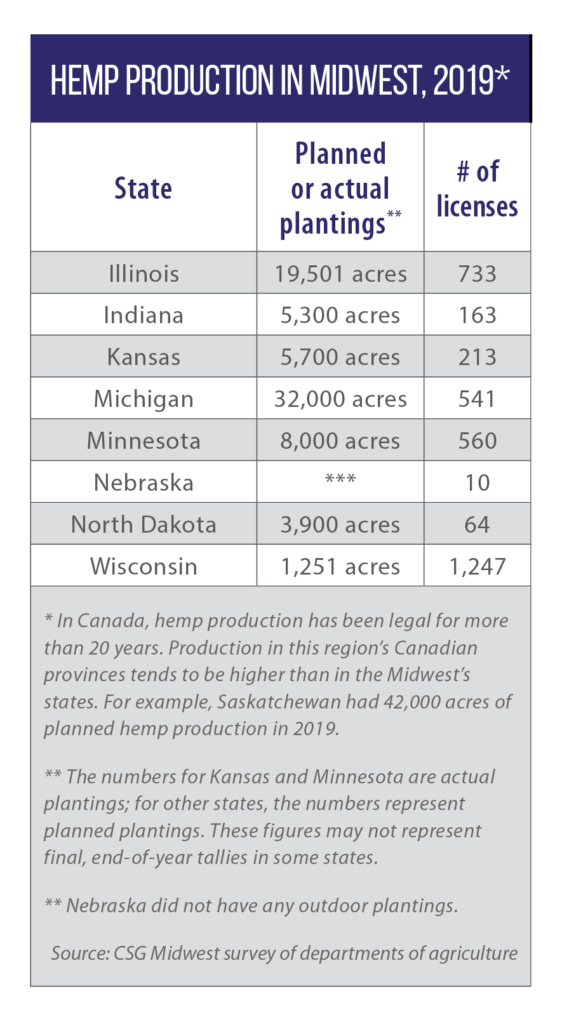 Because of changing weather conditions, farmers may have a hard time getting their entire crop harvested within that 15-day window. For state regulators, the challenge is collecting samples from the hundreds of fields all trying to harvest at the same time. Very few of the existing state licensing plans provide for the testing of every field, especially within a 15-day window as envisioned by the USDA.
In Illinois, for example, the state was planning to rely on random samples and to give growers the responsibility of contacting an approved lab. This will have to change in order to meet USDA requirements.
Across the border, in Canada, hemp production was approved more than 20 years ago. In that country, hemp fields are exempt from testing if a farmer uses government-approved seed varieties. The new USDA rule, however, does not address seed approval or certification. Another potential problem for states under the USDA rule: a requirement that THC testing of hemp crops be handled only by laboratories registered with the U.S. Drug Enforcement Agency.
There currently are not enough DEA-certified labs to test the number of expected samples in a timely fashion. In addition, if farmers' plants test at 0.5 percent or higher, they could be banned from growing hemp or face more serious consequences. Various environmental conditions, beyond the control of farmers, can impact the crop and cause THC levels to increase. As a result, the USDA expects that 20 percent of the hemp will be destroyed because it exceeds the THC limit.
Under the USDA rule, DEA agents or approved law enforcement must destroy the crops. This could require a big commitment of state resources, notes Braden Hoch of the Kansas Department of Agriculture, and he hopes the USDA will reconsider this part of the rule. For hemp farmers, there are even bigger issues than this regulatory uncertainty.
According to the USDA, 55 percent of all hemp grown in the United States is still in search of a market; Hoch puts the number in Kansas at 33 percent or more. Right now, U.S. growers are focusing on CBD oil production, but there also is a need for processors of non-CBD-eligible hemp fiber.
And a look across the border, at Canada's more-mature market, points to other potential uses. According to Dale Risula of the Saskatchewan Department of Agriculture, domestic hemp is used in the production of hemp oil and hemp hearts for use in foods. Because hemp seed contains a beneficial mixture of healthy fats and fatty acids, demand for it may grow. Risula notes, too, that Canada has a plan to eliminate single-use plastics; hemp could be a substitute fiber.