Some states look to expand postpartum Medicaid coverage to reduce maternal mortality
---
---
A new Kaiser Family Foundation report recommends that states seeking to reduce maternal mortality should expand their Medicaid programs' postpartum coverage to from the federally mandated 60 days to a full year from the date of birth.
The report also recommends raising parental income eligibility levels and
• Expanding coverage for specific populations like under-insured women or mothers suffering from substance use or mental health disorders, and expanding postpartum services like lactation consultations and breastfeeding supplies,
• Expanding postpartum coverage for family planning services to provide pregnancy planning and healthy birth spacing and, for states that haven't,
• Adopting the Affordable Care Act's Medicaid expansion.
Federal law requires states to provide postpartum coverage for women with incomes of up to 138 percent of the federal poverty level, which in 2020 was $21,720 for a family of three. Babies born to women on Medicaid are automatically covered for their first year.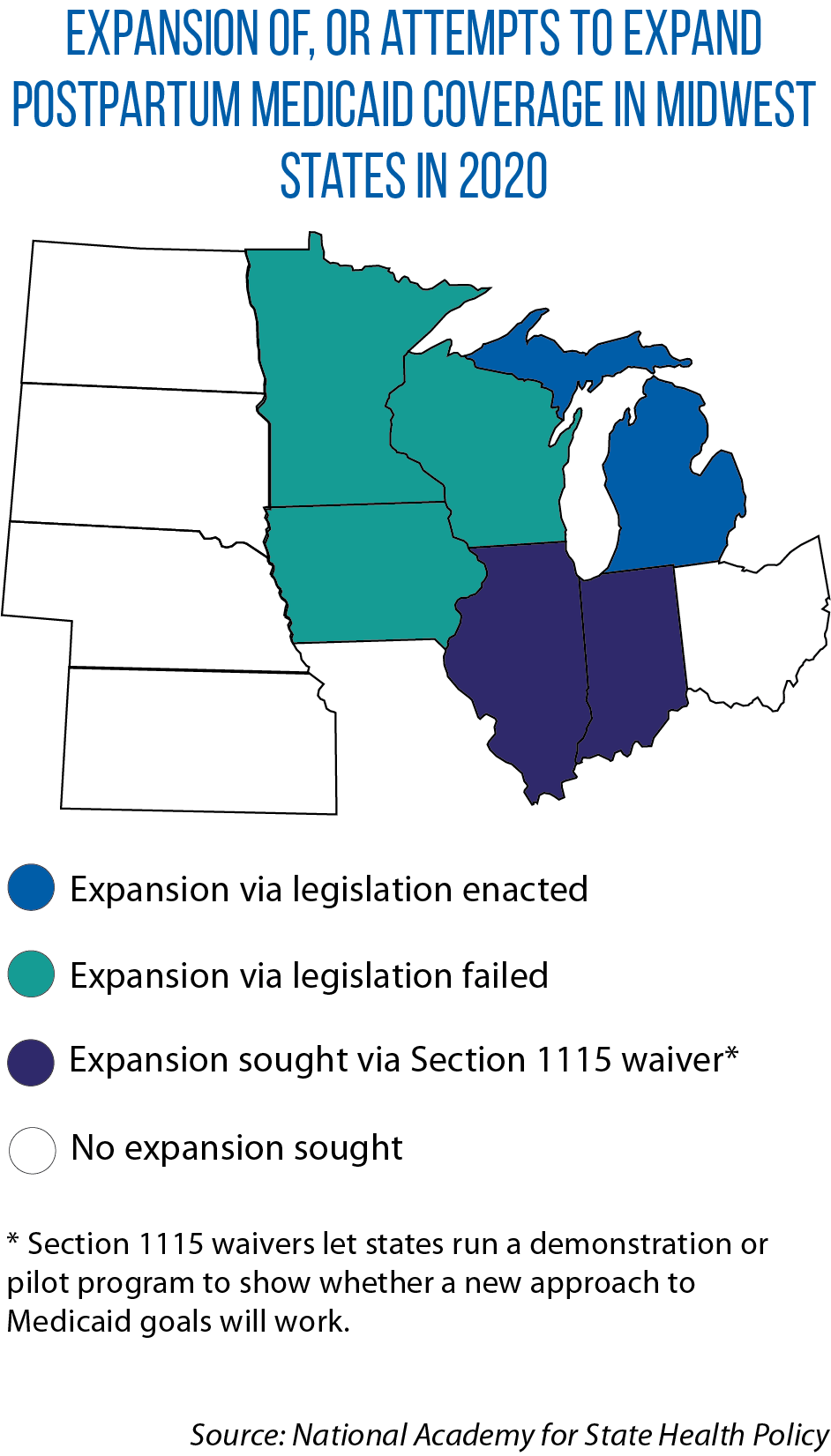 Medicaid pays for prenatal care, childbirth and delivery services. States that adopted Medicaid expansion must also cover preventative services recommended by the U.S. Preventative Services Task Force. Beyond that, states can choose which other services to cover.
Illinois and Indiana seek to expand coverage from 60 days to one year via Section 1115 waivers, which are being evaluated by the U.S. Centers for Medicare and Medicaid Services.
Illinois' waiver, submitted in January 2020, seeks to extend coverage to reduce maternal deaths and better address social determinants of health, as well as improve the health of babies covered by the Children's Health Insurance Program.
Indiana's waiver, submitted in October 2020, seeks to expand coverage for mothers at or below 213 percent of the federal poverty level who are suffering from Opioid Use Disorders to reduce maternal morbidity and mortality "by providing additional health care access and case management support."
Michigan's 2021 budget includes $12.6 million for the Healthy Moms, Healthy Babies initiative, which expands coverage to a full year.
Other legislation to expand such coverage was considered in 2020 but failed in Iowa (SF 2062), Wisconsin (SB 630/AB 693), and Illinois (an amendment to HB 4 that would have covered doula and evidence-based home visiting services for up to a year following birth).
Minnesota's HF 7 would have directed the state's human services commissioner to study ways to expand postpartum Medicaid coverage, including Section 1115 waivers, and report to the Legislature by Dec. 15, 2021. Introduced during a special session, it also failed.
Maureen Hensley-Quinn, senior program director at the National Academy for State Health Policy, says postpartum Medicaid coverage will be one of the primary non-COVID-19 issues in health, even if it's overshadowed in 2021 by the ongoing pandemic.
"We know that maternal health and morbidity is a priority for many states," she says. "We know that Black and minority women are more likely to be uninsured, and therefore more likely to have conditions that lead to morbidity."
Under federal law, those on Medicaid can't lose coverage while a federal public health emergency declaration is in effect.
Jon Davis serves as CSG Midwest staff liaison to the Midwestern Legislative Conference Health & Human Services Committee.