Midwest states in middle of national debate over laws on 'riot boosting,' protecting energy infrastructure
---
---
Six months after passage of an "anti-riot boosting" measure that received national attention, South Dakota's governor and attorney general agreed to a settlement that effectively nullifies certain provisions of this 2019 legislation (SB 189), along with two other existing laws.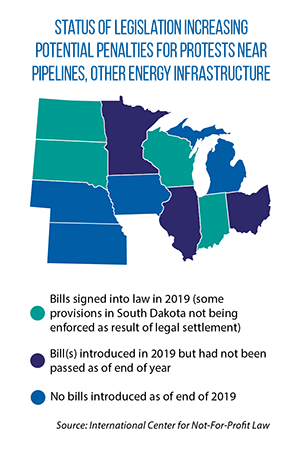 The settlement was announced in October, one month after parts of SB 189 were ruled unconstitutional in U.S. District Court. Under the agreement, the state will no longer enforce laws that made it a felony for an individual to encourage or solicit violence in a riot, whether or not participating directly. The agreement also strikes down most provisions in SB 189, except a section that allows the state to collect compensation from individuals who cause damage during protests.
South Dakota's Riot Boosting Act aimed to create ways for the state to pursue legal action against out-of-state actors who assist, financially or otherwise, with violent protests and/or riots. Over the past five years, 17 states have passed laws related to riots or protests, often with a particular emphasis on protecting pipelines or other critical energy infrastructure, according to the International Center for Not-For-Profit Law.
Much of this legislative activity has been a reaction to protests in 2016 in North Dakota over the Dakota Access Pipeline. According to Gov. Kristi Noem, SB 189 was introduced to "ensure the Keystone XL pipeline and other future pipeline projects are built in a safe and efficient manner while protecting our state and counties from extraordinary law enforcement costs."
With that goal in mind, and in an attempt to not violate rights to free speech, Noem was planning in late 2019 to introduce new legislation. Her idea, the Minneapolis Star Tribune noted in December, is to change struck-down portions of the law so that oral and written advocacy is not considered urging or inciting a riot.
New laws in 3 other states
The ACLU of South Dakota argued that the 2019 law's "broad language invites arbitrary enforcement" and was too vague to understand what behaviors and actions were and were not allowable. In the Midwest, three other states have new laws that increase potential penalties for protests near pipelines or other "critical infrastructure."
These laws don't have the same "riot boosting" language as South Dakota's, though Indiana and North Dakota legislators did include language allowing for fines of up to $100,000 for any individual and/or organization that conspires with individuals who commit offenses outlined in the new statutes.
Indiana's SB 471 creates the offenses of "criminal infrastructure facility trespass" and "critical infrastructure facility mischief," carrying penalties of up to 30 months and six years in prison, respectively. North Dakota's SB 2044 criminalizes "interfering, inhibiting, impeding or preventing the construction or repair of a critical infrastructure facility." Violators face a $10,000 fine and/or up to five years in prison.
In November, Wisconsin Gov. Tony Evers signed AB 426. Individuals who trespass or intentionally cause damage to the property of an energy provider now face a felony charge punishable by up to six years in prison and a $10,000 fine.