Michigan took a hard look at its county jail system and population, and now has several ideas for reform
---
---
After nine months of extensive, unprecedented analysis of Michigan's county jail populations, a specially formed task force has delivered 18 recommendations to the Legislature designed to improve state policies and curb rising jail incarceration rates.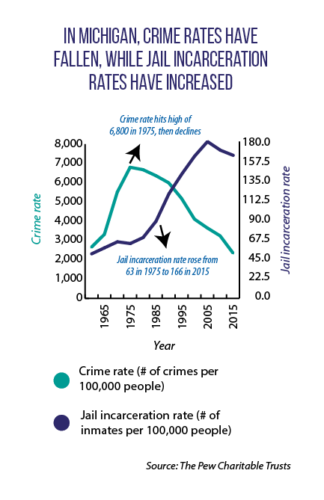 The bipartisan task force's work reflects concerns in Michigan about the impact of a growing jail population, which has occurred even amid big drops in the state's total crime rate (see line graph).
Who is being sent to these facilities? Why? And for how long?
Getting statewide answers to these questions has been difficult because the data and records on jail inmates are held individually by Michigan's 83 counties. Part of the job of the task force (formed by gubernatorial executive order), then, was to collect this information and find statewide patterns. It analyzed arrest information from 600 law enforcement agencies, court data from 200 district and circuit courts, and admission records from 20 representative county jails.
Among the findings:
Michigan's jail growth is equally attributable to pretrial detentions and inmates serving short-term, post-conviction sentences.
While most people admitted to jail stayed for less than a week, those who stayed for longer than one month made up 82 percent of jail bed-days.
Driving without a valid license was the most common reason for jail admission.
The recommendations now under legislative consideration reflect these and other findings. For example, because of the role of traffic violations in the overall jail population, one idea is to "stop suspending and revoking licenses for actions unrelated to safe driving."
And because the majority of the population is in jail for less than a week, the task force recommends shortening the time people spend in jail between arrest and arraignment – to 24 hours in most instances, and no more than 48 hours. It also says the state's bail laws should be revised, by strengthening the presumption of release on personal recognizance and setting higher thresholds for judges to impose non-financial and financial conditions for release.
For defendants who cannot afford bail, or who are not eligible for pretrial release and must stay in jail for longer than a week, the task force recommends that they be tried within 18 months of arrest.
It also proposes policy changes to decrease the number of people entering the jail system at the front end – for example, expand police officers' discretion to use appearance tickets as an alternative to arrests; reduce the use of arrest warrants for failure to appear in court or pay fines and fees; and make greater use of behavioral health services to deflect people away from Michigan's criminal justice system and connect them with treatment options.
In January, Michigan House Speaker Lee Chatfield and Senate Majority Leader Mike Shirkey stated their intentions to review the recommendations and introduce them to the legislative process.
"I really feel strongly that the recommendations are interrelated; they really should be adopted as a package," says Bridget Mary McCormack, chief justice of the Michigan Supreme Court.
McCormack, who served as co-chair of the task force along with Lt. Gov. Garlin Gilchrist II (other members included legislators, law enforcement and judges), says the nine months of jail-population analysis yielded useful, and sometimes unexpected, results.
"For me personally, I was surprised to learn that the jails in our rural counties were growing far more significantly than the jails in our urban populations," McCormack notes.
This could be due to rural counties having a lack of alternatives to jail, but also the fact that one in four people in rural jails are held by non-county authorities, such as the federal government or the state Department of Corrections. This is up from one in nine in the 1970s.