States take lead on PFAS problem
'Forever chemicals' persist in environment and are linked to health problems; options include drinking water standards, legal remedies to help fund cleanup efforts
---
---
Michigan and Minnesota are leading the charge to corral compounds known by an alphabet soup of acronyms that have become the source of widespread concerns about the safety of drinking water across the Midwest.
Per- and polyfluoroalkyl substances, known collectively as PFAS, are a group of more than 4,700 chemicals that have been in use since the 1940s.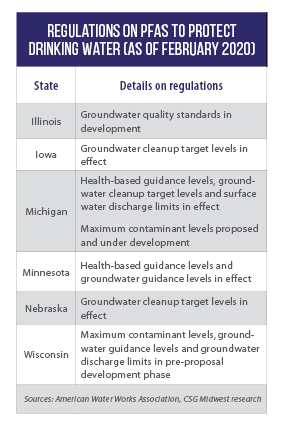 Their chemical structures make PFAS resistant to stains, grease and water, which led to their widespread use in paper and cardboard packaging, food wrappers, personal care products, carpeting and clothing — anything treated with Scotchgard, for example — fire suppression foams, and materials with non-stick properties such as Teflon. Industrial applications include chrome plating, electronics manufacturing and oil recovery.
Known as "forever chemicals" because they don't break down, PFAS can accumulate over time, including in drinking water.
That aspect, combined with related health hazards that have become known in the last 20 to 30 years, has led many states to begin learning just how pervasive PFAS are, the threats they pose, and how best to regulate them.
According to the U.S. Environmental Protection Agency, "studies indicate that PFOA and PFOS can cause reproductive and developmental, liver and kidney, and immunological effects in laboratory animals. Both chemicals have caused tumors in animals." (PFOA and PFOS are part of the group of PFAS chemicals.)
The federal agency also reports higher cholesterol levels among exposed populations, and more limited findings related to low birthweights, effects on the immune system, cancer (for PFOA) and thyroid hormone disruption (for PFOS).
In 2009, the EPA set initial "health advisory levels" at 400 parts per trillion for PFOA and 200 ppt for PFOS. The agency reset those to a sum of 70 ppt for both chemicals in May 2016, but, as stated on EPA's website, such advisories "are non-enforceable and non-regulatory" and intended as informational guides for state and local officials on dealing with contamination above the advisory level.
While the EPA is working on setting "maximum contaminant levels" — legally enforceable limits on what is allowed in drinking water — for PFAS, states today are left mostly to their own devices.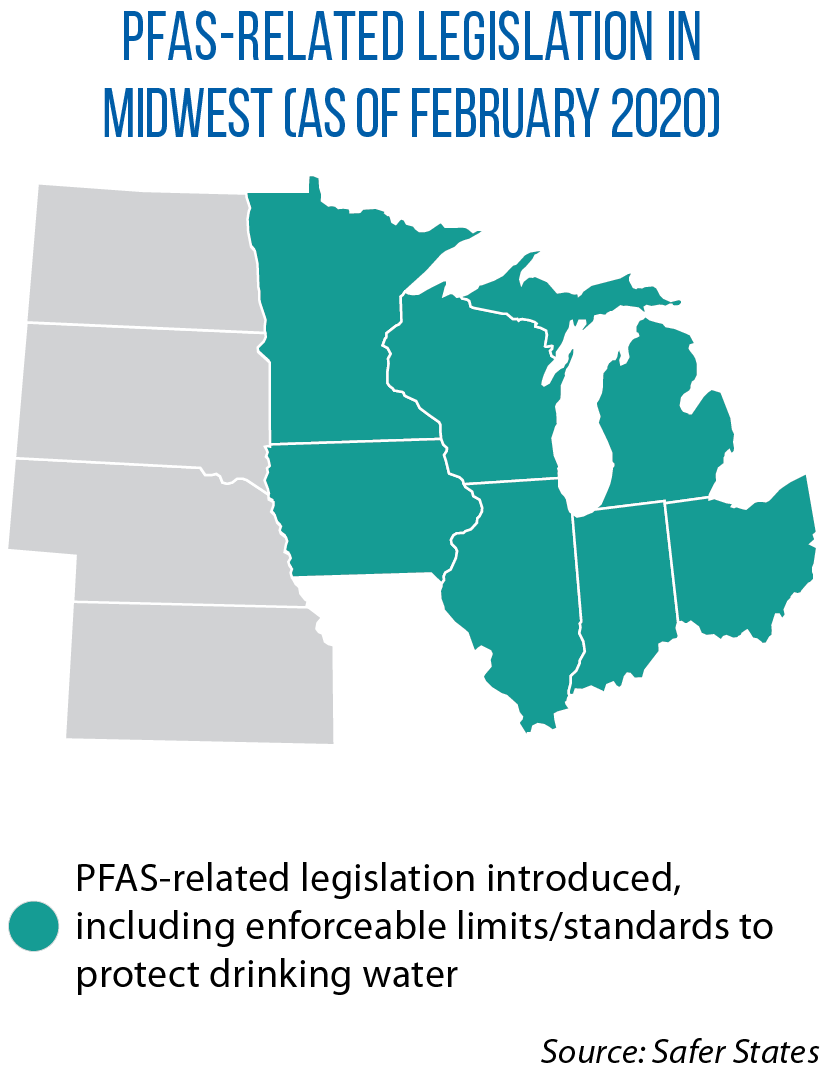 The best thing states can do to gauge their PFAS situations is to monitor and test water systems and wells for contamination, says Rebecca Klaper, director of the Great Lakes Genomics Center at the University of Wisconsin-Milwaukee's School of Freshwater Sciences.
"It's not like, 'Who hasn't known these compounds were around?' but we're able to detect them at much lower levels, and we now know some of the potential health effects of exposure, even at lower levels," Klaper says. "We don't really have great ways to clean up the industrial sources, so a good place to start is drinking water."
Michigan's Multi-faceted approach to PFAS
Michigan in 2015 became the first state in the Midwest to set limits on allowable discharges into surface water: 11 ppt for PFOS and 420 ppt for PFOA, according to the American Water Works Association.
In 2018, Michigan began testing public water systems as part of a systematic, ongoing statewide effort to identify sources of contamination through an inter-agency Michigan PFAS Action Response Team.
The team was created by executive order in November 2017 by then-Gov. Rick Snyder; Gov. Gretchen Whitmer used an executive order in February 2019 to make it a permanent body within the Michigan Department of Environment, Great Lakes, and Energy.
(Two pending bills, HB 4746 and SB 402, would codify the action team in state law.)
Among this team's tasks:
• Identify impacted locations and implement a plan to assist state and local authorities to ensure the safety of Michigan's land, air and water.
• Assess the status of PFAS-contaminated sites and develop individualized site-response strategies.
• Develop environmental response and health protocols.
In 2019, Michigan officials announced they would begin the rule-making process to formalize new maximum contaminant levels for seven specific PFAS compounds based on recommendations from the action team's Science Advisory Workgroup.
The state has spent about $25 million annually on PFAS cleanup since creation of the Action Response Team, says department spokesman Scott Dean. Legislators appropriated $30.6 million for PFAS activities in fiscal year 2019.
Michigan is also suing PFAS manufacturers as part of what Dean says is a "multi-faceted" approach to the cleanup problem. In February, the state settled a two-year-old lawsuit against Wolverine Worldwide Inc. over PFAS contamination of residential wells in townships north of Grand Rapids.
Under a proposed consent decree, Wolverine will pay $69.5 million to extend municipal water to more than 1,000 properties, to continue the use of drinking water filters in the area where PFOA and PFOS concentrations exceed 10 ppt, and to sample residential wells.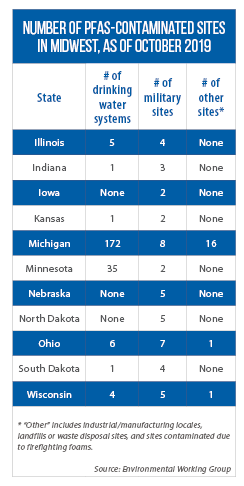 In addition, Wolverine will have to monitor contamination, as well as investigate and address PFAS contamination in surface waters.
In January, Michigan Attorney General Dana Nessel sued 17 companies, alleging they "deliberately concealed the dangers of PFAS and withheld scientific evidence" about them while selling and distributing them in Michigan "in a way that they knew would contaminate natural resources and expose Michigan residents to harm."
Michigan Sen. Winnie Brinks, whose constituents were among those affected by the Wolverine situation, says that ordeal led her to introduce legislation (SB 14) in January 2019 to set state maximum contamination limits of 5 ppt on PFAS and PFOA.
"I knew it wouldn't move, but it started a good conversation," Brinks says, adding she is glad the state is moving to regulate the seven compounds. "These seven are simply the ones we know the most about, so that's where we're starting."
Minnesota and Ohio, too, have turned to the courts.
Ohio sued DuPont in 2018; that case is winding its way through a state court.
Minnesota's 2010 lawsuit against 3M alleged the company's production of PFAS had damaged drinking water and natural resources in the southeast Twin Cities metro area.
3M settled in February 2018 for $850 million; as a result, the state has $720 million to use for safe drinking water and natural resources enhancement projects in the damaged areas.
An August 2019 report from the Minnesota Pollution Control Agency and the Department of Natural Resources (co-trustees of the settlement fund) said $32.4 million is estimated to be spent in the current fiscal year on PFAS cleanup projects.
If any funds are left over after those goals are met, money could be used for other projects around the state, says Walker Smith, a spokesman for the Pollution Control Agency.
Last year, Minnesota also lowered its own PFOS health advisory level — which was already lower than the EPA's 70 ppt — from 27 to 15 ppt.
Legislation introduced in February (HF 3268) would create a PFAS task force akin to Michigan's, with a goal of reducing contamination by 50 percent by 2026 and 90 percent by 2030.
New rules on Drinking Water and use of Firefighting foams
Other Midwestern states are also taking regulatory and legislative action, especially to ban firefighting foams made with PFAS: Minnesota and Wisconsin have prohibitions in place; legislation was introduced this year Iowa (HF 2241) and Ohio (HB 328).
In Wisconsin, the state Department of Natural Resources has begun the rule-making process to set maximum contaminant levels for drinking water; the new rules are anticipated to be finalized in late 2021 or early 2022, and take effect later that year.
The Illinois Environmental Protection Agency is proposing new, enforceable groundwater standards for PFAS and will send them to the state's Pollution Control Board for approval later this year.
Along with this activity in state agencies, legislation to set maximum contamination levels for PFAS has been introduced this year in Illinois (HB 3982), Indiana (HB 1338), Iowa (HF 2343) and Ohio (HB 497).
Iowa and Ohio also have released PFAS action plans laying out the need to identify sites that are or might be contaminated, steps to prevent contamination, and steps to educate the public and local officials.
According to Klaper, identifying and eliminating sources of PFAS contamination are good steps to take, but their known and suspected health problems won't go away, especially since the science is known only for a handful of the thousands of PFAS compounds.
"It may be that we have to get rid of the whole class of chemicals" as was done with PCBs and CFCs, she says.
U.S. and Canadian environmental agencies preparing to tighten federal regulation of PFAS
PFAS have been on the U.S. Environmental Protection Agency's radar since at least 2002, when it issued "significant new use rules" requiring that the EPA be notified before any imports or manufacturing of 88 such compounds.
The agency's 2019 PFAS Action Plan indicates a more active regulatory regime is coming, including national maximum contaminant levels, nationwide monitoring of drinking water, and the addition of some PFAS chemicals to the EPA's Toxics Release Inventory Program (which tracks the management and releases of more than 650 chemicals that pose threats to human health and the environment).
Pending legislation in the U.S. Congress (H.R. 535) would designate PFAS as hazardous substances and require remediation of their release into the environment; require the EPA to create drinking water regulations for certain PFAS compounds and to test all PFAS compounds for toxicity; regulate the use of PFAS in firefighting foams without jeopardizing firefighting efforts; and develop a public risk-communication strategy. H.R. 535 was approved by the House in early January.
Another bill, S. 3227 (introduced in January), would require the EPA to classify PFAS chemical compounds as hazardous substances and would hold polluters accountable for the cleanup of their contamination under an existing Superfund law.
In Canada, PFOS and PFOA compounds are controlled under federal "Prohibition of Certain Toxic Substances Regulations," which prohibit the manufacture, use, sale, offer for sale or import of these substances, as well as products containing them, with a limited number of exemptions.
Health Canada posted finalized "Guidelines for Canadian Drinking Water Quality for PFOS and PFOA" in December 2018, as well as updated guides for "maximum acceptable concentration" levels in April 2019.
Environment and Climate Change Canada (the EPA's Canadian counterpart) is in the process of amending the 2012 regulations by removing the exemptions.
The proposed amendments are scheduled for publication in fall 2020, followed by a 75-day public comment period.
Jon Davis serves as staff liaison to the Midwestern Legislative Conference Health and Human Services Committee.