As COVID-19 burns through the Midwest, legislators brace for effects on states' Medicaid budgets
---
---
Having been hit once by the onset of COVID-19, states should now be bracing for another punch ­— a surge in Medicaid enrollment, and spending, as their economies absorb the pandemic's shock.
Thirty million Americans were already out of work by late April, and "many of them will be coming on to Medicaid," says Lindsey Browning, program director for Medicaid operations at the National Association of Medicaid Directors.
The Congressional Budget Office on April 24 projected unemployment rates will average 15 percent for the next six months before falling to 9.5 percent by the end of 2021.
"Medicaid is at the center of two storms hitting the nation: the pandemic and the economic recession that's coming in its wake," Browning says.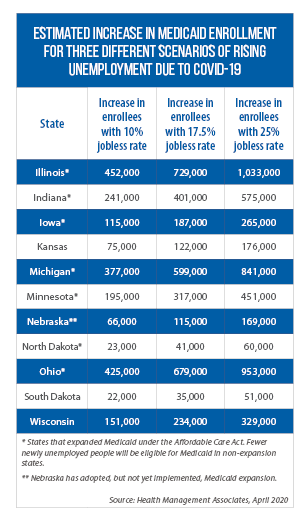 The best thing state Medicaid directors can do now to prepare for that financial onslaught is to model different likely scenarios and begin educating their governors and legislatures as to what the options are likely to be, Browning says.
She cautions that state officials and legislators should be careful about looking for lessons from the "Great Recession" of 2008-09 when trying to figure out what will happen now. Medicaid directors have been looking at that question, and the consensus is this economic decline is is going to hit state health budgets much differently.
"2008 was a gradual increase [in enrollment], this time we're expecting a dramatic uptick," Browning says.
On the ground, so far
"That hasn't quite played out yet," Illinois Rep. Robyn Gabel, chair of the House Appropriations Committee's Medicaid & Managed Care subcommittee, said in a late April interview. "I think a lot of businesses still have people on their insurance, waiting to see how this plays out."
But Wisconsin Rep. John Nygren, who co-chairs the Legislature's Joint Committee on Finance, said in late April that he and his colleagues are "definitely" anticipating a huge growth in Medicaid enrollment, coupled with a significant drop in revenue.
"It's going to be a double whammy," Nygren says.
The 2008-09 recession's impact on Wisconsin's biennial budget for 2011-13 resulted in drawing $700 million out of its "rainy day" fund. But that was a normal recession, Nygren say.
Wisconsin's pre-pandemic budget for FY 2021 slated $11.1 billion for Medicaid.
Legislators there passed AB 1038 in the state's first virtual session on April 15 (Gov. Tony Evers signed it that same day). That new law allows the state to suspend some Medicaid rules (including a work requirement) in order to meet requirements in the Families First Coronavirus Response Act for increased federal Medicaid funding.
Legislators are waiting to see what happens next, while knowing it won't be good, Nygren says.
"You don't go from 3.8 percent unemployment to 18 percent in six weeks without some major costs," he says. "The more we gain experience with this situation, the more I fear we're in for an extended economic downturn." Even after re-opening, he adds, people will be reluctant to return to business as usual.
Both Gabel and Rep. Norine Hammond, who sits on the House Human Services Committee's Medicaid Subcommittee, say Illinois legislators are in much the same predicament. But Gabel says federal funding from the four COVID-related bills to pass U.S. Congress to date — including the 6.2 percentage point increase in the federal contribution for Medicaid in the Families First Act, $100 billion in the CARES Act and $75 billion in the federal Paycheck Protection Program and Health Care Enhancement Act (H.R. 266) — has provided a cushion of sorts.
"I'm hearing more about the general fund than Medicaid," Gabel adds.
Illinois Gov. J.B. Pritzker's pre-pandemic budget for fiscal year 2021 proposed spending $27 billion, including $7.9 billion in general funds, on Medicaid.
Hammond says the state applied for and received approval for federal waivers to expand coverage of over-the-counter medications and to expand the definition of allowed facilities to include drive-through COVID-19 testing facilities.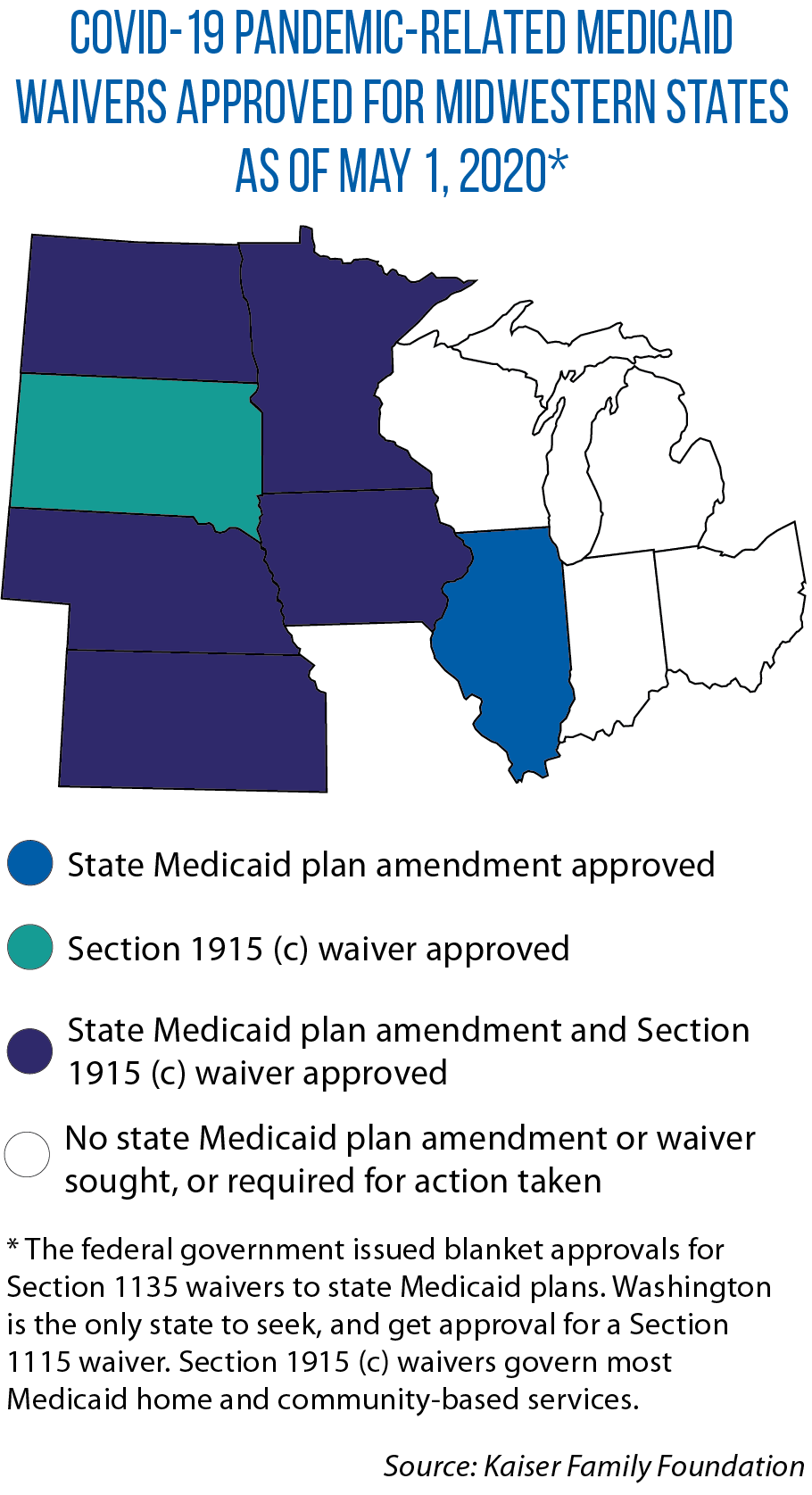 Section 1135 waivers allow temporary modifications of states' Medicaid plans in a presidentially declared national emergency. They usually end no later than 60 days after the emergency is over but can be extended for additional 60-day periods.
As of April, Illinois was pursuing a Section 1115 waiver to eliminate out-of-pocket costs for uninsured residents, Hammond says.
The idea is to pursue as much federal reimbursement for the state's up-front costs to combat the pandemic, Hammond says, adding "we're hopeful" of recouping much of what the state will have to soon spend.
"Now, our focus is all in on COVID-19 and what it's doing to the budget," she says. "We know it's going to have a significant impact financially, not only in Illinois but in all states."
Federal aid for states
The Families First Coronavirus Response Act (signed on March 18) raises the federal share of states' Medicaid funding by 6.2 percentage points from Jan. 1 through "the last day of the calendar quarter in which the public health emergency declared by the Secretary of Health and Human Services for COVID-19, including any extensions, terminates."
So, if the federal government funded 50 percent of a state's Medicaid costs, it will fund 56.2 percent during the COVID-19 emergency. (This does not apply to people covered by the Affordable Care Act's Medicaid expansion; the federal government covers 90 percent of costs for that population.)
States cannot cut people from Medicaid coverage during the emergency.
The Coronavirus Aid, Relief and Economic Security (CARES) Act, signed on March 27, provides $100 billion in emergency health funding to help states and other entities cover COVID-19 costs. These expenditures include range from testing, to broadening the use of telehealth services, to workforce training.
The Paycheck Protection Program and Health Care Enhancement Act (H.R. 266), signed on April 24, provided another $75 billion to be distributed in the same way as CARES Act funding. However, that measure did not include any extra Medicaid funding.
Jon Davis serves as staff liaison to the Midwestern Legislative Conference Health and Human Services Committee.