Michigan and Ohio gearing up for big changes in how new political maps will be drawn
---
---
In May, Michigan ended its first phase of a new redistricting process that is the first of its kind in the Midwest (see map). More than 6,000 Michigan voters completed applications to be part of a 13-member citizens commission that will redraw the state's political maps next year. This transition away from legislatively drawn districts is the result of a voter-approved constitutional amendment in 2018.
Last year, the Michigan secretary of state's office launched an online application portal and sent applications to 250,000 randomly selected voters. With the application deadline now passed, 200 applicants will be chosen as semifinalists. These selections are random, within a constitutional constraint that the pool of semifinalists "mirror the geographic and demographic makeup of the state."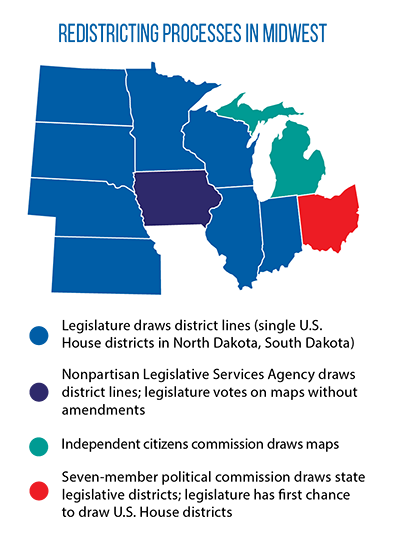 Each of Michigan's top four legislative leaders (two Democrats, two Republicans) can remove up to five of the semifinalists from the list. The 13 members of the commission will then be randomly chosen, in accordance with the necessary partisan balance: four citizens affiliated with the Republican Party, four with the Democratic Party, and five unaffiliated with either major party.
A second Midwestern state, Ohio, is also entering a new era of redistricting. That is because of new rules that encourage the drawing of maps that receive bipartisan support in the General Assembly and/or among the seven members of a Redistricting Commission: the governor, secretary of state, state auditor and four legislative representatives from both parties. Under a constitutional amendment adopted by voters in 2015, this commission will draw the lines for state legislative districts.
A voter-adopted amendment in 2018 also changed how Ohio's U.S. House district lines will be drawn, with the process starting with the General Assembly. Any initial plan must receive a three-fifths "yes" vote in both the House and Senate, including support from at least half of the members of each of the state's two largest political parties. The plan also would require gubernatorial approval. If the General Assembly does not approve a plan, congressional redistricting is turned over to the commission.
Any commission-drawn map will require "yes" votes from at least two Republican and two Democratic members. If the commission cannot reach an agreement, the General Assembly regains control of the process. At this stage, a new map can be approved with a simple majority vote, but it would have to comply with several "anti-gerrymandering requirements" and expire after only two general elections.