Under Senate-passed bill in Ohio, many more drug possession offenses would no longer be felonies
---
---
The statistics about drug addiction and its consequences — the number of overdose deaths, and the rates of people arrested and imprisoned — are everywhere for policymakers to see.
But Ohio Sen. John Eklund says those numbers can't tell the full story, and often fall short of moving legislators to reconsider their states' policies on drug crimes and punishment.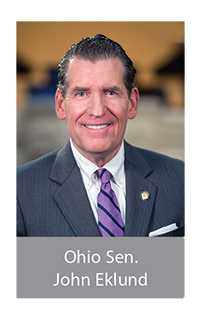 "It's really about learning the stories of those who are addicted, their family and their friends, and about the [personal] consequences," he says, "and why the system is not working the way it is now."
Those stories have helped fuel Eklund's push for passage of SB 3, a bill that the Ohio Senate overwhelmingly approved in late June (by a vote of 25-4) — more than 16 months after he introduced the bill.
If signed into law, SB 3 would reclassify Level 4 and Level 5 felony drug possession charges as misdemeanors. These charges typically apply to individuals arrested for having low amounts of controlled substances, with the possession assumed to be for personal use.
The bill's origins, and Eklund's work on recodifying drug laws, date back to the work of a multibranch committee that included legislators, judges, prosecutors, public defenders, police and criminal justice experts.
During his time on that committee, Eklund was struck by "how felonies for drug possession charges have much broader implications than just simply a criminal conviction."
He points, for example, to the "scarlet letter" that follows people who are criminally prosecuted for drug crimes in which there was effectively no malicious intent. The lasting effects include statutory collateral sanctions and societal effects such as having trouble finding housing and jobs.
The result, he says: Outsized consequences that do not match a drug possessor's or user's actions.
"We should be incarcerating the people we are afraid of, not the people we are mad at," he adds.
Outside the Midwest, a handful of states already have changed their statutes in recent years to reclassify drug possession as a misdemeanor
An attempt to change Ohio's law via the ballot failed two years ago when voters rejected Issue 1, which would have amended the state's Constitution to reclassify the possession and use of drugs and drug paraphernalia as misdemeanors
Issue 1's failure was partly attributed to the permanent nature of a constitutional amendment and the difficulty in adjusting the law if needed. Those who backed Issue 1 regrouped, however, and decided to pursue legislation.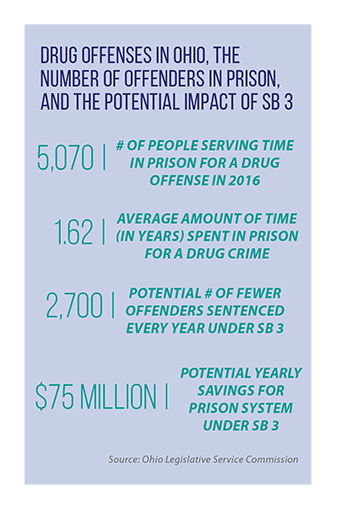 According to the nonpartisan Ohio Legislative Service Commission, SB 3 could result in a reduction of annual prison admissions by 2,700 and save the state Department of Rehabilitation and Correction up to $75 million annually.
Some additional cost burdens, though, may be borne by localities that handle lower-level offenses such as misdemeanors.
While SB 3 reduces penalties for many lower-level possession charges, it also creates a new felony charge for possession with intent to distribute or sell relatively low amounts. "Intent" in these cases would be determined by common-law processes on a case-by-case basis.
This clause was included in anticipation that legislators would otherwise object to the bill on the grounds that drug dealers would not be held accountable.
Why was there such a long time between introduction of SB 3 and Senate passage?
For one, Eklund says, there was a year-long process of negotiations. Then, after other legislative matters sucked up a lot of time and energy at the end of 2019, Eklund was hopeful that SB 3 could be addressed in early 2020.
"Before you know it, we are in the middle of the coronavirus crisis," he says. "Because of the inability of the legislature [to meet] and the orders from the state to stay home… we basically lost eight weeks of our legislative lives."
The House will have until the end of this year to act on SB 3.