Stakes are high for region's economy amid questions about future of tariffs on aluminum, potential for subsequent retaliatory trade actions
---
---
During an August visit to a factory in Ohio, President Donald Trump announced tariffs of 10 percent on Canadian aluminum, saying a surge of exports from north of the border was threatening "to harm domestic aluminum production and capacity utilization."
But then in mid-September, hours before Canada was to announce specific retaliatory tariffs, the U.S. Trade Representative's office announced that the tariffs on Canadian aluminum would be removed, retroactive to Sept. 1.
Those two actions marked the latest turn in an on-again, off-again conflict over aluminum, which is used in key industry sectors across the Midwest. And Trump's announcement in August came just over a month after the U.S.-Mexico-Canada Agreement took effect.
The new tariff would have been imposed on a particular type of aluminum, non-alloyed unwrought aluminum, which is used in many products, from automobiles to washing machines to food and beverage packaging. The transportation sector is the largest end user of aluminum, and under the USMCA, 70 percent of the steel and aluminum used to build cars and trucks must originate from North America.
The result of the new tariff would have been the use of less aluminum from Canada, higher prices on vehicles, or both.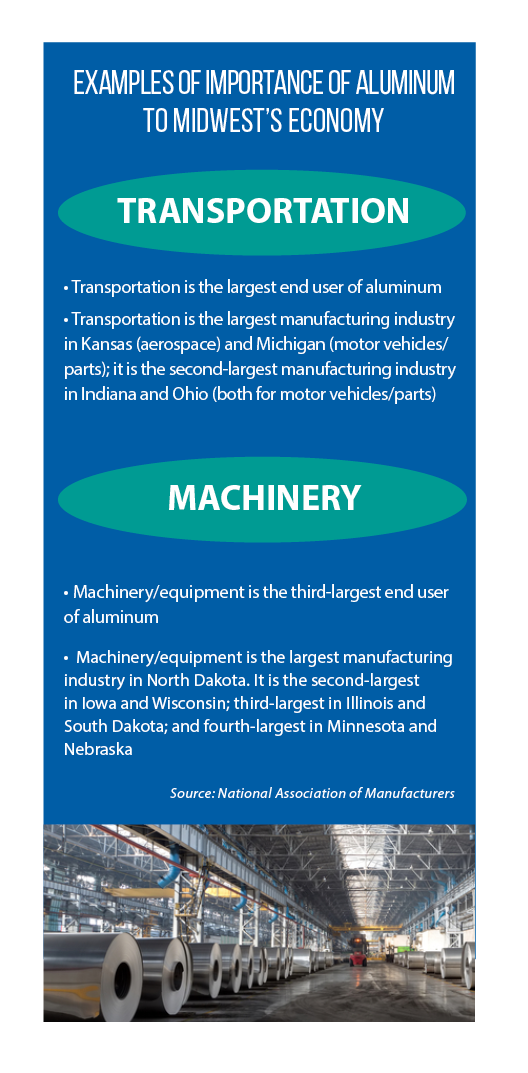 Two years ago, the United States imposed tariffs on steel and aluminum from Canada as well as other trading partners. Presidential authority to do so comes from a decades-old federal law that allows such restrictions if import levels for certain goods are deemed a threat to national security. In 2018, the U.S. Department of Commerce concluded that aluminum is essential to national security because of its use in military equipment and in sectors such as power transmission, transportation systems, construction and manufacturing.
As the USMCA was being negotiated, the United States removed its steel and aluminum tariffs for imports from Canada. But Canadian and U.S. officials agreed at the time that the tariffs could be reimposed "if imports of aluminum or steel products surge meaningfully beyond historic volumes of trade."
In his August announcement, Trump citied an 87 percent increase in Canadian imports of non-alloyed unwrought aluminum between June 2019 and May 2020 compared to the prior 12-month period. Jon Johnson of the C.D. Howe Institute said recently that Canadian aluminum exports to the U.S. "have been all over the map," and that Trump's decision was imposed during a temporary high-volume time.
U.S. officials expect that aluminum imports from Canada will decline from the high volumes experienced earlier this year. As a result, they say, the tariff proposed in August was able to be rescinded in September.
The Office of the U.S. Trade Representative has developed a list of import volumes of aluminum by ton (ranging from 70,000 to 83,000 tons) for each month through the end of the year. Imports will be reviewed monthly, and if shipments exceeded the monthly volume by more than 105 percent, then the U.S. will retroactively reimpose tariffs.
Canadian officials do not see their production of aluminum as a security threat to the United States; rather, they view their country as a partner in North American defense. In June, a group of aluminum companies wrote to the U.S. trade representative urging no new tariffs. They said levels of Canadian exports to the United States are "consistent with levels prior to the [2018 tariffs] … and below peak volumes experienced in 2017." They added that there was no evidence of transshipment (Canada shipping China-made steel to the United States, for example) or evasion of duties.
The manufacturing sector in every Midwestern state could be affected by tariffs on aluminum — for example, vehicles made in Michigan, aircraft in Kansas, and machinery in Iowa and North Dakota.
In addition, according to a recent report by The Trade Partnership, U.S. exports that are subject to retaliatory tariffs may take a long time to recover — even after these tariffs are lifted. The report's findings were based on an analysis of the products subject to Canada's retaliatory tariffs from 2018.