BILLD graduates elected to new offices
BILLD News | December 2020
---
---
SIXTH BILLD GRADUATE HEADS TO WASHINGTON, D.C., AND CONGRESS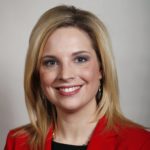 In November, Iowa Rep. Ashley Hinson (BILLD class of 2017) was elected to the U.S. Congress. As she prepares for this new position, Hinson reflected on how her state-level legislative experience will help.
First, procedurally, I understand how to work a bill from inception to passage," she said to CSG Midwest. "Second, I learned firsthand how to lead and run a committee, which will no doubt help me to prioritize how I navigate the political process. Third, I believe good federal policy should really take into context the impact on states and municipalities. Having the state legislative experience, I believe, will help me to have that full context of impact."
Hinson was first elected to the Iowa House in 2016 and always served in the majority party. She will be a member of the minority party in the U.S. Congress.
"I'm going to be looking to work with members of the majority party to accomplish many of these goals and
work to get them across the finish line," she says. Among her priorities: reducing regulations on small businesses, establishing long-term tax certainty for Iowa workers, and finding solutions for child care and family leave.
"Whether it is at the federal or state level, enacting good policy is about having good relationships with your fellow lawmakers," Hinson says. "Having a network of people in the Iowa Legislature who can help give me their perspective from constituents on the ground will be invaluable."
Hinson will join several other BILLD alumni who have been serving in Congress and were re-elected this fall.
• U.S. Rep. Bill Huizenga, Michigan (class of 2004)
• U.S. Rep. John Moolenaar, Michigan (class of 2004)
• U.S. Rep. Adrian Smith, Nebraska (class of 2001)
• U.S. Sen. Tammy Baldwin, Wisconsin (class of 1996)
In addition, U.S. Sen. Deb Fischer of Nebraska (class of 2005) was re-elected to her second term in 2018.
MOVES TO STATE TREASURER, LOCAL BOARDS, JUDGESHIP AND COURT CLERK
Other BILLD alumni also are assuming new elective office.
• North Dakota Rep. Thomas Beadle (class of 2013): North Dakota state treasurer
• Minnesota Rep. Laurie Halverson (class of 2015): Dakota County commissioner
• Nebraska Sen. Sara Howard (class of 2013): Omaha Public Power District board director
• Illinois Sen. Iris Martinez (class of 2006): Cook County Circuit Court clerk
• Illinois Rep. Lindsay Parkhurst (class of 2019): 21st Judicial Circuit judge