January 2021 Question of the Month | Regulation of pharmacy benefit managers
What are states doing to regulate pharmacy benefit managers (PBMs)?
---
---
In a December 2020 decision, the U.S. Supreme Court unanimously affirmed that states can regulate pharmacy benefit managers (often abbreviated as PBMs), the "middlemen" between health insurance plans and pharmacies, to curb rising prescription drug prices.
According to the National Academy for State Health Policy, PBMs administer health plans' pharmacy benefits, which can involve setting up a pharmacy network, designing the list of covered prescription drugs, and establishing both what plan members pay out-of-pocket and pharmacy claims which the plan reimburses.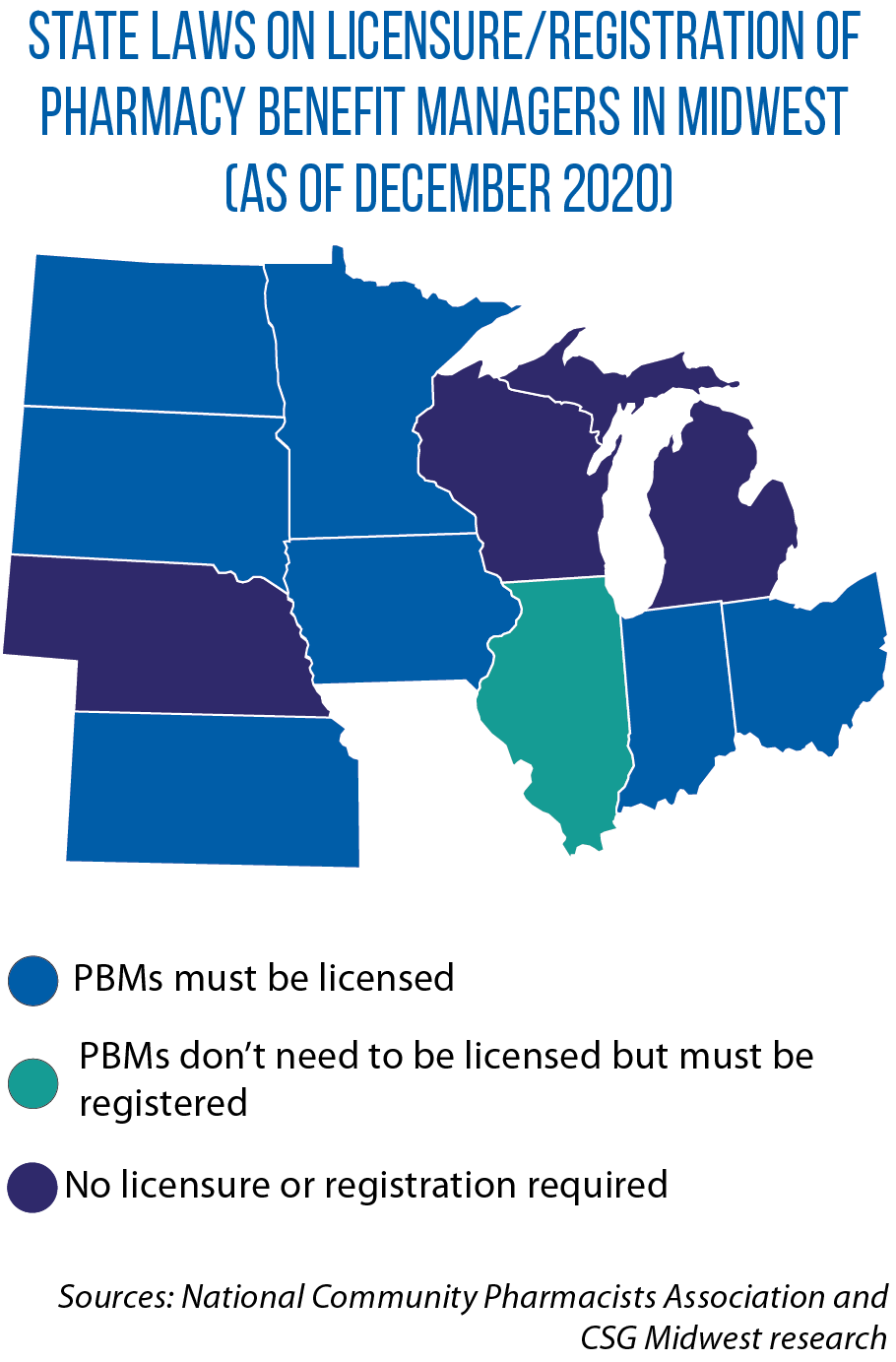 Some PBM practices have come under scrutiny, including requiring rebates (which may not get passed on to the health plan or consumers) from manufacturers to put drugs on a "preferred" list; creating lists that benefit the PBM at consumers' expense; requiring the purchase of drugs from PBM-controlled pharmacies; restricting price and cost information that pharmacies can share with consumers; and failing to safeguard the financial interest of their health plan's clients.
To address those concerns, the Academy's model legislation suggests states require PBMs to be licensed, have a fiduciary duty, disclose conflicts of interest, and report rebates and fees to the state, which would then make public any non-proprietary information.
It also recommends banning co-payments/co-insurance higher than the cost of a drug; provisions that limit pharmacists' ability to inform customers; penalizing patients who don't use pharmacy services in which the PBM has a financial interest.
As of October, 46 states had enacted some type of law regulating PBMs, including six Midwestern states which enacted laws in 2019 and 2020.
Among states requiring PBMs to share information on pricing and rebates with pharmacies and/or administrative organizations are Illinois HB 465), Indiana (HB 1588), Iowa (SF 563) and Minnesota (SF 278). Indiana and Minnesota also require PBMs to be licensed.
Under HB 1207 and SB 241, Indiana's insurance commissioner may adopt rules to specify PBM licensure and financial standards, and ban them from reimbursing affiliates more than independent pharmacies.
Iowa's 2018 budget law (SF 2418) bars PBMs from prohibiting pharmacies or pharmacists from discussing cost information with covered individuals, or from selling more affordable alternatives. It also prohibits health benefit plans from requiring pharmacy benefit co-payments that exceed submitted charges.
In Minnesota, PBMs cannot bar pharmacists from disclosing information about drug costs and alternative therapies, nor can they retroactively adjust claims for reimbursement submitted by a pharmacy.
Ohio's 2019 budget (HB 166) incorporated bans on retroactive claim adjustments and requiring pharmacies to not disclose lower priced and therapeutically equivalent drugs. The state also reorganized its Medicaid managed care program, opting to contract with a single PBM by July 2020.
The PBM must meet strict transparency requirements and disclose any received financial benefits or other payments, conflicts of interest, drug pricing arrangements and rebate deals with drug manufacturers and distributors. The PBM also cannot force patients to use his/her own specialty pharmacy.
South Dakota in 2019 enacted HB 1137, limiting the amount by which a PBM can charge or adjust a payment and barring them from discriminating against pharmacies participating in certain health plans, and from setting patient co-pays/co-insurance higher than the cost of the drug.
Question of the Month highlights an inquiry sent to the CSG Midwest Information Help Line, an information-request service for legislators and other state and provincial officials from the region.