Concerns about prescription drug costs have some states looking north for policy solutions
---
---
As they wrestle with ever-rising costs for prescription drugs, some Midwestern lawmakers are looking to their northern neighbor for help.
North Dakota legislators are considering legislation to establish a program to reduce prices by basing the prices of prescription drugs on those paid by Canada's four most populous provinces: Alberta, British Columbia, Ontario and Québec.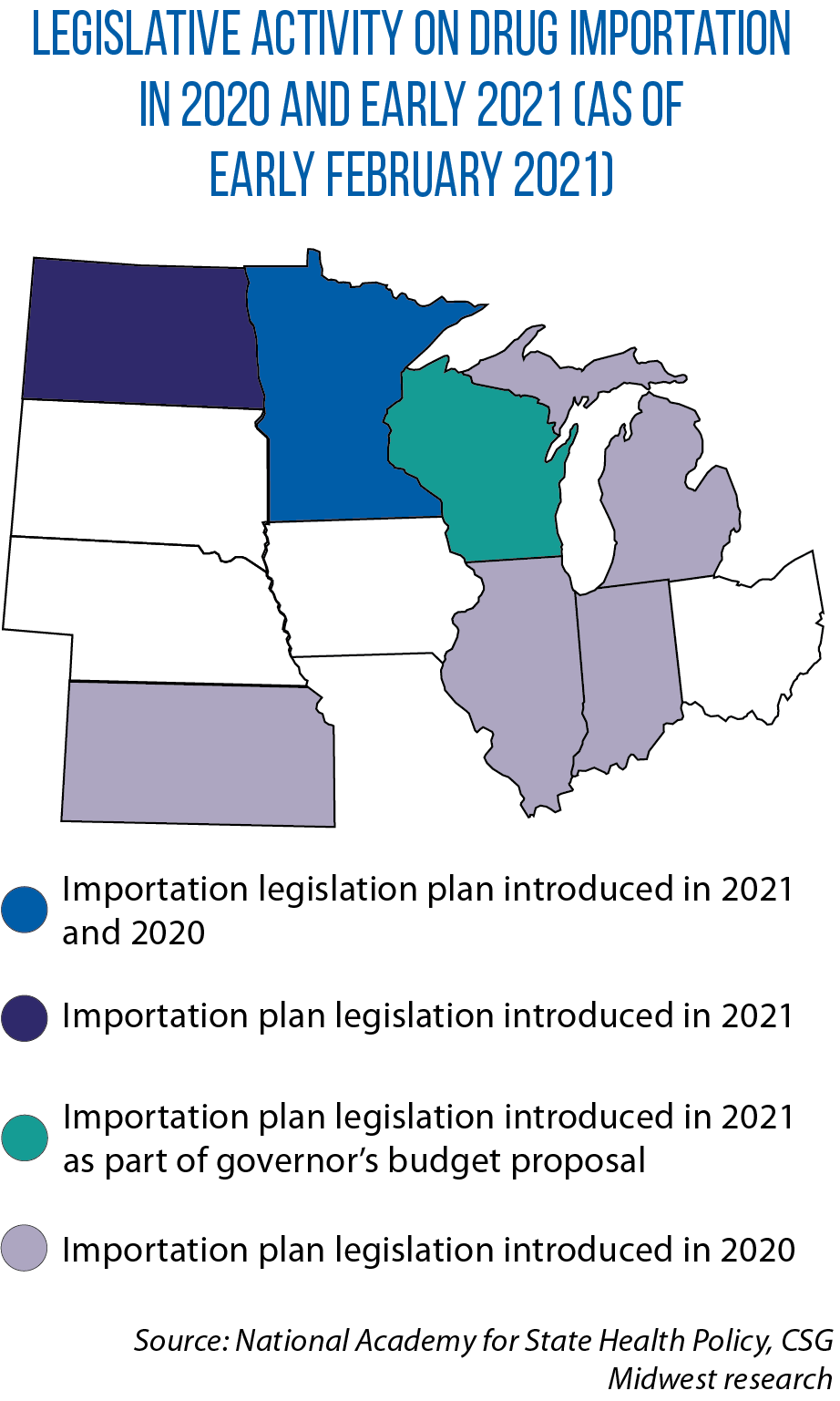 Introduced by Sen. Howard Anderson, Jr., SB 2170 would establish a process for "international reference pricing," which would annually determine maximum retail prices for the 250 most expensive prescription drugs identified by the state's public employees' retirement system.
Those drugs would then be subject to the "referenced rate" — a maximum price that would be determined by either the lowest cost paid by those provinces, or the maximum cost as reported by Canada's Patented Medicine Prices Review Board. Cost savings would have to be passed on to consumers.
"We thought the public in North Dakota needed to have a conversation about long-term prescription drug prices," Anderson says. "People can easily compare prices and they wonder why we can't get access to similar prices here."
SB 2170 is based on model legislation from the National Academy of State Health Policy that aims to give states a way to reduce drug prices without the opposition to outright importation programs, or having to wait for lawsuits over federal importation policy to be settled or decided, says Trish Riley, the Academy's executive director.
"International reference pricing lets us get around importation," Riley says. "By going to a pricing index, you can get lower prices, including for biologics [like insulin]."
Section 804 of the federal Medicare Prescription Drug, Improvement, and Modernization Act of 2003 actually authorizes state importation programs and sets out the requirements for them – but they're only allowed if the secretary of Health and Human Services certified it's safe to do so.
That approval didn't happen until last year when the Trump administration published a new rule for importation programs. The rule (which excludes biologic drugs such as insulin) took effect on Nov. 30, but immediately faced lawsuits from domestic drug makers seeking to overturn it.
Six states — Colorado, Florida, Maine, New Hampshire, New Mexico and Vermont — are seeking federal approval to establish import programs, but as of early February, the Biden administration hadn't yet announced whether it would let the rule stand.
North Dakota will join them if either of two bills from this year become law: SB 2209 would put an importation program under the state's Board of Pharmacy, while SB 2212 would put it under the Department of Health.
Minnesota, too, is mulling importation legislation this year (HF 73 and SB 312), and Wisconsin Gov. Tony Evers included an importation program in his proposed budget.
Evers in 2019 also created a Task Force on Reducing Prescription Drug Prices; its 2020 final report noted importation as a possible policy.
In Michigan, the Prescription Drug Task Force created by Gov. Gretchen Whitmer in February 2020 noted such a program could have been established by four different bills in the Legislature's 2019 session: HBs 4978, 4979 and 5107, and SB 525 (none of which made it past the committee stage).
Its final report to the Legislature noted importation programs under "Future Considerations," but did not recommend it as an immediate step.
Jon Davis is CSG Midwest staff liaison to the Midwestern Legislative Conference Health & Human Services Committee.