April 2021 Question of the Month | Right to repair laws
Have any Midwestern states adopted "right to repair" laws regarding electronics-enabled equipment or products?
---
---
According to the Repair Association, which advocates for these measures, bills have been introduced in most states in the region in recent years, including at least four in 2021: Illinois (HB 3061), Kansas (HB 2309), Minnesota (HF 1156/SF 2080) and Nebraska (LB 543).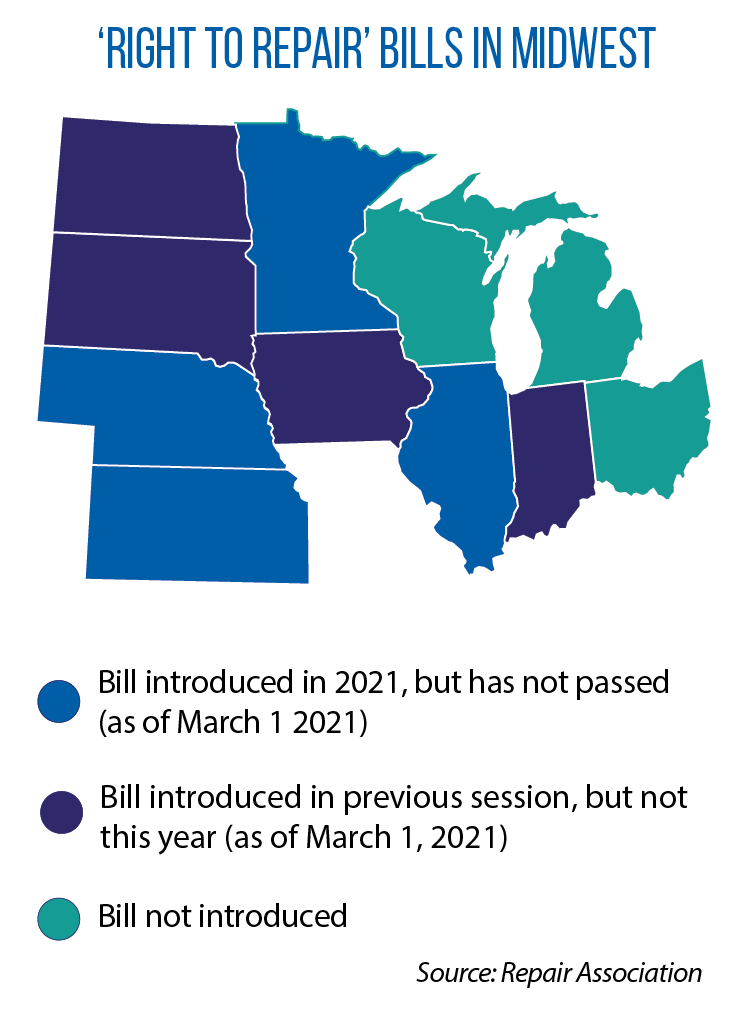 To date, though, no U.S. state legislature has passed a "right to repair" statute. In 2012, voters in Massachusetts approved a ballot initiative that included this language: "any motor vehicle manufacturer [is prohibited] … from selling or leasing, either directly or through a dealer, a new motor vehicle without allowing the owner to have access to the same diagnostic and repair information made available to the manufacturer's dealers and in-state authorized repair facilities."
A year later, the Massachusetts Legislature amended that law. In 2014, auto manufacturers entered into a memorandum of understanding — applicable across the country — in which they agreed to make diagnostic repair information and tools available to consumers and independent repair operators.
There has since been a legislative push to expand this so-called "right to repair." Though these bills often vary from state to state, they tend to have common language ensuring that owners and independent repair operators have access to "the documentation, parts, and tools used to diagnose, maintain and repair" electronics-enabled equipment and products. Under these proposals, the original manufacturers would have to provide this access under "fair and reasonable terms."
This year's legislation in Kansas and Nebraska applies only to agricultural equipment (for example, tractors, combines and unmanned aircraft systems); the measures in Illinois and Minnesota apply to all digital equipment.
Minnesota Rep. Peter Fischer has said he is sponsoring the legislation to ensure consumer choice, protect small businesses and curb electronic waste.
Earlier this year, Nebraska Sen. Tom Brandt, sponsor of LB 543, told fellow legislators during committee testimony that his bill would save farmers time and money, according to the Legislature's publication Unicameral Update. "As a farmer, I'm overjoyed when I snap a piece of steel because I can get that off the shelf — I can fix that," Brandt said . "But when I've got code problems, that's another story."
Manufacturers and dealers say they are committed to giving end users the tools they need to fix equipment, but they say many of the "right to repair" legislative proposals are misguided and "overly broad." Giving unauthorized access to software codes, they say, may override safety features, cause equipment to malfunction, jeopardize manufacturers' intellectual property and stifle innovation.
Question of the Month highlights an inquiry sent to the CSG Midwest Information Help Line, an information-request service for legislators and other state and provincial officials from the region.