May 14 application deadline for the 2021 BIILD program is quickly approaching; BILLD experience in the words of graduates
BILLD News | April 2021
---
---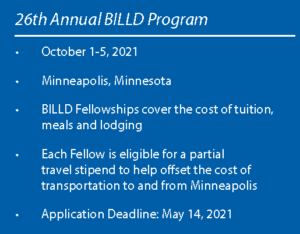 The application deadline for the Midwestern Legislative Conference's 2021 Bowhay Institute for Legislative Leadership Development (BILLD) is coming up soon: May 14.
The five-day training program will be held Oct. 1-5, in partnership with the Center for the Study of Politics and Governance at the University of Minnesota's Humphrey School of Public Affairs.
Midwestern legislators interested in applying for a fellowship should be in their first four years of service.
Thirty-nine fellowships will be awarded for the 2021 program by the BILLD Steering Committee, a group of state and provincial legislators from the MLC's member jurisdictions. Fellowships cover the cost of lodging and meals associated with attending the program, and partial travel stipends are available to help offset the cost of travel to and from Minneapolis.
The BILLD curriculum includes sessions and interactive workshops on leadership and legislative skills development, policy analysis and policymaking strategies. Faculty for the institute include a mix of academic scholars, professional development experts and legislative leaders from the Midwest.
Applications are available at csgmidwest.org or by contacting CSG Midwest's program manager for BILLD, Laura Tomaka, at ltomaka@csg.org or 630-925-1922.
BILLD experience in the words of graduates
It is more than just a conference. It's a program where you grow and that will make you challenge yourself.
Rep. Tory Marie Arnberger, Kansas, BILLD Class of 2019
---
The best opportunity you will ever have to meet peers from other states and gain valuable insights into better serving the public.
Sen. Brad Bekkedahl, North Dakota, Class of 2017
---
An extraordinary opportunity for professional and leadership development and worth every minute of time and energy invested.
MPP Rima Berns-McGown, Ontario, BILLD Class of 2019
---
A game-changing experience for your political career.
Sen. Jeff Edler, Iowa, BILLD Class of 2017
---
It's a wonderful opportunity to take a break from the daily craziness of the job to focus on the big picture of what it means to be a legislator.
Rep. Ann Williams, Illinois, BILLD Class of 2012
---
BILLD is an opportunity for making meaningful connections and to exchange best practices to support your legislature.
Rep. Ruth Richardson, Minnesota, Class of 2019
---
Life-changing — the best leadership program I have attended.
Sen. Dinah Sykes, Kansas, BILLD Class of 2017
---