North Dakota vaccinating truckers from Manitoba, Saskatchewan in cross-border cooperation
---
---
Under a first-of-its-kind cross-border COVID-19 vaccination program that began in late April, the state of North Dakota is providing vaccinations to truckers from Saskatchewan and Manitoba as they transport goods between the United States and Canada.
The first site for delivering these doses was a highway rest stop along northbound Interstate 29 near Drayton, about 30 miles from one of the state's 18 border crossings with Canada. State officials said a second site near the border with Saskatchewan would open in May.
"With adequate vaccine supplies and all North Dakotans having access to vaccine while Canada is dealing with a vaccine shortage, we want to do our part to ensure essential workers from Canada who are frequently traveling through our state are vaccinated," North Dakota Gov. Doug Burgum said in April.
"The timely and effective administration of vaccines is essential for public health and t
he eventual safe reopening of our shared border."
Along that shared border throughout the Midwest, there are 29 ports of entry for trucks in North Dakota, Minnesota and Michigan on the U.S. side and Saskatchewan, Manitoba and Ontario on the Canadian side. More than 2.5 million truck crossings occurred at these ports in 2020, according to the U.S. Department of Transportation.
Burgum announced the Essential Worker Cross-Border Vaccination Initiative, first with Manitoba Premier Brian Pallister and then with Saskatchewan Premier Scott Moe.
According to the memorandum of understanding between Manitoba and North Dakota, truckers must be able to cross into the U. S. and return to Canada without a requirement to quarantine under (Canadian) federal public health rules, possess a valid Manitoba Class 1 license, and be on assignment at the time of vaccination.
North Dakota's pre-registration system for vaccinations is being used to limit crowding and lost time, as well as to aid in the scheduling of staff and delivery of doses.
North Dakota is administering vaccines authorized by the U.S. Food & Drug Administration and Health Canada and providing both first and second shots, along with proof of vaccination, to eligible drivers. The state is also sending vaccination records to the U.S. federal government and Manitoba.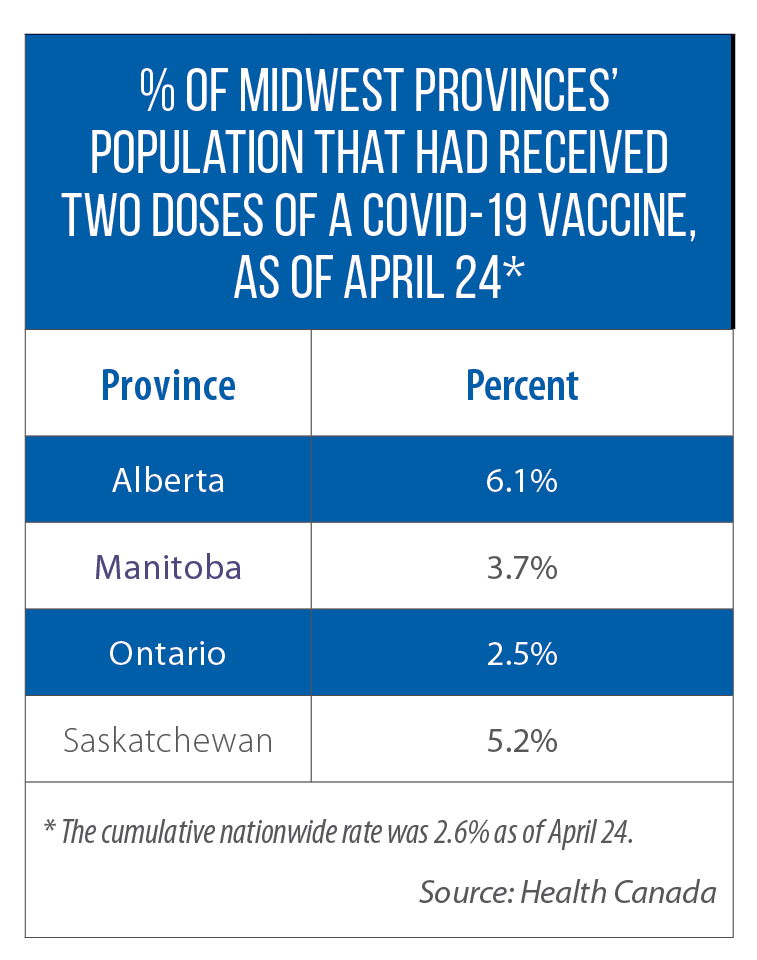 "Manitoba is proud to partner with North Dakota on this innovative strategy," Pallister said in the April 20 statement.
Mike Nowatzki, a spokesman for Gov. Burgum, says North Dakota cleared the program with the White House COVID Response Team in early April; the U.S. Centers for Disease Control and Prevention also gave North Dakota approval to administer U.S. vaccine doses to Canadians.
"Essentially if they're in our state, we can vaccinate them," Nowatzki says.
State and provincial officials estimate that up to 4,000 truckers may be eligible to get vaccinated under the cross-border program.
On April 21, the first day of the program, 65 people were vaccinated: 62 Canadians and three North Dakotans, Nowatzki says.