Sports betting set to spread to two more Midwest states as result of ballot measures, legislative actions
---
---
When it comes to expanded, legalized gambling, Nebraska Sen. Tom Briese says he has always been "skeptical about the purported benefits and concerned about the perceived costs." The majority of his colleagues in the Nebraska Unicameral Legislature agreed: Proposed expansions have stalled inside the Capitol.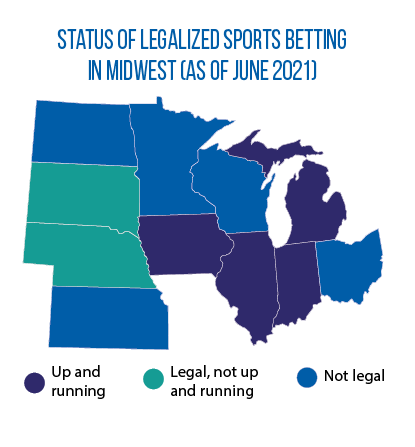 But last fall, Briese found out that a majority of his fellow Nebraskans disagreed. They approved, by overwhelming margins, ballot proposals that authorize casino-style games of chance at Nebraska's horse race tracks.
That put Briese in the unusual position this year of being the lead sponsor of legislation for an underlying public policy that he opposes.
"It was something that, as chair of the [Unicameral's] General Affairs Committee, was important for me to take the lead on," he says. "On some of these issues, then, we were kind of walking a fine line of adhering to your concerns about expanded gambling with the need to respect the will of the voters."
Ultimately, legislators passed LB 561 by a wide margin, after a series of negotiations during the 2021 session. Early on, Briese determined that sports betting should be part of the expansion and that legislators should spell out rules for this type of gambling.
"As a matter of law, when the voters approved games of chance, they approved sports betting," Briese says. "That seemed pretty clear to me, though there were some gambling opponents who didn't agree with this assessment." One question, then, became whether to allow betting on college sports and, particularly, in-state teams, an area of high interest in a state where all eyes in the fall are on University of Nebraska football.
The legislative compromise was this: Allow betting on in-state collegiate teams, but only on games being played outside the state. "That provision may be unique in the country," Briese notes.
LB 561 also only allows in-person gambling (no option for betting via the internet and on mobile phones) and prohibits credit card transactions. Under language in the ballot proposals, gambling revenue will be taxed at 20 percent, a rate for casino operators in line with that of other states, Briese says, but "quite high" for sports betting.
Only 2.5 percent of this new tax revenue will go to Nebraska's general fund. Most of it (70 percent) will go to a statewide property tax relief fund. A legislative fiscal analysis estimates that the gambling expansion will generate $49 million in tax revenue in fiscal year 2023.
Voters in a second Midwestern state, South Dakota, also approved a gambling expansion in fall 2020. That constitutional amendment authorized the Legislature to allow sports betting in the town of Deadwood, where limited gaming already is allowed. Legislators approved follow-up legislation (SB 44) earlier this year.
In South Dakota, the tax rate on sports betting will be 9 percent. No gambling on college sports will be allowed, and only in-person wages will be accepted.
As of June, legalized sports betting was up and running in Illinois, Indiana, Iowa and Michigan. Each of these states permits mobile/internet wagering and sports betting on college sports. In Illinois, wagers on in-state collegiate teams are not allowed; in Iowa, prop bets (those not directly tied to the final score or final outcome of a game) on in-state collegiate athletes is prohibited. According to the American Gaming Association, the tax rates on sports betting are 15 percent in Illinois, 9.5 percent in Indiana, 6.75 percent in Iowa and 8.4 percent in Michigan.