Five states working together to bolster electric vehicle infrastructure and workforce
---
---
Illinois, Indiana, Michigan, Minnesota and Wisconsin have begun working together on the development of an electric vehicle infrastructure.
Launched in September, via a memorandum of understanding signed by the states' five governors, the Regional Electric Vehicle Midwest Coalition has three goals: 1) accelerate the electrification of medium- and heavy-duty vehicle fleets; 2) position the Midwest as a leader in the production of electric vehicles; and 3) ensure that economic gains and environmental advances are shared equitably and help "historically disadvantaged communities."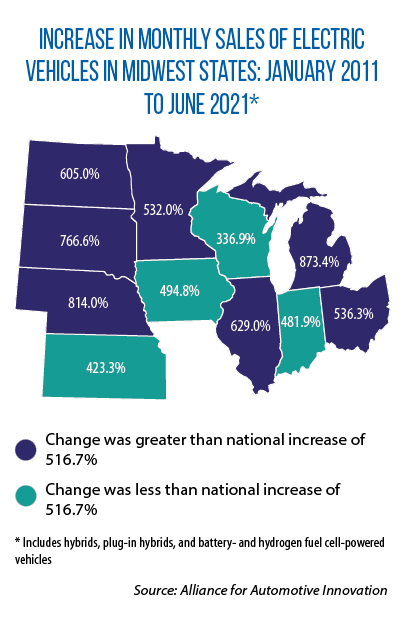 One of the first steps will be to coordinate the placement of EV infrastructure, "with an initial focus on target routes of commercial significance." Senior leadership from each state will meet regularly to share updates and input on the group's activities, as well as identify and remove barriers to private sector and publicly supported charging station development. The states also will work together on standardizing the region's regulatory structures and public communication.
Another priority will be working across state lines with energy providers to ensure the reliance and sustainability of the region's electricity grid. And to become a hub of EV-related manufacturing, the governors plan to cooperate on new workforce development initiatives.
Separately, Michigan has announced plans to establish an electric vehicle route along the coast of Lake Michigan and other key tourism areas. A state grant program will be used to encourage the development of new charging sites along the Lake Michigan Electric Vehicle Circuit. According to the U.S. Department of Energy's Alternative Fuels Data Center, California leads the nation in the number of publicly available electric charging stations. It has a total of 34,286 ports. In the Midwest, the number of ports ranges from a high of 2,268 in Illinois to a low of 134 in North Dakota.
Michigan and Indiana also are vying to become the first U.S. state with a stretch of public road that provides EV owners the option of wirelessly charging their vehicles, the Detroit Free Press reports.