Redistricting Roundup: Where Midwest's states stand in drawing maps, and four challenges defining the process this time around
---
---
The once-a-decade work of redrawing political maps has been completed in most Midwestern states but remains far from done in a handful of others. A mix of factors has made this round of redistricting especially challenging for legislators and others involved in the process. Below is an overview of four of those challenges, as well as the processes being used in this region.
Also included is information on the partisan competitiveness of newly drawn and approved congressional maps, as analyzed by the Princeton Gerrymandering Project. As of mid-November, the Illinois, Indiana, Iowa, Nebraska and Ohio legislatures and governors had approved new congressional lines for their respective states.
1. Adjusting to late release of Census data, holding special sessions to finalize new maps
Due to COVID-19 related delays in data collection and processing, the figures used by states to draw the maps were released several months late by the U.S. Census Bureau. This, in turn, required states to alter or expedite the redistricting process in order to meet their own statutory or constitutional deadlines.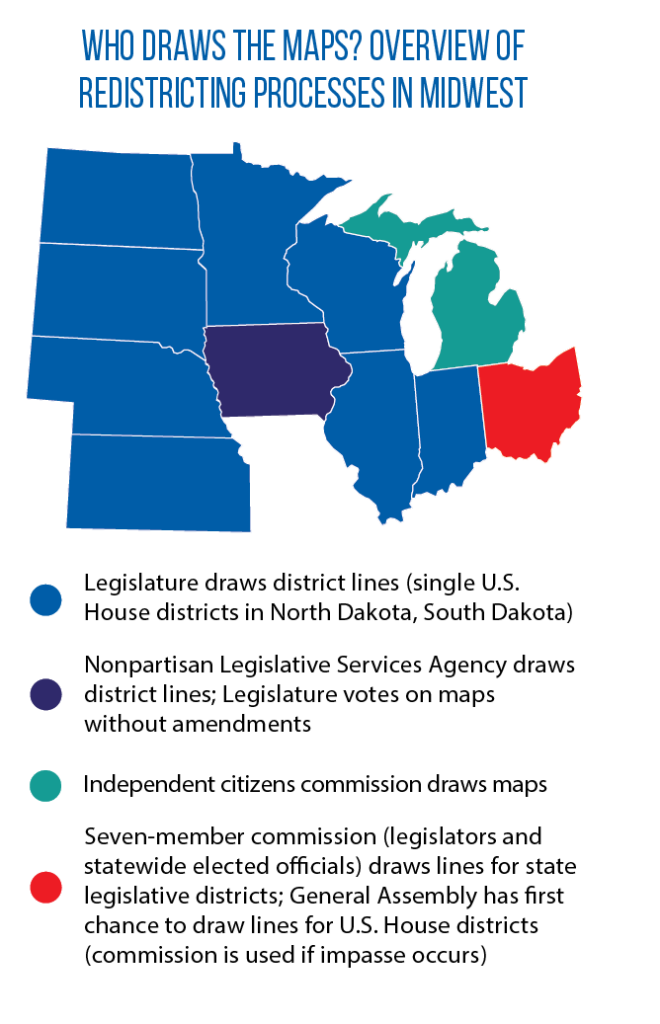 Minus the official 2020 Census data, Illinois legislators initially adopted new state House and Senate districts in May using population estimates. A court challenge immediately followed. The U.S. Census Bureau released the official data in August, and soon after that, the General Assembly met in special session to approve a revised plan. Gov. J.B. Pritzker approved it in September. However, that initial plan, drawn using population estimates, never was repealed. It has since been declared unconstitutional.
In October, public hearings were held on a redrawing of congressional lines in Illinois, one of three Midwestern states losing a U.S. House seat due to population changes over the past decade. (Michigan and Ohio are the others.)
Illinois' new congressional map was then adopted by the General Assembly in late October. Among the largest points of contention: which current members of Congress would be pitted against each other and whether a second district with a strong Latino population would be created.
According to the Princeton Gerrymandering Project, under the new congressional map, Democrats will have a partisan advantage in 14 of Illinois' 17 congressional districts, with most or all of these districts not expected to be competitive. (Democrats currently hold 13 of Illinois' 18 seats in Congress.)
Indiana and Nebraska legislators convened special sessions in September on redistricting. The governors approved the maps, ending the process (minus any legal challenges) in these two states.
Those two states have a combined number of 12 U.S. House seats: nine in Indiana and three in Nebraska. Most of these states' new congressional districts fall well out of the "competitive zone," a metric created by the Princeton Gerrymandering Project to measure partisan competitiveness. One exception is Nebraska's District 2, located in the eastern part of the state, where the vote share among Republicans and Democrats is close. Republicans will hold a clear advantage in Nebraska's other two districts. All three members of Congress from Nebraska currently are Republicans.
In Indiana, seven members of Congress are Republicans; two are Democrats. That partisan advantage is expected to continue with the new maps.
In two other Midwestern states, North Dakota and South Dakota, work on redistricting was completed during special sessions held in November. Those two states each have a single congressional congressional district, so legislative negotiations and hearings centered on how state House and Senate lines should be redrawn.
Iowa lawmakers also met in special session to complete their state's unique procedure for approving new maps. There, the nonpartisan Legislative Services Agency leads the process, and under state law, its maps cannot favor incumbents or a political party (see table).
The LSA's plan is presented to the Legislature fo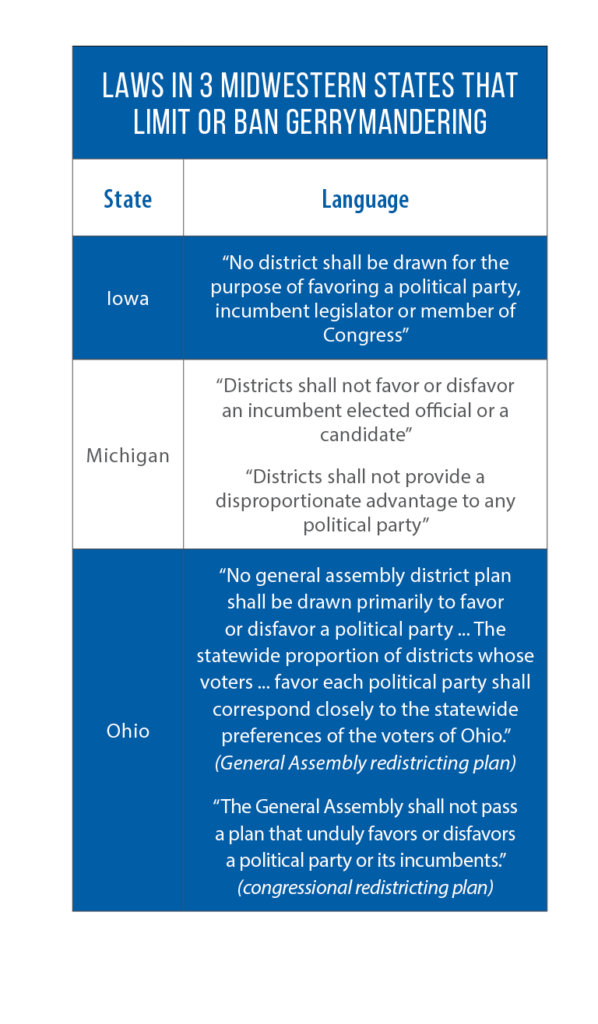 r an up-or-down vote. If the first plan is rejected, the LSA prepares a second one, again with no legislative amendments allowed. Legislators can only make tweaks after the first two plans have been voted down and a third plan has been submitted.
During a special session in early October, legislators rejected the first LSA plan. But in late October, legislators gave near-unanimous approval to the LSA's second plan, according to the Des Moines Register. Since Iowa first adopted its nonpartisan approach to redistricting, in 1980, one of the LSA's maps has always been approved by the Legislature without amendment.
Princeton's analysis of Iowa's congressional remap shows Republicans holding an advantage in all four of Iowa's newly drawn districts, with three of the four near but outside the "competitive zone." Republicans have a large advantage in the fourth district (District 4, in the western part of the state). Currently in Iowa, three members of Congress are Republicans; one is a Democrat.
2. Considering new requirements on partisan fairness in Michigan and Ohio
Voter-approved constitutional amendments over the past decade overhauled the redistricting process in two Midwestern states.
Michigan is the first state in the region where the process has been taken away from the Legislature; the work is now handled by an independent, citizen-led commission. Ohio has new rules that encourage the drawing of maps that receive bipartisan support in the General Assembly and/or among seven members of a Redistricting Commission (made up of four legislative leaders, two from each party, and the governor, auditor and secretary of state).
In both of these states, too, this new constitutional language seeks to prevent partisan gerrymandering — in Michigan, maps "shall not provide a disproportionate advantage to any political party"; in Ohio, no plan for the General Assembly should be passed to "primarily favor or disfavor a political party" and the congressional map cannot "unduly" favor or disfavor "a political party or its incumbents."
The question of partisan fairness became a point of contention as Michigan's 13-member commission developed new maps, held public hearings this fall and sought to finish its work by year's end.
In Ohio, the seven-member Redistricting Commission approved new state legislative maps for the next four years — only four instead of the usual 10 because the plan did not receive bipartisan support (the commission's two Democrats opposed it). Now, that plan faces legal challenges on the grounds that it unconstitutionally favors the Republican Party.
A new congressional map for Ohio was passed by the General Assembly and signed by Gov. Mike DeWine in mid-November. According to the Princeton Gerrymandering Project's analysis, there are six congressional districts in or near the "competitive zone" under the Assembly-approved plan. Democrats would have a clear advantage in two districts, Republicans in the other seven.
Ohio's new congressional map will only be in place for four years because it was passed along partisan lines (Republicans supporting, Democrats opposing). The state's recent constitutional changes require the support of both parties for redistricting plans (congressional or state) to be in place for the typical 10 years' time.
Like the new map for state legislative districts, the Ohio General Assembly's plan for congressional districts is "all but certain" to be be challenged in court on the grounds that it "unduly favors" the Republican Party, Cleveland.com reports.
Under Ohio's unique process for redistricting, the seven-member commission draws state legislative lines, but the General Assembly gets the first and final crack at drawing the boundaries of new U.S. House districts.
3. Developing plans under divided government in 3 Midwestern states
Outside of Michigan and Ohio, all redistricting plans must be passed by the legislature and signed by the governor.
This poses a challenge for states where political power is divided in some way. Kansas and Wisconsin have Republican-led legislatures and Democratic governors. Minnesota has a split legislature and Democratic governor.
Divided government increases the likelihood that redistricting ultimately will be handled by judges rather than legislators. In November, for example, Wisconsin Gov. Tony Evers vetoed the Legislature's proposed new maps for congressional and state legislative districts. Even before this veto, the expectation of a deadlock had led to legal action in state and federal courts that center on how the new maps should be drawn, as well as who should do it, the Milwaukee Journal Sentinel reports.
Twenty years ago, the Wisconsin Legislature failed to adopt new state Assembly and Senate maps. The question then became this: Who should develop the redistricting plan, state or federal courts? In a 2002 decision, the Wisconsin Supreme Court deferred to a three-judge panel of federal judges that already had taken over the case.
However, in that decision, the justices noted that "had our jurisdiction been invoked earlier, the public interest might well have been served by our … deciding this case [rather than the federal courts]." That early invocation of the state's highest court occurred this time around. And in late November, in a 4-3 decision, the justices said the maps they draw (due to gridlock between the Republican-controlled Legislature and Democratic Gov. Tony Evers) will be based on a "least-change approach." This means the court will make as few changes as possible to the redistricting maps drawn a decade ago by the Republican-led Legislature and then-Gov. Scott Walker, also a Republican.
"We will not consider the partisan makeup of districts because it does not implicate any justiciable or cognizable right," the court said in its decision. "We adopt the least-change approach to remedying any constitutional or statutory infirmities in the existing maps because the constitution precludes the judiciary from interfering with the lawful policy choices of the legislature."
Intervention by the courts would be nothing new in Minnesota; it's occurred after every Census since 1970. Most recently, as the result of a stalemate between Minnesota's governor and Legislature after the 2010 Census, the state Supreme Court turned over the drawing of new state and federal lines to a five-judge panel. In Kansas, Republicans have a veto-proof legislative majority. A decade ago, they also controlled the House and Senate but failed to pass a redistricting plan, causing the lines to be drawn by a U.S. District Court.
4. Accounting for shifts in population, losses of people in rural areas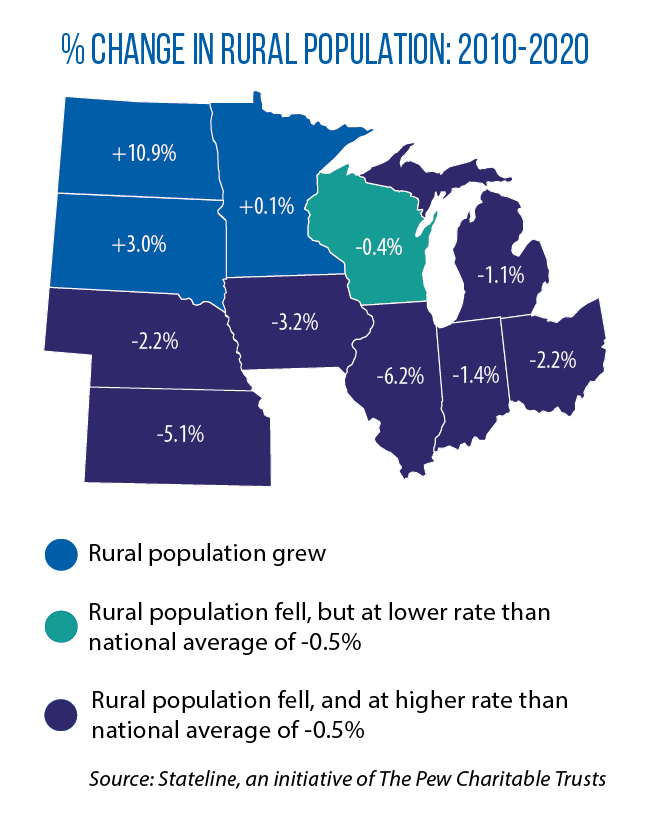 According to The Pew Charitable Trusts, the number of people living in the nation's rural areas fell by 0.5 percent between 2010 and 2020. Meanwhile, populations in U.S. cities and suburbs grew 8 percent.
Most states in the Midwest have seen their rural populations decline even more than the national average (see map), and one consequence of this trend will be a higher proportion of state legislators representing the region's metropolitan areas.
In Nebraska, one of the state's largely rural state legislative districts is being dissolved into neighboring ones, while a district was added in Sarpy County (part of the Omaha area). In North Dakota, the new state's map eliminates three rural legislative districts in the northeastern and southeastern parts of the state, according to the Associated Press. The Fargo area would gain one district, as would two areas in the state's oil-rich western region. In South Dakota, the Grand Forks Herald reports, there will one fewer rural district to account for population shifts to areas such as Sioux Falls, the state's largest metropolitan area.