Different states, different governors — but some shared policy priorities for year ahead
A look at some of the proposals that came from January State of the State addresses in Indiana, Iowa, Kansas, Michigan, Nebraska and South Dakota
---
---
1. Consider tax cuts amid revenue growth, high budget reserves
Tax cuts, some big, some small, were part of each of the first State of the State addresses of the new year. Perhaps most far-reaching of all the plans is Iowa Gov. Kim Reynolds' proposal to move away from a progressive income tax structure (Iowa currently has nine different rates) in favor of a flat income tax rate of 4 percent.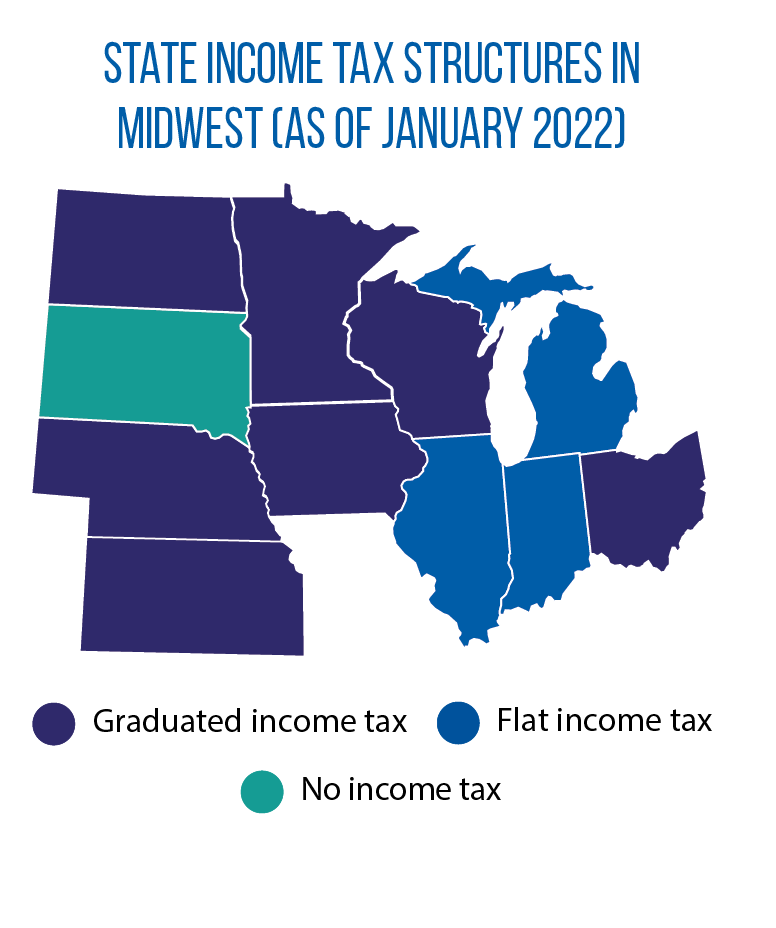 "Yes, we'll have less to spend once a year at the Capitol," Reynolds said to legislators, "but we'll see it spent every single day on Main Streets, in grocery stores and at restaurants across Iowa." Most Midwestern states currently employ some type of progressive income tax (see map), including Nebraska. In that state, Gov. Pete Ricketts is proposing a gradual lowering of the top rate (6.84 percent to 5.84 percent) along with continued property tax relief of at least $548 million. (Legislation from last year provided this relief via an income tax credit.)
In Kansas, Gov. Laura Kelly prioritized the end of her state's sales tax on food. "With [a budget] surplus in the bank and increased revenue because of our economic growth, we can finally, responsibly, afford to totally eliminate the grocery sales tax," Kelly told lawmakers.
Most Midwestern states already exempt grocery items from the sales tax, with other exceptions being Illinois (food items are taxed at 1 percent) and South Dakota (taxed at the full rate of 4.5 percent).
Other ideas this year include the end of a "bingo tax" in South Dakota, Indiana Gov. Eric Holcomb's plan to eliminate a personal property tax levied on new business equipment and Michigan Gov. Gretchen Whitmer's proposed tripling of the state's existing earned income tax credit. According to Whitmer, her proposal would deliver an average yearly refund of almost $3,000 to 730,000 families: "[It] lifts more than 22,000 people out of working poverty," she said.
2. Attract talent, build skilled workforce for future
In his speech, Gov. Holcomb touted Indiana's region-leading increase in population between 2020 and 2021, but also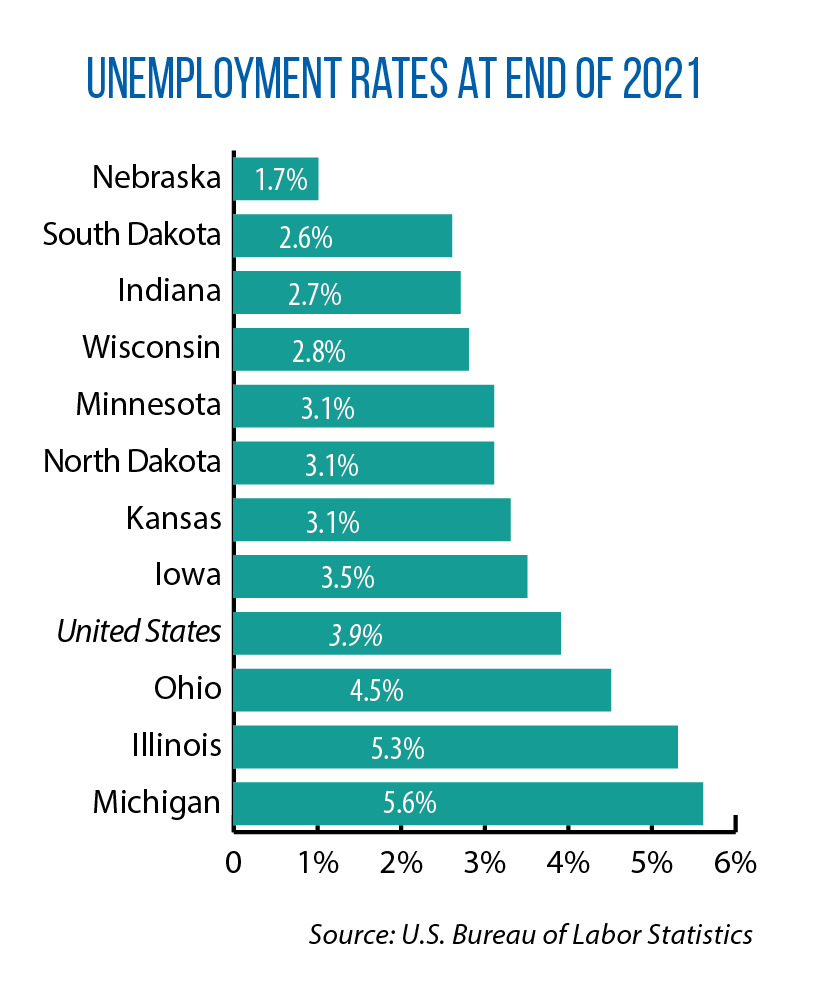 recognized a lack of growth in many rural areas. Holcomb believes part of the policy solution lies in building stronger regionwide partnerships. Rather than compete for talent, jobs or cultural amenities, neighboring Indiana counties and cities are getting state-level grants to collaborate.
In the current biennial budget, Indiana legislators allocated $500 million for this new program, known as the Regional Economic Acceleration and Development Initiative, or READI. That investment is "just the tip of the iceberg," Holcomb said in his January message to legislators. READI works this way: Leaders in each of Indiana's 17 regions work together on a long-term, data-driven plan that reflects the area's unique characteristics, strengths and needs. With state dollars, along with a commitment of local public and private funds, these plans direct new investments in any number of ways to attract people and jobs — for example, building cultural amenities, funding new housing projects, or developing new supports for small businesses.
In her speech to Iowa legislators, Gov. Reynolds urged legislators to adjust state policies so that they reflect labor-market realities. "We're living in a time of prolonged low unemployment," she said. Along with proposing changes to the unemployment system (including dropping the duration of benefits from 26 weeks to 16), Reynolds said her state needs to focus on recruiting and retaining workers in high-need professions. She introduced plans for a $1,000 bonus for police and corrections officers; a marketing campaign to lure law enforcement officers from other states; and an apprenticeship program that gets high school students on the path to careers in teaching and nursing.
In South Dakota, Gov. Kristi Noem has a $200 million plan to build more housing for workers across the state, and she also asked lawmakers to fund expansions of college-based workforce training in a handful of areas: cybersecurity, health care, manufacturing, farming and ranching.
3. Expand capacity of mental health systems
"Whether we talk about children or their parents, veterans or farmers, small-business owners or health care workers,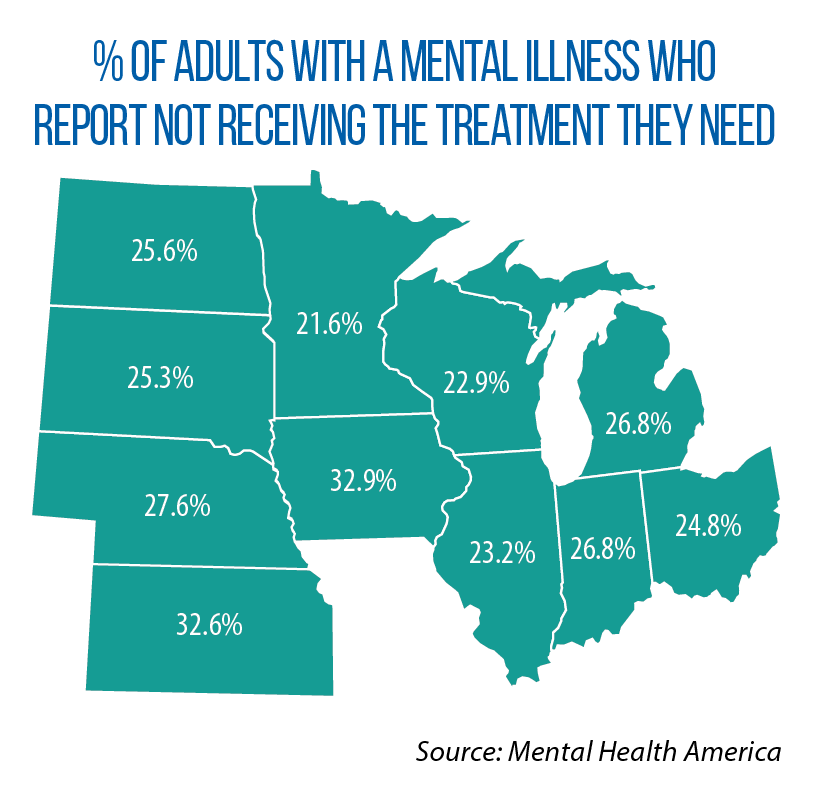 this pandemic has exacerbated mental health challenges for so many Kansans," Gov. Laura Kelly said in her address.
For young people, Kelly is proposing increased funding for school-based mental health intervention teams. She also wants to ensure all Kansans get the care they need closer to home, and her budget calls for a $29.3 million expansion of regional behavioral services.
Gov. Noem has proposed using $15 million from the American Rescue Plan Act to build new regional centers or expand the capacity of existing ones. "[They] will help us get people appropriate care more quickly and close to home," she said. "This will help relieve the pressure on law enforcement and emergency rooms."
In Michigan, Gov. Whitmer also is proposing new investments in community-based models. She also noted one obstacle to care is an inadequate supply of mental health professionals, and one policy solution is to make state-funded loan repayments available to people entering these careers.
4. Make new investments to preserve state water resources
The year ahead is shaping up to be a historic one in water policy for Nebraska. In advance of this year's session, a legislative committee examined projects to improve recreational water access and control flooding, including construction of a 4,000-acre reservoir between Lincoln and Omaha.
Gov. Pete Ricketts supports spending $200 million on various committee-backed projects, and he also has a $500 million project to protect water supplies in the western part of Nebraska. His idea: Build a new canal and reservoir system that would include parts of Colorado and southwest Nebraska. "If we fail to secure our supply from the South Platte River, we could expect to lose 90 percent of the water that currently comes to us from Colorado," he said.
Other initiatives highlighted by the governors included:
Indiana's commitment to spend $420 million on wastewater, drinking water and stormwater infrastructure improvements.
Kansas' restoration of full funding for the State Water Plan, which outlines policies and priorities for protecting water quality and supplies.