Capital Closeup: Why, and how, state courts are drawing new district maps in two states
---
---
As in most states, legislatures in Minnesota and Wisconsin get the first crack at redistricting.
But the process is once again ending up in a familiar place — the courts.
In Wisconsin, with the exception of 2010, judges have been involved in the drawing of new lines for decades.
"When you have divided government, this happens every time … it will end up in the courts," says David Cannon, a professor of political science at the University of Wisconsin-Madison.
Court intervention of some kind has occurred in Minnesota after every Census since 1970.
But who in the judiciary does the map drawing?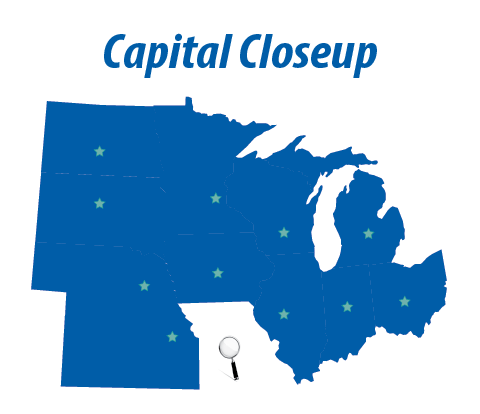 The answer to this question has shifted over time in Minnesota and Wisconsin. During this cycle, the two states' supreme courts have jurisdictional control, and they are handling the process in different ways.
Defer to the state courts
State, rather than federal, courts are in the driver's seat this time around, thanks in part to a dispute in Minnesota from 30 years ago.
In that state, it had been common for a federal district court to draw new political lines if the Legislature failed to do so.
But after the 1990 Census, Minnesota's then-deputy attorney general, John Tunheim, convinced the state Supreme Court to invoke its "inherent authority" to take over redistricting.
"He thought it would be preferable for state courts to get involved because, after all, redistricting is a state matter," says Peter Wattson, who worked as an attorney in the Minnesota Senate and is a self-described "retired, itinerant redistricting aficionado."
During the 1990 redistricting cycle, Minnesota's state court and a federal district court adopted separate plans, setting up a jurisdictional dispute that landed before the U.S. Supreme Court. In a unanimous 1993 decision (Growe v. Emison), the justices found that the federal district court had "erred in not deferring to the state court's efforts."
Since then, a now-familiar process has unfolded in Minnesota: gridlock over the new maps, jurisdictional control by the state Supreme Court, and appointment by the court of a special panel to handle the redistricting process.
This time around, that panel consists of two state appellate judges and three state district court judges.
A 'least-change approach'
The last time maps were court-drawn in Wisconsin, it was done by a panel of three federal judges — after Wisconsin's Supreme Court justices declined to get involved, noting in a 2002 decision that they had been asked to intervene too late and that work in the federal court already was well underway.
This cycle, though, the state Supreme Court was asked to claim jurisdiction much earlier in the process, and this time, the court agreed to take on redistricting.
In a 4-3 decision handed down in November, justices said they will employ a "minimum changes necessary" approach. Their rationale: The 2011 maps were drawn by the Legislature and upheld by a federal court, so anything beyond "minimum changes" would amount to imposing political policy choices from the bench.
Dissenting justices argued that adopting this "least-change approach" is an "inherently political choice" that favors a partisan map drawn 10 years ago over neutral redistricting criteria.
No special panel has been appointed to handle the redistricting process in Wisconsin. It's directly in the hands of the state Supreme Court.
Wattson says he prefers the panel approach in Minnesota for at least two reasons. One, it frees the state's top court from having to spend its time drawing maps. Two, it provides a clear appeal process: Individuals who oppose the panel-drawn maps can ask the Supreme Court to intervene. (Note: Wattson is party to one of the four proposed maps being considered by the five-judge panel.)
Regardless of approach, he believes courts produce less-gerrymandered maps than legislatures.
A study of different states' congressional maps from the last redistricting cycle by the Brennan Center for Justice ("Extreme Gerrymandering & the 2018 Midterm") seems to back him up.
Yurij Rudensky, an attorney with the center's Democracy Program who co-authored the report, says court-drawn maps are generally fairer because judges are further away from "self-interest in the outcome of the electoral process."
But this distance also means any court-run redistricting process needs to be open to public scrutiny, he adds.
"What's readily apparent when courts are drawn into the map-drawing task in the first instance is that the key is to be as transparent and inclusive of public input as possible," Rudensky says.
Capital Closeup is an ongoing series of articles focusing on institutional issues in state governments and legislatures.