In Midwest, states taking varying approaches on regulation of the cannabinoid delta-8
---
---
The federal farm bill of 2018 legalized hemp — cannabis with less than 0.3 percent delta-9 THC (tetrahydrocannabinol), its psychoactive high-producing ingredient — and reclassified it as no longer a controlled substance.
That opened an opportunity for hemp-derived products made with delta-8 — a less potent isomer of delta-9 — to be legally sold nationwide.
Within a year, delta-8 was common enough that Illinois Rep. Bob Morgan filed a bill to regulate production and labeling of products derived from the psychoactive substance.
After that bill failed to move, he refiled it in January 2021 as the "CBD Safety Act."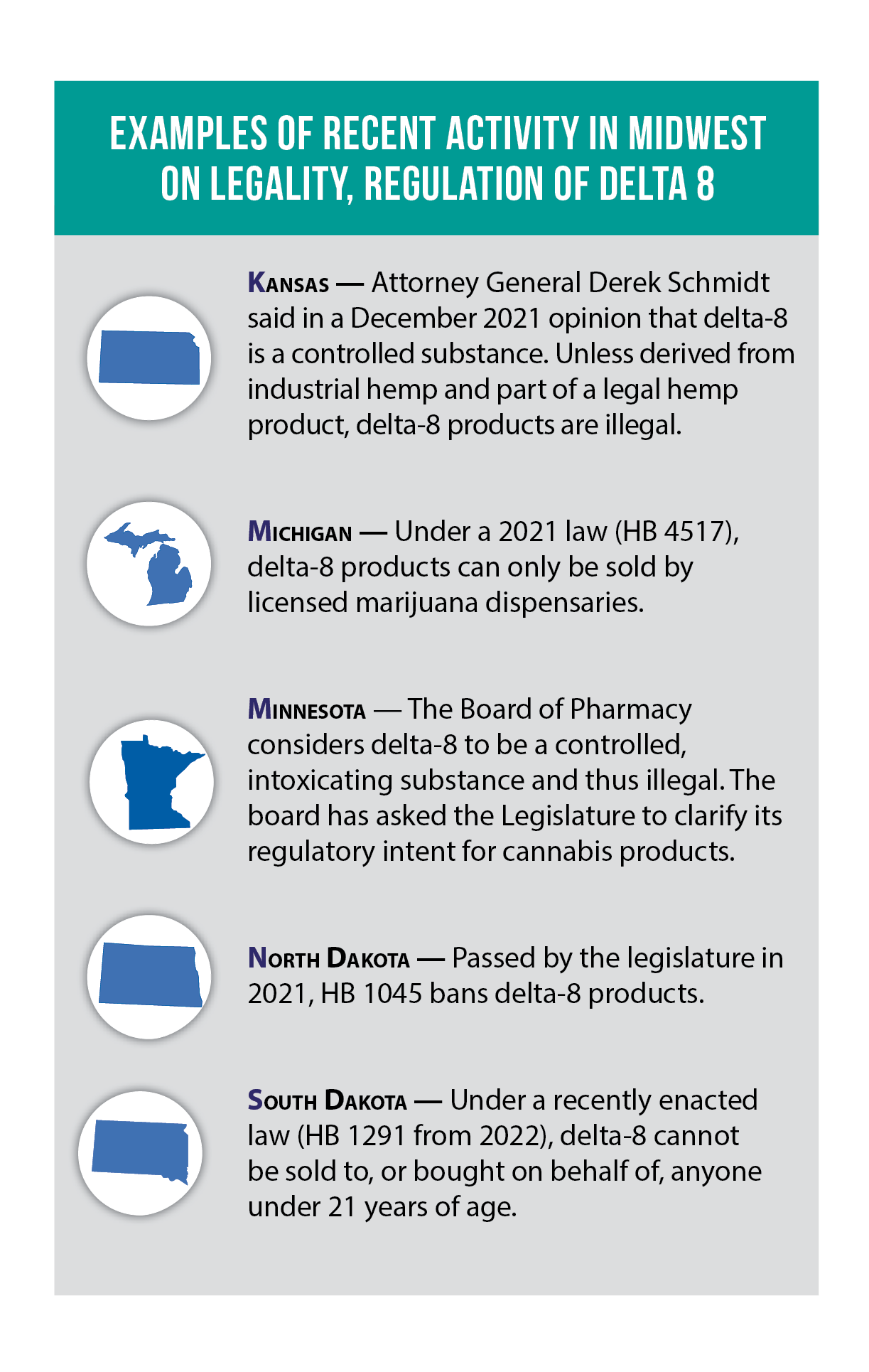 "Delta-8 wasn't as prevalent, wasn't as widely known or sold [a few years ago], but the market is evolving so quickly that legislation can't keep up," he says. "The debate now is, 'The market has grown so much, what do we want to do about it?' "
His bill, HB 147, would ban the sale or distribution of a cannabinol product unless it has labeling and packaging and has been tested in a laboratory, all under rules established by the Illinois Department of Agriculture.
"Constituents continue to see their teenagers buy psychoactive hemp products legally and wonder why that is so," he says.
Delta-8 advocates say its chemical properties make it less potent than regular THC, but the U.S. Food and Drug Administration says that is one of many unproven claims about the compound. The agency also warns that manufactured delta-8 products probably contain more of the substance than occurs naturally.
"Thus, historical use of cannabis cannot be relied upon in establishing a level of safety for these products in humans," the FDA says, adding that consumers should know delta-8 products have not been evaluated or approved by the agency.
Delta-8 products are legal and unregulated in many Midwestern states; only Iowa and North Dakota have outlawed it, although Kansas Attorney General Derek Schmidt issued a December 2021 opinion that delta-8 is illegal there.
Michigan lawmakers in 2021 restricted its sale to only licensed marijuana dispensaries (HB 4517), while South Dakota in early March enacted HB 1292, which bans the sale of delta-8 products to anyone
under the age of 21.
South Dakota Rep. Taylor Rehfeldt, the author of HB 1292, says an age limit is better than a complete ban on hemp or marijuana-derived products because of the state's medical marijuana program.
"I thought that was a little bit of a step too far. We needed to have some reasonable regulations in place," says Rehfeldt, a certified registered nurse anesthetist.
She considered bringing delta-8 under the medical marijuana program, but decided that could be unfair to its users who don't qualify for medical marijuana. "They're hemp-derived products, but they're not marijuana," Rehfeldt says.