From the capitol to the ballot: State legislatures in Midwest have put big policy decisions in voters' hands this year
Future of laws on abortion, term limits, collective bargaining and more at stake
---
---
Kansas: Do citizens have a right to an abortion?
"All men are possessed of equal and inalienable natural rights, among which are life, liberty, and the pursuit of happiness."
That language in the Kansas Constitution served as the basis of a state Supreme Court decision from 2019 declaring that women had a right to an abortion. Three years later, voters will have the final say. That's because Kansas lawmakers in 2021 decided to place on the ballot a legislatively referred constitutional amendment. In part, the measure states that the Kansas Constitution "does not create or secure a right to abortion."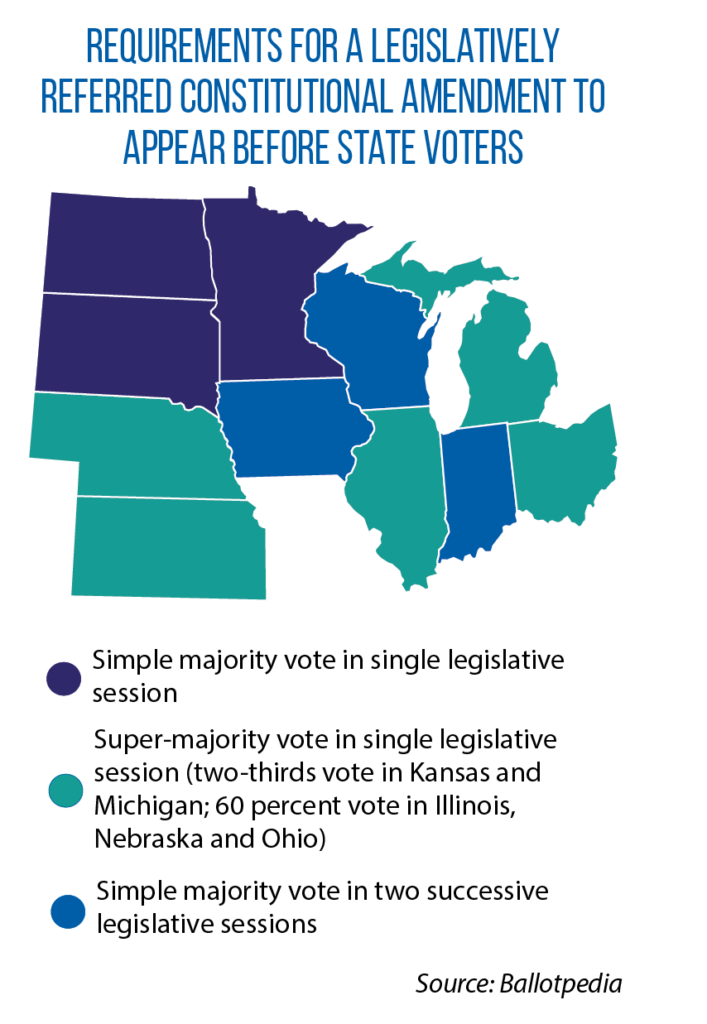 The statewide vote takes place Aug. 2.
According to the Center for Reproductive Rights, Kansas, Iowa and Minnesota are among 11 states where state supreme court decisions have recognized abortion rights. The legal rationale for these decisions has varied, the center says: a natural right to personal autonomy (Kansas), privacy (Minnesota), and equal protection (Iowa). Gov. Gretchen Whitmer requested earlier this year that the Michigan Supreme Court rule on whether residents have a right to an abortion.
Last year, Iowa legislators took a first step to getting a constitutional amendment on the ballot, passing a measure which states that abortion is not a guaranteed right. Another legislative vote is needed in 2023 or 2024 before the measure can be placed on the ballot.
Michigan: Time to amend law on legislative term limits?
One of four Midwestern states with legislative term limits (the result of constitutional amendments passed by voters between 1992 and 2000), Michigan is the region's only state with a lifetime cap on service in each chamber: three two-year terms in the House, and two four year-terms in the Senate. (Nebraska, Ohio and South Dakota have consecutive, not lifetime, limits.)
Voters will be asked in November to make a term-limits tweak. The lifetime cap would remain in place, with a maximum of 12 years of legislative service instead of 14. However, all 12 of those years could be spent in a single chamber. Under the current term-limits law, many members of the Michigan House are only in their first few years of legislative service. The Senate tends to have members with more legislative experience due to representatives seeking office in the upper chamber after being termed out in the House.
Michigan Senate Majority Leader Mike Shirkey says the change will allow members to "focus on issues that are important to the communities they represent rather than on their next career move." (The proposed constitutional amendment also includes new financial disclosure requirements for state elected officials.)
Iowa: Add a constitutional right to bear arms, with language on 'strict scrutiny'?
The "right to bear arms" already is enshrined in most state constitutions, according to the Second Amendment Foundation. The two exceptions in the Midwest are Iowa and Minnesota.
That would change in Iowa if voters agree to the Legislature's proposed constitutional amendment, which includes the following language: "The right of the people to keep and bear arms shall not be infringed. … Any and all restrictions of this right shall be subject to strict scrutiny."
The Giffords Law Center to Prevent Gun Violence says only three other states have included similar "strict scrutiny" language (none in the Midwest), which refers to the legal standard that judges must use when determining the constitutionality of laws that regulate or restrict gun use and ownership.
Illinois: Include a right to collective bargaining in the Constitution?
Illinois is one of three Midwestern states (Minnesota and Ohio are the others) without a"right to work" law, which bars employers and workers from entering into agreements that require union membership as a condition of employment. It may now be the first one in the region to include a constitutional right to collective bargaining.
The legislatively referred amendment also would ban any laws or ordinances with "right to work" language in them. It will be voted on in November.
According to Ballotpedia, at least three states outside the Midwest already have constitutional language guaranteeing a right to collective bargaining. In this region, "right to work" is part of three state constitutions: Kansas, Nebraska and South Dakota.
South Dakota: Raise bar for passage of ballot proposals with fiscal impact?
South Dakota is one of five Midwestern states with constitutional provisions allowing for a broad use of "direct democracy": proposed amendments or statutes can be voted on by the people without first receiving legislative approval.

But for certain ballot proposals, South Dakota legislators want to set a higher threshold for passage: approval of three-fifths of the votes cast (rather than a simple majority). This new requirement would apply to any measures or constitutional amendments that increase taxes or fees or that obligate the state to spend $10 million or more a year. This legislatively referred constitutional amendment is being voted on in June. A few months later, South Dakotans will vote on an amendment (not referred by the Legislature) calling for an expansion of the state's Medicaid program.
Nebraska: Give local governments more options to expand air travel?
A measure before Nebraska voters this fall aims to help local governments expand commercial passenger air service. Approved by state senators this year, the proposed constitutional amendment would open new revenue options for cities, counties and other public entities that own or operate airports. According to the legislative publication Unicameral Update, one such option is for airports to guarantee a minimum amount of revenue for commercial airlines during the first few months of expanded or new passenger services.