Minnesota gives consumers 'right to repair' digital electronic products with first-in-Midwest law
---
---
Minnesota has a new "right to repair" law that not only is the first of its kind in the Midwest, but has been hailed by national advocates as the most comprehensive measure in the nation. Included as a provision in one of the Minnesota Legislature's omnibus budget bills (SF 2744), the Digital Fair Repair Act aims to ensure that consumers can fix myriad digital electronic products without having to go through the original equipment manufacturer.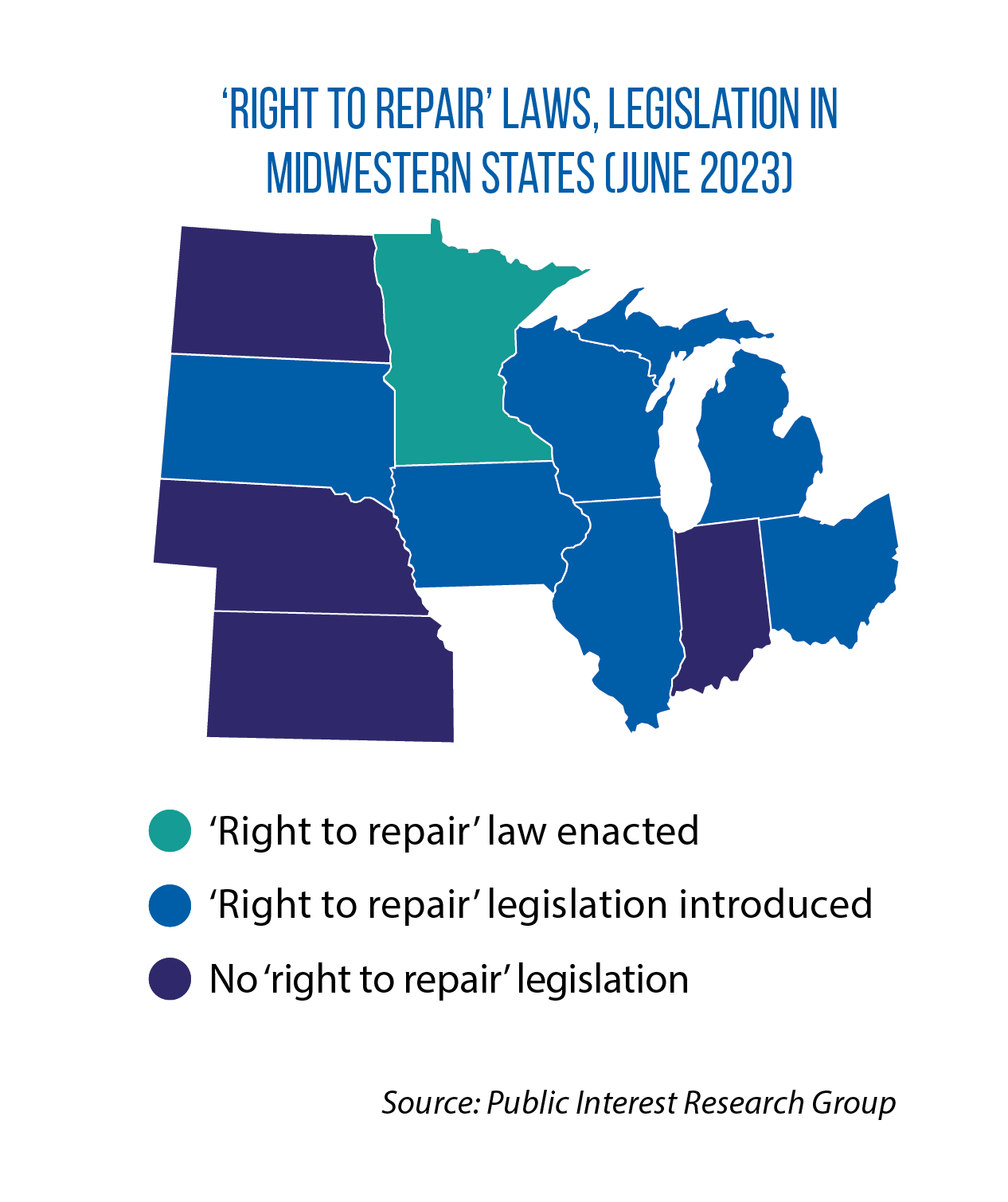 The new law covers almost all electronic products, including appliances, HVAC equipment and enterprise computing systems. Cars, medical devices, farm and construction equipment, video game consoles and home energy storage systems are exempt.
In opposing such bills, manufacturers have argued that broadening access could pose dangers to equipment and would-be repairers, as well as compromise device safety and/or security.
Over the past few years, right-to-repair legislation has been considered in state capitols across the country, but Minnesota became only the fourth U.S. state to enact such a measure, following Colorado, Massachusetts and New York. As of June, bills had been introduced this year in at least five other Midwestern states: Illinois (HB 3593), Iowa (HF 587), Michigan (HB 4562), Ohio (SB 73) and South Dakota (SB 194), according to the Public Interest Research Group.
State measures vary on what products are covered and what is exempted. For example, this year, Colorado became the first state to cover farm equipment in its right-to-repair law.
Led by Illinois Attorney General Kwame Raoul and Indiana Attorney General Todd Rokita, 27 state attorneys general co-signed a letter in March calling on the U.S. Congress to pass a trio of federal right-to-repair bills that would cover automobiles, agriculture equipment and digital electronic equipment. Attorneys general Dana Nessel of Michigan, Keith Ellison of Minnesota, Marty Jackley of South Dakota and Josh Kaul of Wisconsin also signed the letter.