Siting of wind, solar projects differs across region; new laws in Ohio, Illinois and Indiana employ varying approaches to state vs. local control
---
---
Across the Midwest, interest in new solar and wind projects is on the rise, but who should make the  decisions on approving or denying proposals to build them?
The policy choice on siting authority ultimately rests with state legislatures, which in this region have generally taken one of two approaches: 1) leave it to local governments; or 2) carve out a role for state review and decision-making, especially when it comes to larger wind or solar farms (see map).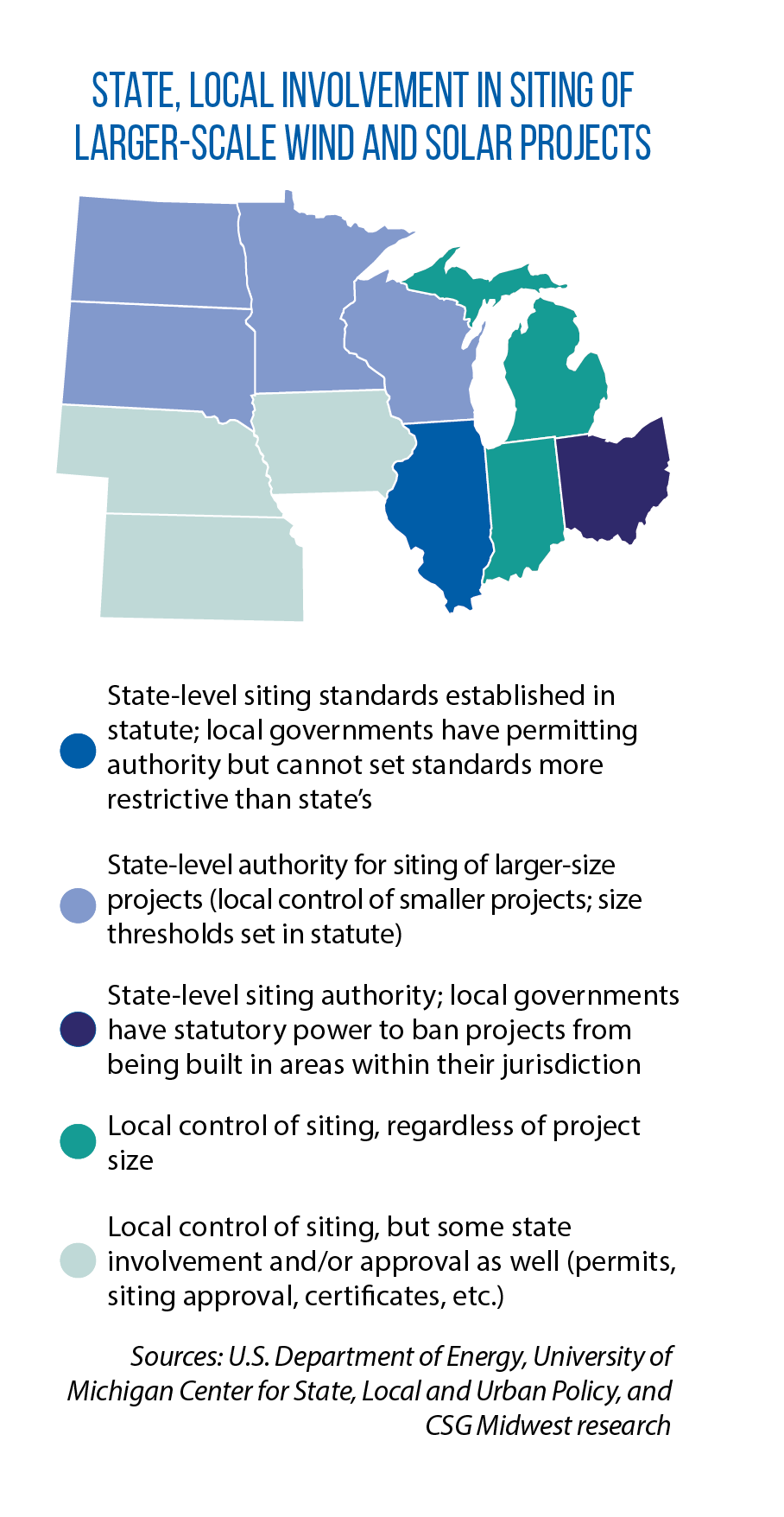 This question of state vs. local control has been getting a close look in state capitols. The result has been legislative proposals in many Midwestern states, and new laws in at least three: Ohio, Illinois and  Indiana.
A regional overview
States such as Indiana, Iowa, Kansas and Michigan leave siting decisions entirely or mostly with counties or other local jurisdictions.
In contrast, Minnesota, North Dakota, South Dakota and Wisconsin split siting authority in some way between state and local authorities based on a proposed project's size: larger projects fall under state jurisdiction while smaller ones are left to local authorities.
That threshold on when siting authority transfers from local to state control varies. For wind projects, for example, it is:
• 0.5 megawatts in North Dakota,
• 5 MW in Minnesota (though local authorities have the option to retain permitting authority as well for projects up to 25 MW in size); and
• 100 MW in Wisconsin.
In South Dakota, local jurisdictions have authority over facilities of less than 100 MW, but the Public Utility Commission must be notified for construction of facilities above 5 MW.
"There's a logic behind that," Brian Ross, vice president of renewable energy for the Minneapolis-based Great Plains Institute for Sustainable Development, says about this hybrid approach to siting. "When a project reaches a certain size, it has impacts that are regional in scope and should be considered  regionally."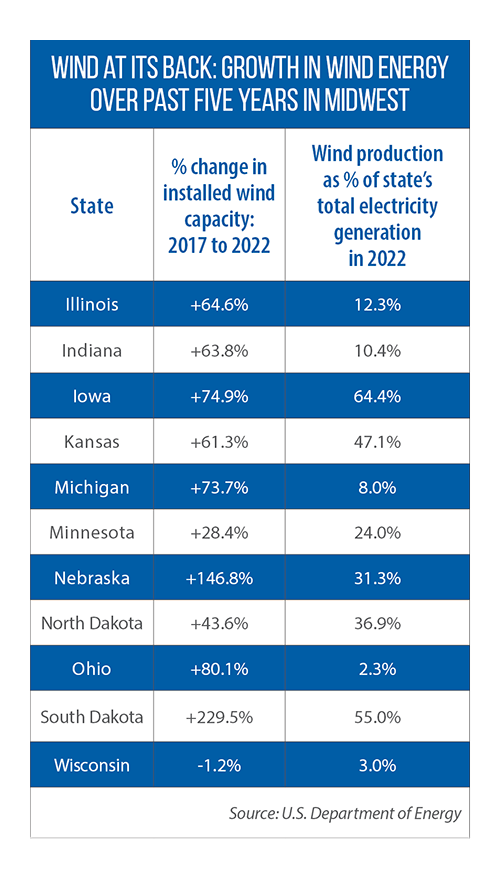 In most cases, he adds, state agencies are the ones big enough to have the expertise necessary to take that broader, regional view.
More local control in Ohio
In Ohio, the state's Power Siting Board has long had control over the siting decisions of major utility facilities. A 2021 law (SB 52), however, gave local authorities a much bigger say in the approval or rejection of wind and solar projects.
First, the county board president and township commissioner (or their designees) where a project has  been proposed now become ad hoc voting members of this board, which has seven standing, voting members and four non-voting legislative members.
Second, county boards can now designate any unincorporated areas within their jurisdiction as "restricted," meaning new wind or solar facilities cannot be built there. This designation also can be sought by local residents via a referendum.
Since passage of the law, several Ohio counties have used their new powers to ban large wind and solar projects.
A similar trend had been occurring in Illinois, but led to a much different response from the General Assembly.
Illinois: Binding standards
Before 2023, Illinois was among the Midwestern states that left siting decisions to local authorities. But after passage of the Climate & Equitable Jobs Act of 2021 (SB 2408), which sets a binding target of  having a carbon-free power sector by 2045, Sen. Bill Cunningham says legislators began seeing counties enact wind and solar siting regulations so strict they were de facto bans.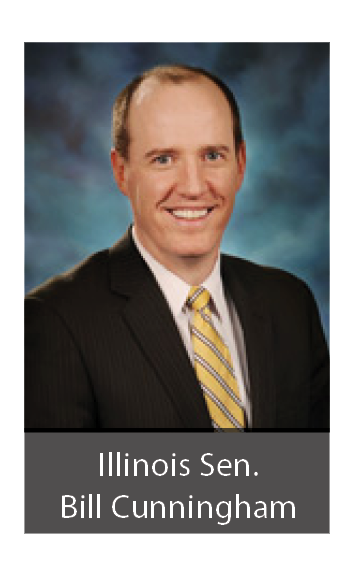 "There was a feeling that that was a violation of the intent of the [2021] law, and why state standards were necessary," he says.
Hence HB 4412, an amended bill that he sponsored and became law in early 2023. It establishes statewide siting, zoning and setback standards for commercial-size wind and solar projects.
For instance, setback distances for wind towers are set at 1.1 times the maximum blade tip height from public rights-of-way and property lines, and 2.1 times that height from schools, houses of worship, day care or community centers, libraries or residences on properties that are not part of the project. Setback distances for solar facilities are set at 50 feet.
Illinois' new law still allows county boards to vote on proposed projects, but bans county ordinances from being more restrictive than the state setback standards. It also requires counties with siting or zoning standards for wind and solar facilities to hold a public hearing within 45 days of a project application's submission for approval.
And another provision in the new law bars counties and municipalities from instituting outright bans.
Illinois' new hybrid approach is unusual among states, Ross says.
"It certainly removed a procedural barrier, but I would raise the point that there were 15 counties that had effectively banned renewable energy projects," he adds. "There were 90 counties that didn't, and they had their right stripped just like those 15 had."
Cunningham notes, though, that the 2021 law left it to counties to adopt reasonable standards for wind and solar. Most did just that, he says, and the new state-level standards embrace and reflect many of those recently set at the county level.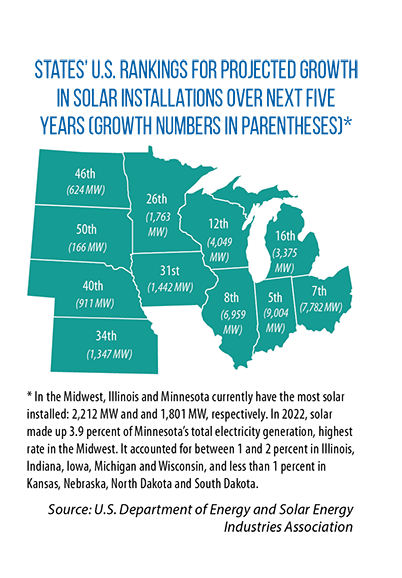 He believes the new law strikes a good balance — establish state standards but leave counties with the final say. That's different, he adds, from state standards for livestock containment facilities that remove all local control.
"We didn't want to go that far," Cunningham says.
Indiana: Voluntary Rules
Signed into law in 2022, Indiana's SB 411 sets out voluntary criteria covering common siting and zoning issues; for example, height restrictions, setback requirements, sound limits, drainage-related infrastructure repair, and steps for project decommissioning.
By adopting these standards, local jurisdictions receive the designation as "wind ready" and/or "solar ready" communities and can get technical assistance from the state.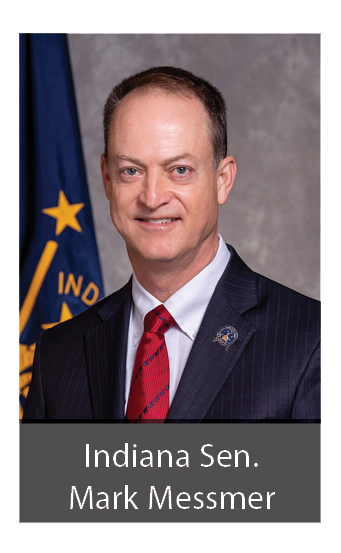 In 2023, legislators approved a follow-up measure (SB 390) that may provide future financial incentives ($1 per megawatt hour of electricity generated) to these wind- and solar-ready counties. SB 390 did not appropriate state dollars for the incentive fund, however; instead, federal grant money would be needed.
In a March 2023 press release, Indiana Sen. Mark Messmer, who authored both recent laws, said  communities are now able to "send a signal" to developers that they are interested in exploring wind or solar opportunities.
Ross notes Indiana's SB 411 was "a consensus piece of legislation" that retains local control. Bills in Indiana to establish mandatory standards have failed to advance.
"Which one of these processes [in the states] will result in more renewable energy development? We'll have to wait and see," Ross says.