One hallmark of the MLC Annual Meeting: It is family friendly, with many activities planned for attendees' guests of all ages. Learn about these activities below, as well as the special evening events at this year's meeting for attendees and their guests.
Sunday, July 9
6 to 9:45 p.m.
Youth Meet and Greet at Universal Nonstop
FOR CHILDREN AND TEENS
An evening dedicated to making new friends, eating yummy food and having too much fun! Universal Nonstop is all about nonstop entertainment, adventure and thrills! There will be games and activities for all ages — bowling, go-karts, laser tag, arcade games and so much more!
6:30 to 9:30 p.m.
Opening Night Reception at Detroit Institute of Arts
FOR ATTENDEES, SPOUSES AND OTHER ADULT GUESTS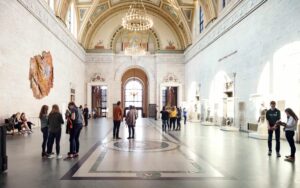 For the meeting's Opening Reception, we are excited to offer an exclusive, one-of-the-kind experience in the Great Hall and Grand Rivera Court of the Detroit Institute of Arts. Connect with fellow legislators and attendees while enjoying some of Detroit's most-celebrated cuisine and having the chance to stroll through three of the museum's most popular galleries: Impressionist, Modern and American.
Monday, July 10
9 a.m. to 3:30 p.m.
Riverboat Tour and Detroit's Outdoor Adventure Center
FOR CHILDREN AND TEENS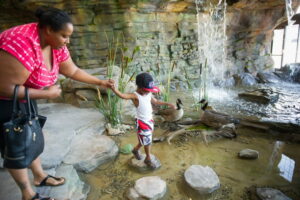 Start the morning with a cruise on the Detroit River and enjoy a picnic lunch at Riverfront Park. Then, head to the Outdoor Adventure Center for a taste of Michigan's great outdoors in the heart of the city. A combination of hands-on activities, exhibits and real-life simulators allows you to climb a tree, hop on an airplane, swim with the fish, and more. These experiences also will help show you how the Department of Natural Resources manages Michigan's forests, wildfires, fish and all things outdoors.
9:30 a.m. to 2:30 p.m.
Detroit History and Architecture Bus Tour and Lunch
FOR SPOUSES AND OTHER ADULT GUESTS
Enjoy exclusive insights into Detroit's new developments, historical gems, small-business and innovative projects, and more through the City Institute's bus tour. You will hear stories of the people, places and neighborhoods that make up Detroit and its diverse landscape. Reflect on your experience over lunch at Atwater Brewing, which overlooks the beautiful Detroit Riverwalk.
6:30 to 9:30 p.m.
Family Night at The Henry Ford Museum of American Innovation
FOR ALL AGES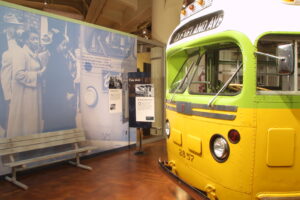 Be inspired by the icons of innovation while enjoying some of the best dinner, dessert and drinks that Detroit has to offer. Whether you're stepping inside the bus where Rosa Parks took a stand, admiring the Kennedy limousine or dancing under the wings of a historic DC-3, you will be inspired by the thousands of historical artifacts and national treasures — no matter your age.
Tuesday, July 11
9:00 a.m. to 3:30 p.m.
Explore and Picnic at Greenfield Village
FOR CHILDREN, TEENS, SPOUSES & GUESTS
Experience how America came to be through the village's 80 acres that encapsulate 300 years of American perseverance. Catch a ride in a Model-T, ride a real steam-powered locomotive, or walk through one of the many working farms. You will also be able to experience a picnic in the newly restored The Lodge!
5:30 to 10:30 p.m.
Youth Closing Event at Westin Book Cadillac
FOR CHILDREN AND TEENS
Come join us for a night of food and entertainment: dinner, sweet treats, movies and games.
5:30 to 6:30 p.m.
Ohio 2024 Reception
FOR ATTENDEES, SPOUSES AND OTHER ADULT GUESTS
The leaders and members of the Ohio General Assembly invite you to a reception highlighting plans for the MLC's 78th Annual Meeting, which will be held in Columbus next summer.
7 to 10 p.m.
State Dinner at The Eastern Market
FOR ATTENDEES, SPOUSES AND OTHER ADULT GUESTS
The Eastern Market has become a cornerstone in nourishing a healthier, wealthier and happier Detroit. It's the perfect venue to hold this year's State Dinner, especially considering this year's MLC Chair's Initiative on "Food Security: Feeding the Future." The evening at this historic, iconic Detroit venue will include food, drinks and some Michigan-inspired surprises!