Graduation rates rising, but states have long way to go to reach goals
---
---
The nation's high school graduation rates continue to rise, new federal data show, though progress has slowed on this achievement indicator — one of the fundamental ways that states will assess the performance of their schools, districts and overall K-12 systems under the U.S. Every Student Succeeds Act (ESSA).
In the Midwest, rates for the 2016-'17 school year ranged from a high of 91.0 percent in Iowa (tops in the nation) to a low of 80.2 percent in Michigan. Illinois, Kansas, Nebraska, North Dakota, Ohio and Wisconsin joined Iowa in exceeding the U.S. average of 84.6 percent, which was up half of a percentage point from the previous school year.
The U.S. graduation rate is nearly 10 percentage points higher than it was in 2008.
Monika Kincheloe, senior director of strategic initiatives and partnerships for America's Promise Alliance, cites at least two factors for this rise.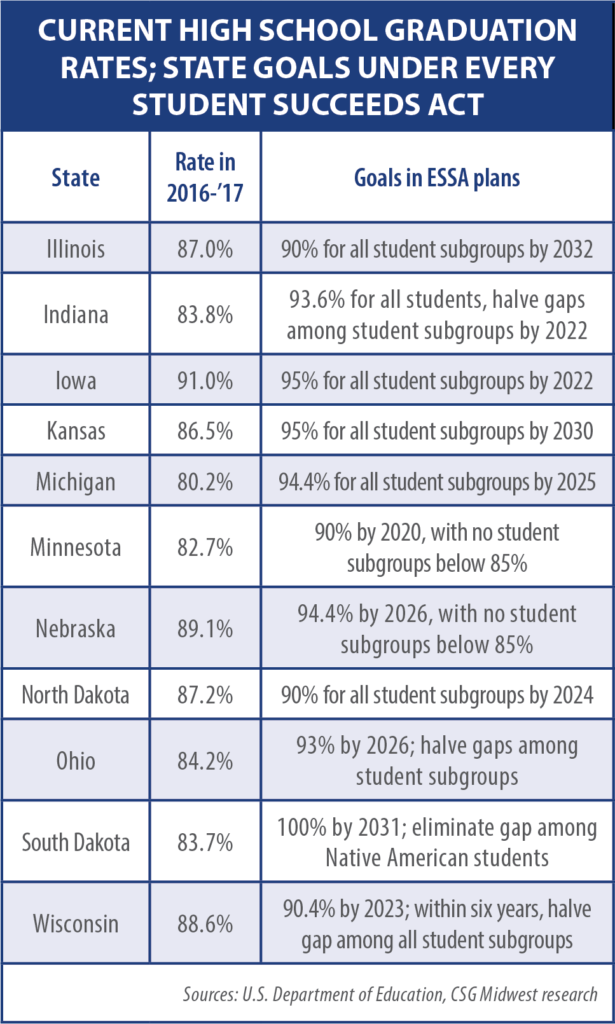 The first is the availability of better data. This, in turn, has led to the spread of various evidence-based strategies: changes in discipline to limit out-of-school suspensions, a greater focus on adolescent literacy, early intervention for students at risk of falling behind, and initiatives to address children's behavioral or social-emotional needs. Second, the school curriculum now has closer ties to college and career pathways, making it "much more engaging to young people," she says.
States still have a long way to go to reach their goals for high school graduation, however; ESSA plans in the Midwest call for overall rates of at least 90 percent, as well as a significant closing of achievement gaps (see table).
According to the latest U.S. Department of Education data, the gap in graduation rates between white and African American students is currently at least 10 percentage points in every Midwestern state, and more than 20 percentage points in Minnesota and Wisconsin. There also are 1,300 U.S. high schools where on-time graduation is a "50-50 proposition," according to a study released last fall as part of the GradNation campaign (an initiative of America's Promise and other groups). Five states in the Midwest — Illinois, Indiana, Michigan, Ohio and Wisconsin — had high concentrations of these "low graduation" schools.
Under the ESSA (the U.S. education law signed in late 2015), states must identify and provide support to high schools with graduation rates of 67 percent or less, as well as schools where certain subgroups of students are performing poorly. Unlike previous federal law, though, states are left to decide the policy responses, in terms of both how to help these struggling schools and to hold them accountable.
Kincheloe recommends that states focus on building new partnerships that address all of the barriers — including non-academic factors such as chronic absenteeism, economic instability and trauma — that can keep students from finishing school. "It's not just about the school; it's about the community as well," she says.