North Dakota, South Dakota laws reflect broader policy trend on labeling of 'meat substitutes'
In Europe, non-dairy products cannot have "dairy sounding" words such as "milk," "butter" and "cheese" in their names. In France, plant-based or cell-cultured products can't have animal-based labeling ("meat" or "sausage," for example). This year, the global debate over food products and labeling came to the Midwest and its state legislatures, with North Dakota and South Dakota adopting their own versions of "truth in meat labeling" laws.
"We wanted to keep the legislation very simple, to make sure that when a consumer purchases a product, they can clearly understand if it came from a carcass or a vat," South Dakota Sen. Gary Cammack says of SB 68, which was signed into law in March.
In South Dakota, a meat product already was defined as coming from the carcass of an animal. SB 68 added a few words to a section of state code on "misbranded foods"; the new statutory language makes it illegal to misrepresent a product as a meat food product, meat byproduct or poultry.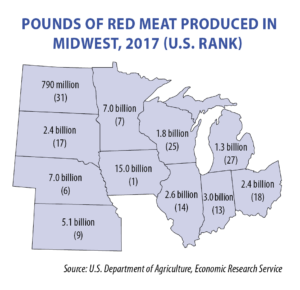 North Dakota legislators, meanwhile, made two changes in their state's existing law with HB 1400 — one to specify the definition of meat ("the edible flesh of an animal born and harvested for the purpose of human consumption"), the other to prohibit the "misrepresentation of cell cultured protein as [a] meat product."
"It is important that consumers have the information they need to make informed purchasing decisions," North Dakota Rep. Dennis Johnson says, "and that cell-cultured protein is not allowed to masquerade as something it is not."
Outside the Midwest, the Missouri Legislature passed a similar bill in 2018. The enacted measure soon became the subject of a lawsuit in federal court, with the American Civil Liberties Union and makers of plant-based meat substitutes arguing that the new labeling restrictions were an unconstitutional violation of free speech and the U.S. Commerce Clause. As of March, the Missouri attorney general and plaintiffs in the case were working on a tentative negotiated settlement.
Meanwhile, new "truth in meat labeling" measures have been introduced in close to 20 state legislatures this year, including Illinois, Indiana and Nebraska in the Midwest. The Arkansas Legislature recently passed HB 1407, a measure that restricts what can be labeled as a meat product and as a rice product.
Several years ago, policy questions about food labeling centered on the authority of states to require food manufacturers to alert consumers about the use of genetically modified ingredients. A Vermont law on GMO labeling was challenged in court, but before conclusion of the case, the U.S. Congress passed the National Bioengineered Food Disclosure Standard. This federal action preempted Vermont's labeling law.
New federal regulations also may ultimately determine how meat substitutes — whether from plants or cell cultures — are labeled. In March, the U.S. Department of Agriculture and U.S. Food and Drug Administration announced that they will jointly regulate cell-cultured food products from cell livestock and poultry. That includes how these products should be labeled. Johnson hopes North Dakota's HB 1400 "sends a strong message to Washington about the importance of developing an appropriate regulatory framework for lab-grown products that ensures there is a level playing field for other proteins and assures that food safety is not compromised."