Indiana wants bigger piece of nation's 'visitor spending pie,' revamps tourism office to make it happen
Two years ago, Indiana began taking a closer look at how it measures up to other states when it comes to tourism activity and promotion. The bottom-line finding for legislators: The state can do more, and can become a bigger player in the nation's $1 trillion travel-and-tourism industry.
Using the findings and recommendations of the task force that it created in 2017, Indiana legislators this year moved ahead with a restructuring of its tourism department, turning it into the kind of public-private corporation already in place in select other areas of state government (for example, economic development, housing and community development, and state museums and historic sites).
"Indiana is not getting the share of tourism compared to other states; this legislation will promote what our state has to offer," says Indiana Rep. Mike Karickhoff, whose restructuring bill (HB 1115) was signed into law in April.
Next year, the newly created Destination Development Corporation will replace the state's Office of Tourism Development. The corporation's seven-member governing board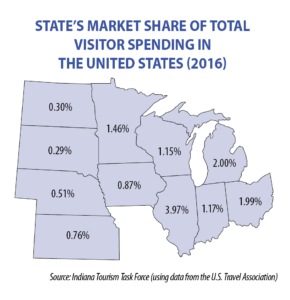 will be composed of the governor (or his or her designee), the president of the state's Indiana Economic Development Corporation (or his or her designated employee), and five private sector members representing tourism-related business interests.
"The focus [of the new corporation] will be driven by experts from the private sector," Karickhoff says. He notes, too, that the new governance structure will help the state secure private dollars in order to better promote Indiana tourism. (In its research on how Indiana compares to other states, the Tourism Task Force found that the state's funding of its tourism office was among the lowest in the nation.)
Indiana's tourism-related businesses and associations are supportive of this governance change, viewing it as an opportunity for greater collaboration and partnerships across the state. With popular destinations such as Dunes State Park and Indy 500, Indiana already has seen recent growth in tourism. According to the state's Office of Tourism Development, visitor spending hit record levels in 2017 — more than $12 billion, with an overall economic impact for the state of $9 billion.
Nationwide, domestic and international travelers to the United States spent more than $1 trillion last year. According to the U.S. Travel Association, the travel industry employed nearly 9 million workers across the nation in 2018. Federal, state and local tax revenues from tourism-related activity topped $170 billion.
California has the largest market share of total visitor spending in the United States (13.8 percent as of 2016), followed by Florida, New York and Texas. Indiana's share of the "visitor spending pie" in 2016 was 1.2 percent, according to a final report released by the state's Tourism Task Force.