Illinois requires health insurance policies to cover maternal mental health, postpartum depression
Health insurance policies in Illinois must cover maternal mental health issues, including postpartum depression, under a new law signed by Gov. J.B. Pritzker in August.
While Illinois' existing health insurance law talks about mental health coverage, it "didn't specify clearly enough for me" that pregnancy-related issues and postpartum depression should be included, says Rep. Mary Flowers, who sponsored HB 2438.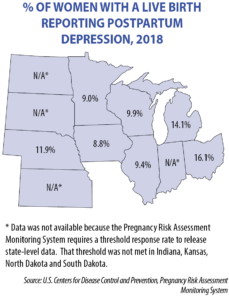 Flowers says the legislation came about due to a newspaper story about a new father who, after his wife had given birth, noticed she was acting strangely; when a doctor told him to wait for an examination until her next scheduled checkup, he didn't wait, but put her in a mental health facility — an act that saved her life.
Flowers says her bill drew language from a 2018 California law (AB 2193) that requires private and public health plans and health insurers to create maternal mental  health programs. It also requires obstetric providers to confirm that screening for maternal depression has occurred or to screen women directly, at least once during pregnancy or the postpartum period.
(A related Flowers-sponsored bill signed into law in August, HB 2895, requires the Illinois Department of Public Health to provide continuing education for staff working with pregnant or postpartum women, starting next year.)
"There is a huge gap in care for perinatal mental illness, and having a law like this makes a big difference," says Wendy Davis, executive director of Postpartum Support International, a 33-year-old organization working to increase public and professional awareness of postpartum depression.
Illinois is also the only state where postpartum depression is a reason to review criminal convictions.
"Illinois really just leads the way in [addressing] postpartum mental disorders," Davis says.
Other Midwestern states, though, have taken steps in recent years to address maternal mental health:
Indiana screens mothers in its Maternal, Infant, & Early Childhood Home Visiting Program.
Iowa's Bureau of Family Health maintains maternal health services including postpartum assessments of babies and mothers, either in clinics or at home, and the state's Perinatal Depression Project has also drawn applause from Postpartum Support International.
Minnesota requires hospitals to give all mothers information about postpartum depression and anxiety. The final report of the Governor's Task Force on Mental Health, issued in November 2016, recommended that the state increase options for postpartum mental health treatment or consider creating inpatient mother-baby postpartum units as in Canada, Australia, New Zealand, France, Belgium and the United Kingdom.