In Minnesota, tuition reciprocity reaches across international, as well as state, borders
---
---
If a Minnesota student wants to have the experience of attending college in another country, he or she doesn't have to go far — and the cost can be much less than the tuition paid at a public, in-state university. That is because Minnesota has a tuition-reciprocity agreement with its northern neighbor, the Canadian province of Manitoba.
Manitoba students take advantage of this program as well, paying the same tuition as a Minnesota resident would to attend one of the state's many public colleges or universities.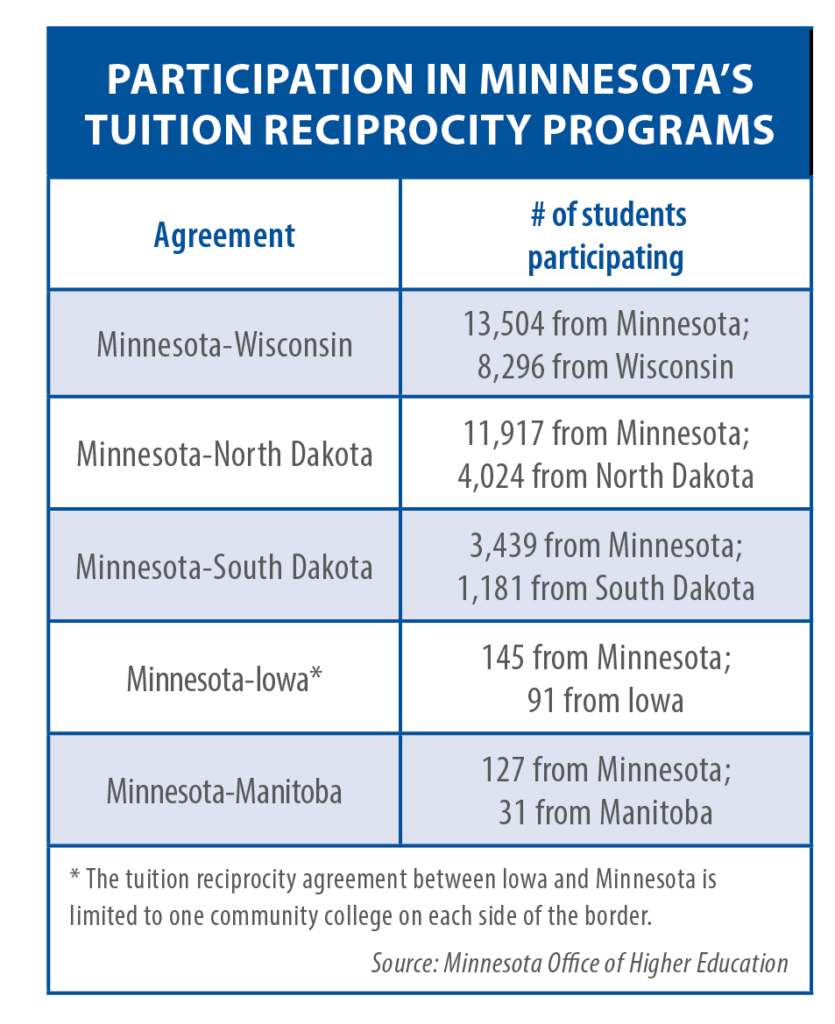 In place since 1989, the exchange program attracts a relatively small number of participants compared to Minnesota's reciprocity agreements with the neighboring states of North Dakota, South Dakota and Wisconsin (see table).
Under each of these agreements, Minnesota experiences a net outflow of students — for example, 127 left for a Manitoba school vs. 31 Manitobans who come to the state for school.
Sandy Connolly, director of communications for the Minnesota Office of Higher Education, says the exchange program gives the state's students more choices of schools that are relatively close to home, thus providing a better chance for them to attend a "best-fit institution."
Students in Minnesota paid an average tuition of just under $3,000 last year in Manitoba for an arts and sciences degree, a substantial savings over the approximately $15,000 tuition at the University of Minnesota-Twin Cities.
As a smaller province in population, Manitoba is able to give its students the chance to take advantage of programs at nearby Minnesota schools that may not be available to them in the province. State and provincial officials say, too, that this cross-border movement of students can enhance economic, cultural and educational ties between the two jurisdictions.
All of Minnesota's reciprocity agreements date back decades: Manitoba, 1989; South Dakota, 1978; North Dakota, 1975; and Wisconsin, 1969. The state also is part of the Midwest Student Exchange Program. Run by the Midwestern Higher Education Compact, this program allows in-state students to attend select universities in nine other states at a tuition rate equal to 150 percent of what in-state students pay.