Wisconsin working with counties on overhaul of where and how juveniles are housed, treated
Wisconsin remains on a path to dramatically overhaul its juvenile justice system, but to get to the finish line, the state may need to find more money than originally expected.
AB 953, a bipartisan bill passed in 2018, aims to keep most young offenders in smaller, regional facilities, rather than locked up in a larger, faraway youth prison in northern Wisconsin. That goal aligns with research on how to best rehabilitate young people, says Mary Jo Meyers, director of the Milwaukee County Department of Health and Human Services.
"Large, congregate youth prisons do not provide effective treatment or care for our youth involved in the system," she says, adding that "we can more effectively serve our youth in settings that are close to their families and communities."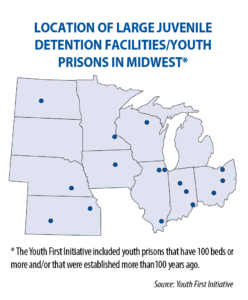 Only juveniles charged with the most serious crimes will be held in one or more newly built state-run detention centers, referred to as "Type 1" facilities. The state's existing youth prisons — Lincoln Hills School for Boys and Copper Lake School for Girls, both located in northern Wisconsin — must be closed. The Legislature's move to shut down these larger facilities came after revelations of juvenile offenders being abused and neglected.
Legislators appropriated $25 million for construction of new Type 1 facilities, $15 million to double the capacity of a mental health facility for juveniles in the state's capital city, and $40 million for counties to build new Secure Residential Care Centers for Children and Youth. The new two-year state budget increased that $40 million figure to $80 million, the Wisconsin State Journal reports, but it still might be enough.
Four of Wisconsin's largest counties (Brown, Dane, Milwaukee and Racine, which, combined, account for most of the state's juvenile commitments) have submitted plans to the Wisconsin Department of Corrections' Juvenile Corrections Grant Committee. Their initial proposals for construction of the Secure Residential Care Centers totaled $130 million. State officials then asked the counties to reduce their budget requests.
Milwaukee County's Department of Health and Human Services submitted its final proposal in September, asking for about $24 million, down from its initial $42 million request. Currently, 33 Milwaukee County juveniles are housed in the Lincoln Hills and Copper Lake locations.
Not only will a local Secure Residential Care Center keep these youth closer to home, Meyeres says, it will provide them with access to rehabilitative services and to "staff that is trained in trauma-informed care."
Milwaukee County's grant proposal reflects this commitment. Though the state law was designed primarily to fund local construction costs, the county included $2.9 million in its proposal for diversionary and post-incarceration transition programs.
"We felt it was important to highlight the community supports and programs necessary to reduce the overall caceral footprint," Meyers says. She cites, for example, the county's Project Rise project, which provides more educational opportunities, mental health services and job training for youths in the system.
The county is also changing the way it detains girls in the juvenile system. Instead of building more bed space for girls in its Secure Residential Care Center, the county will strive to place them in community-based residential facilities.