Pharmacy benefit managers coming under increasing state scrutiny, regulation
---
---
In their quest to bring prescription drug prices under control, many Midwestern states are looking at the role played by pharmacy benefit managers, the third-party administrators of many health plans' prescription drug programs.
The position (often abbreviated as PBM) is designed to leverage the aggregate purchasing power of health insurance policyholders by negotiating price discounts with pharmacies or prescription home-delivery services, and rebates from pharmaceutical manufacturers.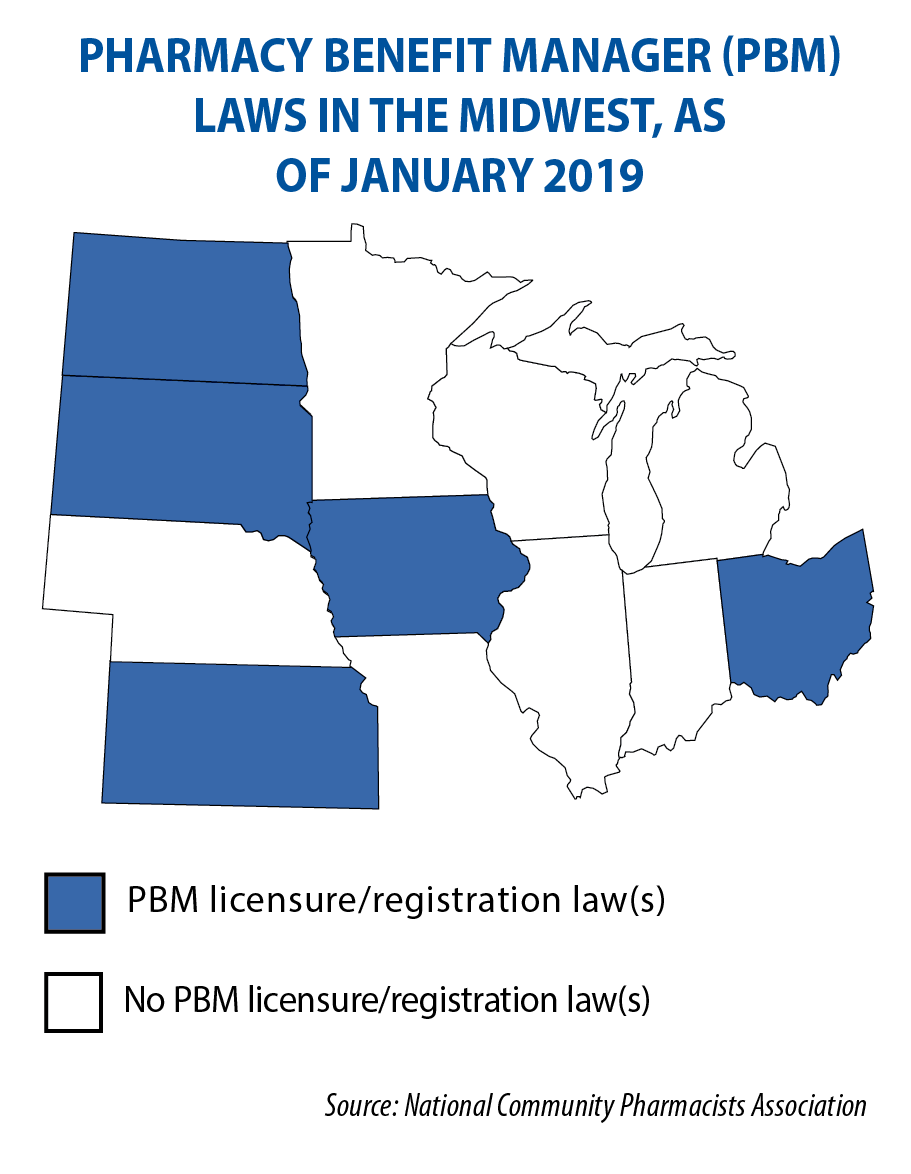 The Pharmaceutical Care Management Association, at its website, says PBMs are projected to save "employers, unions, government programs and consumers $654 billion — up to 30 percent — on drug benefit costs over the next decade."
To others, they're pricey middlemen cutting deals in secrecy and prohibiting insurance companies and pharmacies from discussing costs or reimbursements. The American Medical Association in June called for stronger oversight and transparency of PBMs.
In South Dakota, HB 1137 took effect in July. It limits the amount by which a pharmacy benefit manager can charge or adjust a payment. It also bars them from discriminating against pharmacies participating in health plans authorized to be in the federal Section 340B Drug Pricing Program.
Rep. Spencer Gosch, the law's prime sponsor, says it was the result of conversations he had on the campaign trail in 2016, during his first run for the Legislature.
"One of the biggest concerns we were running into was our small-town pharmacies, the mom-and-pop places. They didn't have a bargaining chip for dealing with PBMs; they were too small for that," he says.
The law, which was unanimously approved, reflects his belief that an upfront negotiated price is the price those pharmacies should pay. There was no industry opposition, which was a bit surprising, he adds.
"We're not out to 'get' anybody, we just want to fix some issues that we've been seeing," Gosch says.
Nebraska's LB 316, signed into law in April, prohibits pharmacy benefit managers from penalizing a pharmacy or pharmacist for sharing cost information with a consumer.
The state of Michigan is proposing to eliminate the use of Medicaid health plans' pharmacy benefit managers and instead use a fee-for-service model with a single PBM from the state (the comment period for this proposal closed on Nov. 4).
Michigan legislators, meanwhile, are considering HB 4155, under which PBMs would have to register with the state Department of Insurance and be required to submit an annual report with information on the rebates they negotiated with drug manufacturers.
Wisconsin legislators are considering SB 100 and AB 114, which would require PBMs to register with the state's insurance commissioner, submit annual transparency reports, and give the state insurance commissioner regulatory authority over them.