Capital Closeup | Wisconsin Assembly allows unlimited votes to override governor vetoes
---
---
In early October, Wisconsin's Assembly gave itself the ability to take an unlimited number of votes on overriding a gubernatorial veto of legislation. The 61-35 vote in October approving the change was strictly along party lines. Minority Leader Gordon Hintz told Wisconsin Public Radio that the move was a "power grab"; Assembly Majority Leader Jim Steineke said the change simply gives legislators more flexibility in reacting to changes in public opinion.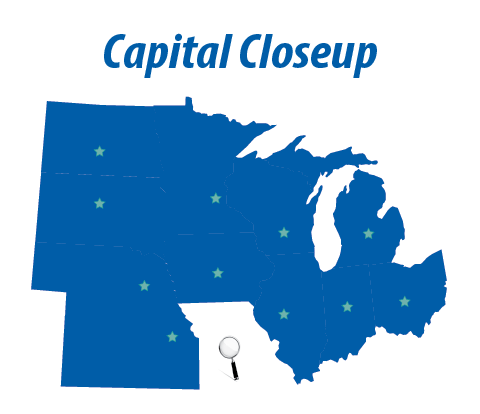 The governor can still veto any bill, he added, and the two-thirds majority vote requirement will still be in place. But the new rule allows reconsideration of a veto override to be taken "any number of times during the biennial legislative session on any floor day at which a quorum is present and at any time during a floor day," according to a Wisconsin Legislative Reference Bureau memo. Under previous rules, the Assembly could try only once to override a gubernatorial veto, the memo states.
"Mason's Manual of Legislative Procedure," to which most chambers turn for situations not governed by their own rules, allows legislatures to reconsider a veto-override vote. As the LRB's memo notes, Mason's asserts that "it is permissible to reconsider a vote refusing to pass a bill over the executive veto."
Setting partisan rancor aside, the Assembly's new rule appears to be unique among Midwestern legislative chambers in its explicit character; however, other chambers do allow multiple votes on veto overrides. For example, there are no limits in the Michigan Legislature, Legislative Council Administrator Jennifer Dettloff says.
The Illinois Senate can take as many shots at overriding a veto as it wants because motions to override are just that — motions, not legislation, says John Patterson, spokesman for Senate President John Cullerton.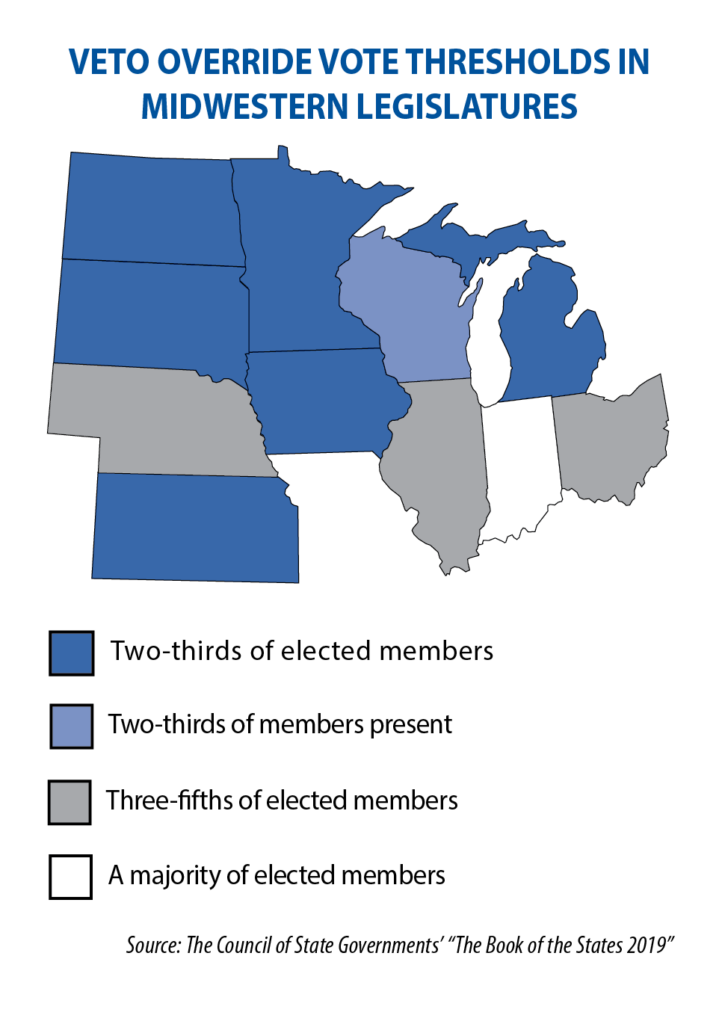 In the Illinois House, all votes have two chances, either via motions to reconsider or to concur, and a veto override would very likely be treated the same way, House Clerk John Hollman says. Motions can be introduced twice, but if they fail on the second try, they're dead, he adds.
North Dakota's legislative rules don't specifically limit the number of times a veto override may be voted upon, but do generally limit reconsideration of a measure to once during a legislative day, says John Bjornson, director of North Dakota's Legislative Council. Measures can be reconsidered on subsequent days, he adds.
Tim McDermott, director of the Iowa Legislative Services Agency's Legal Services Division, says both the state Constitution and the Legislature's Joint Rule 23, which governs the consideration of vetoes, are silent on the question of how many override votes may be taken.
While both chambers refer to Mason's Manual, McDermott notes the House adds a caveat: Mason's takes on procedure are only used "in all cases where they are not inconsistent with the standing rules of the house, joint rules of the house and senate, or customary practice of the house."
In Ohio, both House and Senate rules allow one override vote only, unless someone voting in the majority asks for reconsideration; this request must be made within two legislative days. House rules then allow for a reconsideration vote to be immediate or deferred to a later date, House Clerk Brad Young says.