New restrictions on vaping sales, advertising take effect in Saskatchewan
---
---
Under a Saskatchewan law that took effect in February, the province is restricting how vaping and e-cigarette devices are sold, displayed and marketed. Sales to people under the age of 18 are banned, and vaping-related products cannot be used in and around public buildings, including schools. In many ways,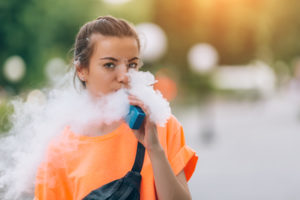 The Tobacco and Vapour Products Control Act builds on the restrictions already in place in Saskatchewan for tobacco products. Vaping and e-cigarette products cannot be advertised in areas where young people can enter, and they cannot be sold at amusement parks, arcades and theaters. The province is allowing the regulated sale of flavored tobacco and vapor products to adults.
Provincial health officials say many Canadian jurisdictions have similar restrictions in place. In the 11-state Midwest, the minimum legal sales age for e-cigarettes is 21 in Illinois and Ohio; 19 in Nebraska; and 18 in Indiana, Iowa, Kansas, Michigan, Minnesota, South Dakota and Wisconsin, according to the Public Health Law Center at Mitchell Hamline School of Law.