Ohio has new incentives for employers, colleges to help workers earn micro-credentials
---
---
With the governor's signing of HB 2 in early 2020, Ohio deepened its commitment to "upskilling" the state's workforce, a policy objective that lawmakers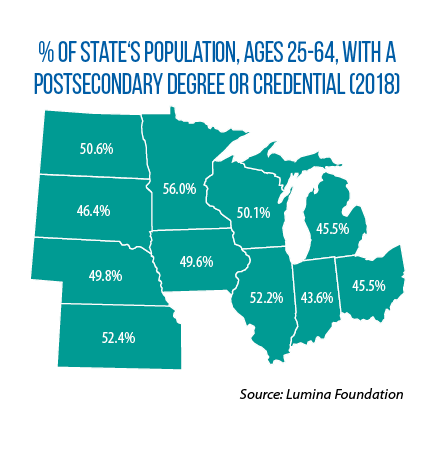 say will help employers fill high-demand jobs and prepare individuals for better-paying jobs. In part, the new law codifies TechCred, a state initiative launched in September that reimburses employers ($2,000 per worker) for the costs associated with a worker earning an industry-recognized, technology-focused credential.
One unique aspect of this reimbursement program is a requirement that workers be able to earn the credential in less than a year's time. This is known as "micro-credentialing," and Gov. Mike DeWine is hoping to have 10,000 Ohio workers complete micro degrees every year. Under HB 2, too, the state will establish the Individual Microcredential Assistance Program to reimburse postsecondary schools and others for training programs. To receive state funding, providers of this training must have a plan for reaching low-income, partially unemployed and unemployed individuals.
According to the Lumina Foundation, 45.5 percent of Ohioans between the ages of 25 and 64 had a postsecondary degree or credential as of 2018. Across the Midwest, the rates of working-age adults with this level of educational attainment have been on the rise, but still fall short of the attainment goals set by policymakers for their state workforces.