April 2020 Question of the Month | Breast cancer screenings
What have state legislatures in the Midwest done to improve access to diagnostic mammograms and other screenings?
---
---
Screening mammograms are used to check for breast cancer in women who have not yet shown any signs or symptoms of the disease. Diagnostic mammograms, on the other hand, are used when additional images are needed after the screening mammogram discovers possible indicators of breast cancer.
These indicators include lumps and dense breast tissue; the latter is an important indicator because women with extremely dense breasts are four to six times more likely to develop cancer than women with fatty breasts, according to Densebreast-info, Inc., an online educational resource. Additionally, it is often hard to detect cancer via routine screening mammograms in higher-density breasts, thus necessitating further tests.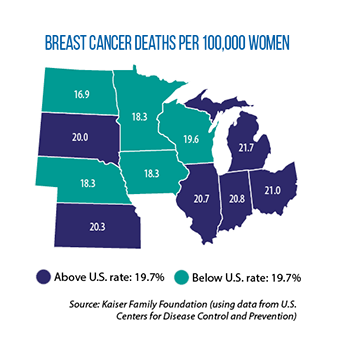 Beyond more in-depth X-ray diagnostic mammograms, other detection tests include ultrasounds (sonograms) and magnetic resonance imaging (MRIs). Since 2010, under the Affordable Care Act, insurance providers must cover screening mammograms once a year for women ages 40 to 74 with average risk for breast cancer, and once every two years for all other women. However, insurance providers are not required to cover diagnostic tests under federal law.
As of January 2020, 39 states — including Illinois, Indiana, Iowa, Michigan, Minnesota, Nebraska, Ohio, South Dakota and Wisconsin in the Midwest — had passed laws mandating that patients be notified about high breast density by either their screening facility or their physician. Often, these notifications must also include information on additional screening options.
A smaller number of U.S. states (nine) require insurers to cover the costs of supplemental diagnostic screenings, including Illinois and Indiana, according to Densebreast-info. Illinois' SB 162, signed into law last year, is considered one of the most far-reaching statutes of its kind in the country. Under the new law, when diagnostic mammograms, ultrasounds, and MRIs are deemed medically necessary by a medical professional, they must be covered by both private insurers and Medicaid. SB 162 also prohibits cost sharing, such as deductibles, coinsurance, copayments, etc., for medically necessary diagnostic mammograms.
Indiana's law, passed in 2013, asserts that health insurance (including the state's employee health plan) which provides coverage for basic health care services must provide coverage for appropriate medical screenings, exams or tests for female enrollees at least 40 years old who have been found to have high breast density.
Nebraska is among the states where legislation has been introduced this year to expand insurance requirements and improve patient access. LB 948 would require insurers to cover one baseline screening mammogram for women between 35 and 40 years of age, an annual screening mammogram for women 40 or older, and an annual screening digital breast tomosynthesis and diagnostic MRI for women 40 or older with increased risks of breast cancer. Other related bills in the Midwest this year include Iowa's SSB 3162 and Minnesota's HF 3088.
Question of the Month highlights an inquiry sent to the CSG Midwest Information Help Line, an information-request service for legislators and other state and provincial officials from the region.