Wisconsin schools' use of physical restraint, seclusion will get more state scrutiny under new law
---
---
Already one of the seven Midwestern states that limited schools' non-emergency use of physical restraints and seclusion on students, Wisconsin has a new law that further restricts these techniques, while also strengthening the rules on training, data collection and parental notification.
SB 527 was signed by Gov. Tony Evers in March.
"This is a pretty tough issue, and every time we take it on it takes a long time and many redrafts of the legislation," says Wisconsin Sen. Luther Olsen,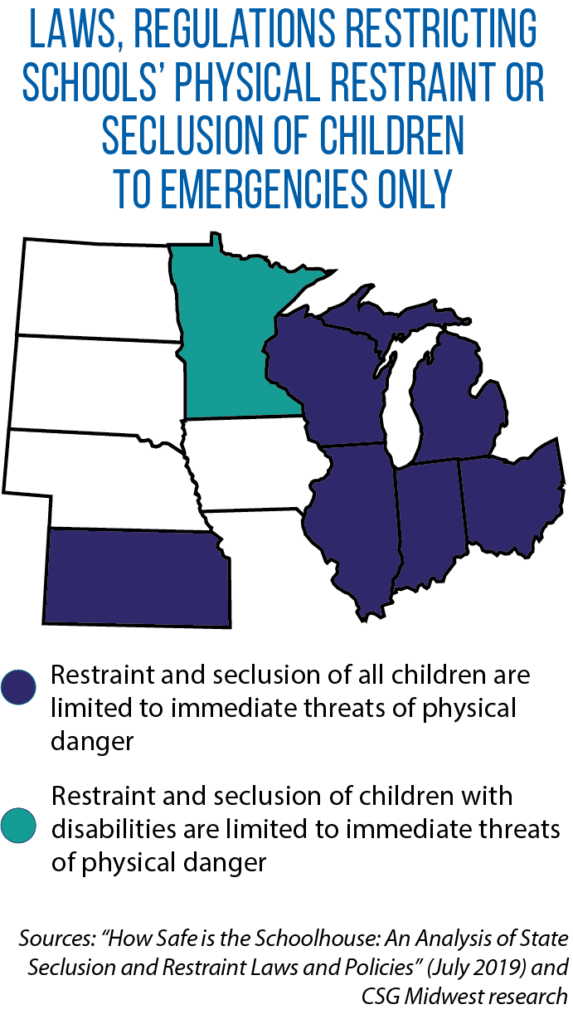 primary sponsor of SB 527, as well as the state's original law from 2012 on physical restraint and seclusion. "You have people coming from very different sides — advocates for students and children with disabilities, and advocates for schools. You want to get to a place where you're protecting everybody."
With the new law in place, the use of prone restraints (when the student is placed face down on a surface and physical pressure is then applied) is explicitly prohibited. In her 2019 national study of state laws, attorney Jessica Butler (the mother of a child with autism) found that 16 states already had explicit bans on prone restraint or techniques that impair breathing. That list of states included Iowa, Kansas, Michigan, Minnesota and Ohio.
And Wisconsin is not the only state in the Midwest with new policies since the release of Butler's study.
Illinois is aiming to phase out the use of prone restraint by next July, and the state Board of Education also has issued new rules and restrictions on when schools can physically restrain students in any way or put them in isolated seclusion. That state's actions came after a high-profile investigation last year by the Chicago Tribune and ProPublica. It documented more than 20,000 incidents of isolated seclusion over the past 15 months. Under existing state law, that practice is only permitted if a student poses a safety threat. But according to the investigation, in many cases, students were getting "isolated timeouts" for disobedience or refusing to do schoolwork.
There also was a push this year in Illinois to get new legislation passed. HB 3975 and SB 2315 would have outright banned the use of seclusion, and some lawmakers wanted an immediate end to the use of prone restraint. These measures did not pass.
Compared to their peers, students with disabilities are much more likely to be physically restrained or secluded by schools, according to a February 2019 report of the U.S. Government Accountability Office. For example, nationwide, more than 75 percent of the students physically restrained during the 2013-'14 school year had a disability of some kind.
Disability rights groups in Wisconsin advocated for the recent changes in that state. In addition to the new ban on prone restraint, Wisconsin will require its schools to report data on the use of restraint and seclusion to the state Department of Public Instruction. Schools also must convey a written report of a restraint/seclusion incident to parents, and a school's principal must meet with staff members to discuss ways to prevent future incidents.
"The real big thing is training on how to de-escalate," Olsen says, "and that's hard, because every student and every situation is different."
Under the new law, Wisconsin is modifying its training requirements. School staff must receive "evidence-based instruction" on positive behavior supports and interventions, as well as techniques that prevent or reduce the use of physical restraint. Olsen says the key to legislative passage was giving the two sides on the issue (advocates for schools and disability rights groups) time to work through their differences. "Let them have ownership and don't try to jam anything through," he says.
SB 527 ultimately had widespread, bipartisan support.
"It is critical that all students feel safe coming to school," says Sen. LaTonya Johnson, another legislative sponsor of the measure. "This legislation makes needed regulatory improvements to the way our schools use physical restraint and seclusion that I believe will result in a safer and more welcoming educational environment for all students.