South Dakota amends its siting laws to try untangling varying county special, conditional use zoning rules
---
---
In a series of roundtables that South Dakota Gov. Kristi Noem held with agriculture and energy groups, one issue that came up repeatedly was the need for consistency in the state's widely variable county special and conditional permitting processes.
Before SB 157 became law in March, county zoning rules in South Dakota varied from none to very restrictive.
Noem told a Senate State Affairs Committee hearing in February that it revises county planning and zoning laws in ways that will keep permitting "fair, open and honest" by creating "a more predictable process for businesses and families that want to create or expand agriculture or energy infrastructure."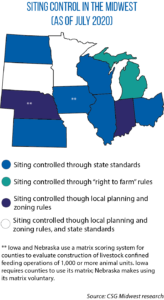 Since most livestock feeding operations in South Dakota are family owned and operated, streamlining the permitting process was one way her administration could help create a more welcoming environment for young people to get involved in agriculture, Noem says.
But the new rules also apply to a wider range of industries like wind farms, she adds. Opponents said it reduces county control.
The law clarifies that counties can establish a "special permitted use" to simplify the process that allows county boards to grant zoning permits for some uses based on a checklist of requirements, without holding public meetings — like cemeteries, small livestock facilities and greenhouses, for example.
It also states that a "conditional use" is any use that is not expressly permitted in a district and which needs county approval and a public hearing, and is subject to requirements that may differ from those imposed for uses permitted by right; projects like larger livestock confinement facilities or wind turbines, for example. The law also changes the vote to allow a conditional use permit from two-thirds to a simple majority of commissioners present at the meeting.
South Dakota Sen. Gary Cammack says the new law "is not about taking away local control," but adding state-enforced conformity to the process. The law also tightens the appeals process by restricting appeals to those who are "aggrieved persons," defined as "someone directly interested in the outcome [who] suffered or would suffer an actual injury" and limits those appeals to a 21-day window.
Appeals must be reviewed by a county's board of adjustment, which must hold at least one public meeting on the appeal. A two-thirds vote is now required to reverse the original zoning decision.
The new law also allows a court to award attorney's fees, costs, and even compensatory damages against appellants who lose their appeal.
Other states' rules on siting of livestock facilities
Proposed legislation on livestock feeding is not new, and few issues have taken up as much time in Midwestern legislative agriculture committees over the last two decades as the siting of livestock facilities. This has resulted in different approaches to the permitting process.
In 2002, Iowa adopted the first matrix scoring system to be used by counties in evaluating the construction of livestock confined feeding operations of more than 1,000 animal units (1,000 cattle, 2,500 hogs, or 125,000 broilers). Counties must decide annually whether to adopt the matrix and score any applications for facilities. If a facility does not pass the county review, then the Iowa Department of Natural Resources makes the final determination.
In 2017, the state approved additional legislation that allows for an affirmative defense and limits compensatory damages when an animal feeding operation is alleged to be a nuisance in a lawsuit.
Wisconsin's siting law from 2004 says that if local political divisions opt to require livestock farms to apply for a conditional use permit, they must have a common application and approval process. State standards provide oversight on local regulations regarding such items as the location of livestock facilities, odor and air emissions, nutrient management and manure waste storage facilities.
In 2016, Nebraska developed a voluntary matrix through LB 106 (of 2015), which states the matrix "may be used by county officials to determine whether to approve or disapprove" applications.