2020 MLC Chair's Initiative on Literacy
Cases challenge state school systems on grounds they deprived individuals of 'right to literacy'
---
---
In their federal lawsuit against the state of Michigan, seven students of Detroit's public schools told of buildings that were unsafe and of classrooms that were unfit for learning.
The smell of "dead vermin and black mold in hallways."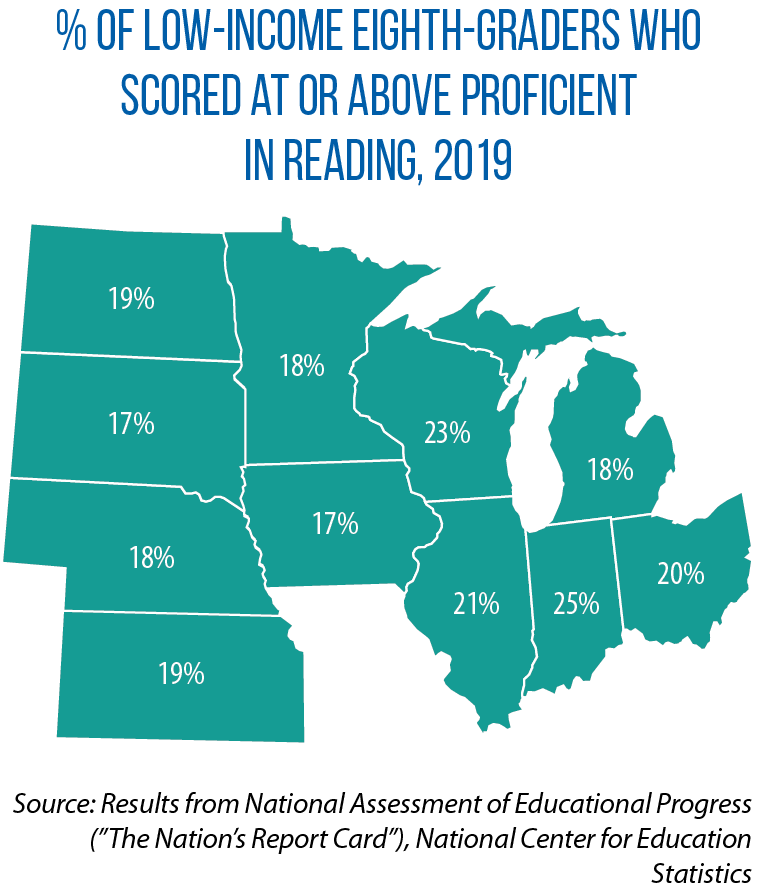 Teachers absent as many as 50 days a year.
Classes run by substitute teachers, paraprofessionals or even the students themselves.
Out-of-date textbooks having to be shared by multiple students.
Classroom temperatures exceeding 90 degrees, or freezing cold other times of the year.
"The basic thesis of the case was that these were schools in name only, and they were not capable of delivering even basic literacy instruction," says Mark Rosenbaum, director of Public Counsel, the largest pro bono law firm in the nation and an attorney for the student-plaintiffs. "As a result, the students were not being put in a position where they could better their circumstances or where they could be meaningful participants in a democracy."
The evidence in this case: A vast majority of students in these schools fell below proficiency on reading and math assessments. The legal argument: These students were being deprived of access to foundational literacy, a constitutional right under the Fourteenth Amendment. Earlier this year, a U.S. Court of Appeals agreed, overturning a decision at the district level that had sided with the state of Michigan.
"The role of basic literacy education within our broader constitutional framework suggests it is essential to the exercise of other fundamental rights," the U.S. Court of Appeals wrote in April in its 2-1 decision. "Most significantly, every meaningful interaction between a citizen and the state is predicated on a minimum level of literacy, meaning that access to literacy is necessary to access our political process."
Soon after the Court of Appeals ruling, Michigan Gov. Gretchen Whitmer reached a settlement with the plaintiffs (against the wishes of the state Legislature), agreeing to take the following actions:
Propose legislation during her first term that provides $94.4 million in literacy-related programs and initiatives for the Detroit Public School Community District.
Provide $280,000 for the student-plaintiffs to further their education or access a high-quality literacy program.
Bolster the advisory role of the state Department of Education in helping school districts implement evidence-based literacy strategies, with a focus on reducing class, racial and ethnic disparities.
Establish a Detroit Literacy Equity Task Force that will conduct yearly evaluations on literacy and provide state-level policy recommendations.
According to Rosenbaum, conditions in Detroit made it a clear choice to make the literacy-based challenge to substandard schools — the state had taken over the school system for an extended period of time, for example, and Detroit had the lowest literacy rate of any major U.S. school district. But he adds that "you could throw a dart at the map, and you'll find in any state a school district where you have enrollment with mostly students of color and low-income families having to address the same challenges."
Earlier this year, California settled a lawsuit brought by students, parents and advocacy groups. Unlike the lawsuit in Michigan, the California case centered on students' right to access to literacy under the state Constitution. As part of the settlement, California agreed to spend $50 million on evidence-based literacy instruction at the state's 75 lowest-performing elementary schools. It also will create a new statewide position to lead California's work on literacy instruction.
The Michigan and California lawsuits were the first right-to-literacy cases of their kind, Rosenbaum said, but won't be the last: "There are more of these cases coming."
The 2020 Midwestern Legislative Conference Chairman's Initiative of Michigan Sen. Ken Horn is on state policies related to literacy.