August 2020 Question of the Month | State certification of police officers
Do states certify police officers, and can certifications be removed for misconduct?
---
---
While not technically an occupational license, the certification of police officers is required in most states. The International Association of Directors of Law Enforcement Standards and Training defines certification as "the process by which law enforcement officers are licensed in their respective jurisdictions, establishing the satisfaction of selection, training and continuing performance standards."
In most states, police officer standards and training (POST) commissions establish these standards and carry out certification. They also are responsible for decertification.
Nearly all U.S. states, including all 11 in the Midwest, have existing statutory authority to certify or decertify, according to Roger Goldman, a law professor at Saint Louis University and leading researcher on this issue. (The states without such authority are California, Massachusetts, New Jersey and Rhode Island.)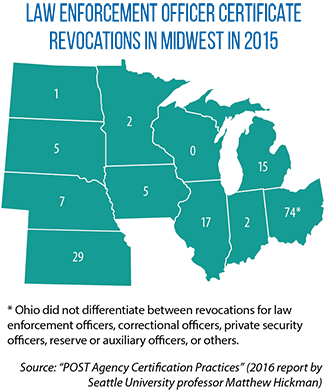 However, some states (including Indiana, Michigan, Nebraska, Ohio and Wisconsin in the Midwest) do not provide their POST commissions with the authority to administratively revoke the certifications of police officers for non-criminal misconduct. In addition, the use of decertification varies greatly state by state. For example, in a 2016 study, University of Seattle criminal justice professor Matthew Hickman found that Florida and Georgia alone accounted for well over half of the country's total revocations during the previous year. The 11 Midwestern states accounted for 8.6 percent of the country's revocations.
Furthermore, there is sometimes no guarantee that law enforcement agencies will report officer arrests, non-criminal misconduct or firings to the state POST commission.
A 2017 Michigan law requires law enforcement agencies to create a separation-of-service record when an officer resigns, and for agencies to obtain individuals' service records prior to hiring. However, this does not necessarily mean the hiring agencies cannot, or will not, hire officers who resigned because of past misconduct in another jurisdiction.
"There are many cases around the country where officers leave their departments because of misconduct and then they are rehired — sometimes knowingly, sometimes not — by other departments … That's why you absolutely need to have the states come in and prevent this sort of thing from happening," Goldman said in a 2017 interview with The Atlantic.
Ohio Gov. Mike DeWine, Illinois Gov. J.B. Pritzker, and Michigan Attorney General Dana Nessel have all recently called for legislative fixes to a system that allows for officers fired in one jurisdiction to be hired in another. In Illinois, Attorney General Kwame Raoul is calling for a new police-licensing system, similar to the way the state licenses doctors, lawyers, hairdressers, etc.
Meanwhile, one state that currently cannot decertify police officers is poised to enact one of the most far-reaching laws in the nation. Massachusetts' HB 4794 and SB 2800 would establish certification committees made up of half, if not all, community members.
Question of the Month highlights an inquiry sent to the CSG Midwest Information Help Line, an information-request service for legislators and other state and provincial officials from the region.