Pandemic slowed, but didn't stop legislative action on lead removal
States tighten testing, reporting requirements and await new updates to federal rules
---
---
The COVID-19 pandemic may have overshadowed other public health crises and slowed legislative action on them, but it hasn't completely stopped such progress.
On removing lead from drinking water, for example, several Midwestern state agencies and legislators took steps to require water system testing or to provide funding for lead testing and removal, or to provide a road map for future action.
Also about to happen: the U.S. Environmental Protection Agency is expected to finalize and release a major long-term revision to the federal Lead and Copper Rule, which sets the standards for regulating those two metals in the nation's drinking water.
Lead pipes have been staples of water distribution systems since the Roman Empire due to the metal's malleability — it can bend without breaking as the ground moves with freeze-and-thaw cycles, for example — but unless properly treated with anti-corrosive chemicals, the pipes can leach lead into the water supply.
Lead is poisonous in even trace amounts, especially in children. Among its known effects are diminished intellectual capacity and behavioral problems, and physical ailments from headaches abdominal pain and constipation to infertility.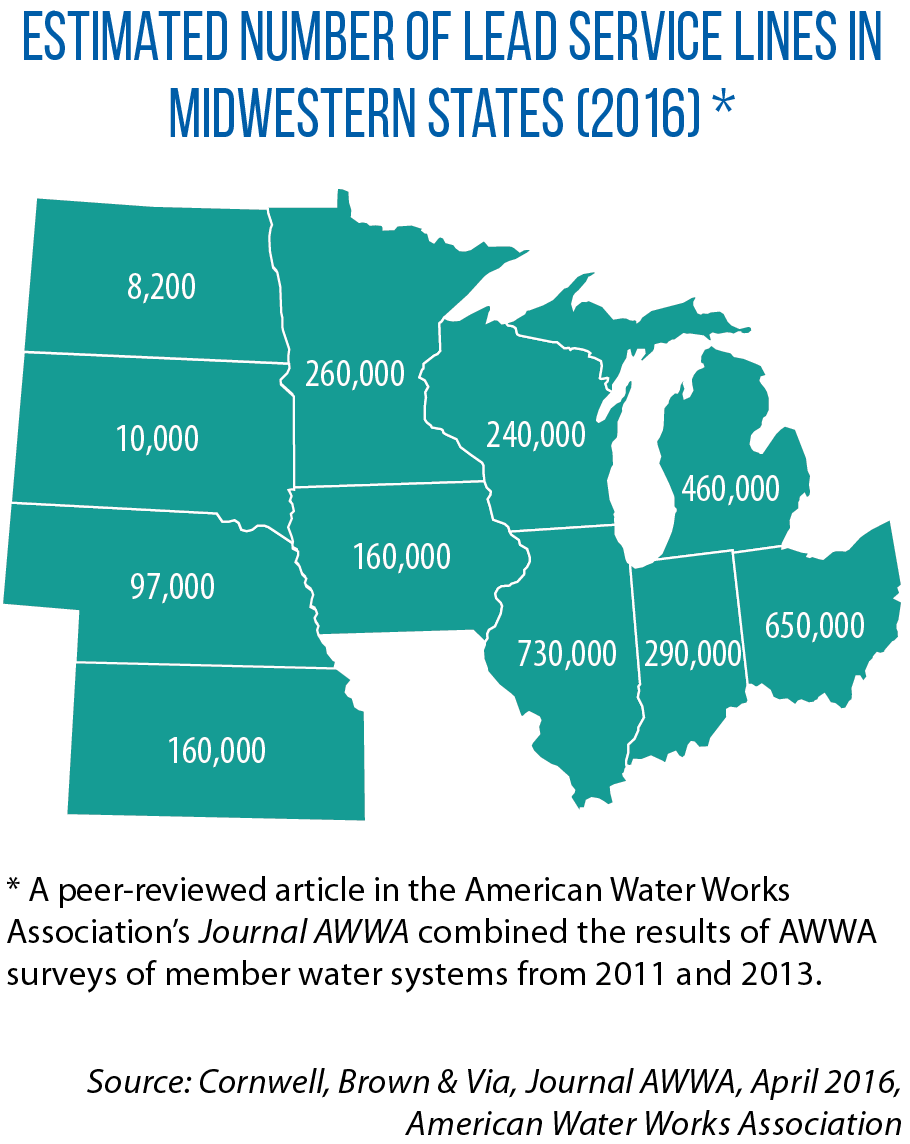 As the dangers of lead became widely known in the 1960s and 1970s, the metal was banned from gasoline and paint, but its use in pipes continued into the 1980s.
Chicago, for example, required lead service lines — the pipes leading from a water main to individual customers — until 1986. In the U.S., lead pipes are still plentiful, usually in older buildings and those service lines.
While some cities like Madison, Wis., and Lansing, Mich., were noted for removing all lead service lines in the 1990s and 2000s, the issue exploded into the national consciousness in 2014 when Flint, Mich., switched its water source from Lake Huron (via Detroit's water utility) to the Flint River and officials failed to apply proper anti-corrosion chemicals.
During the 2020 Annual Meeting of the Great Lakes-St. Lawrence Legislative Caucus — a binational, nonpartisan forum for legislators in the eight states and two provinces bordering the Great Lakes or St. Lawrence River that aims to protect, preserve and improve those bodies of water — Elin Botanzo, a civil engineer who helped expose the Flint water crisis, said states have to take the lead on removing lead from water systems because the rule "has not been very effective for removing those service lines."
Testing, removing lead
In the wake of the Flint scandal, Michigan revised its own Lead and Copper Rule and instituted a 20-year plan to remove lead service lines, requiring utilities to replace them at a rate of 5 percent per year, at their own expense, starting in 2021.
"That is a huge commitment, it's an expensive goal," says Michigan Sen. Curt VanderWall, a member of the Caucus's Task Force on Lead. (CSG Midwest provides staffing services to the Caucus.)
Michigan's new 2021 budget allocates $102 million toward replacing lead service lines in disadvantaged communities as part of the $500 million "MI Clean Water" program addressing water infrastructure and contamination cleanup.
The budget, passed by the Republican-controlled Legislature and signed by Democratic Gov. Gretchen Whitmer, also includes $2 million for a fund that will help low-to-moderate income homeowners and landlords get financing to reduce or eliminate residential lead hazards.
Lead removal is a topic of bipartisan agreement, VanderWall says, adding, "it's very much on our all of our minds and we know we have to do better."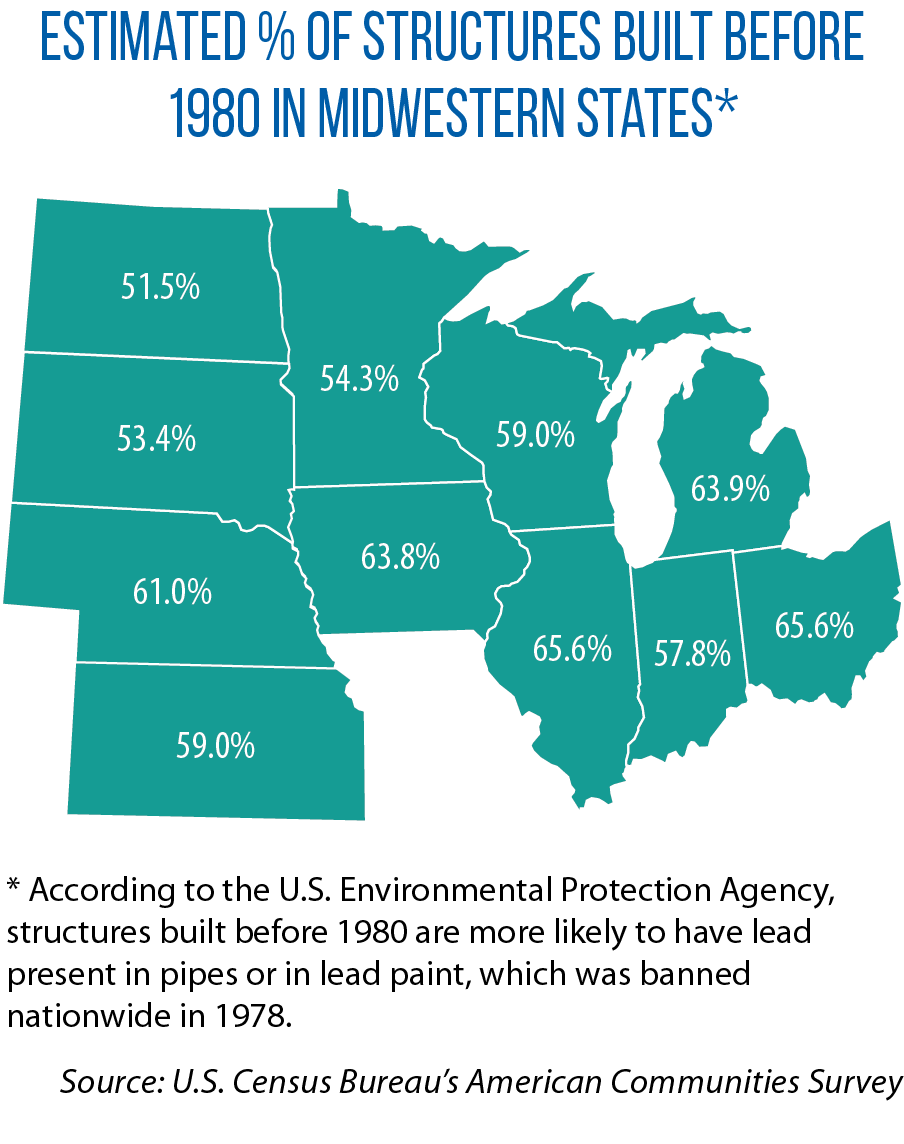 Indiana's HB 1265, signed in March, requires school districts in Lake County to test their buildings' drinking water for lead before 2023. There are exceptions for buildings that have already been tested by the Indiana Finance Authority since 2017, or that have been in compliance with federal drinking water standards since 2016.
The law also requires all school buildings to be tested once every two calendar years afterward; if lead is found above 15 ppb, action must be taken to bring it below that level. Districts also must seek state and federal money available for lead sampling or testing.
Minnesota's 2019 education omnibus bill (HF 1), signed by Gov. Tim Walz in May of that year, added charter schools to the state's lead testing and reporting requirements. Schools must create and publicly post findings and remediation plans, and then directly notify parents of results.
In February 2019, the Minnesota Department of Health released a cost-benefit analysis of lead service line replacement showing that a 20-year removal program would cost between $1.52 billion and $4.12 billion. But it found replacement would generate between $4.24 billion and $8.47 billion in health benefits stemming from enhanced brain development and lifetime productivity leading to higher earnings and taxes paid.
The report suggested potential strategies including:
• Conducting a statewide inventory of lead service lines and removing them at a steady pace (especially in conjunction with other construction to reduce costs).
• Increasing awareness of the dangers of lead exposure, particularly to formula-fed infants younger than 9 months old, and launching a general public information campaign.
• Conducting corrosion control studies and implementing optimized corrosion control.
• Creating partnerships between the Department of Health, community water systems and lead poisoning prevention programs that traditionally focus on paint-based hazards.
A model policy for lead removal?
The Great Lakes-St. Lawrence Legislative Caucus created the Task Force on Lead in 2018 as an ongoing effort to reduce lead in the region's drinking water quality. That panel released its final recommendations in September, calling for states to adopt lead action levels of 12 ppb or less generally and 5 ppb or less for schools and child-care centers.
Myriad other recommendations include steps to
• reduce exposure to lead in drinking water in schools, child-care centers and other facilities;
• promote standardized reporting of test results to central data systems to aid in measuring progress and conducting research;
• provide financial and technical assistance for testing drinking water;
• expedite the full replacement of lead service lines; and
• improve communication about lead in drinking water.
The model policy is an excellent resource for legislators in all states, says Illinois Rep. Robyn Gabel, the newly-elected GLLC Chair for 2021-22. The starting point, she says, should be protecting schools and child care facilities by requiring testing for and investigation of lead contamination, she says.
"I know it's hard to implement everything at once, but I hope they'll take a piece or two and run with it," she adds.
A major overhaul of the federal Lead and Copper Rule is about to take effect
The U.S. Environmental Protection Agency is finishing a major long-term revision to the federal Lead and Copper Rule, which sets standards for regulating those two metals in the nation's drinking water. First established in 1991, the rule has since been revised three times: in 2000, 2004 and 2007. The new revision will take effect 60 days after being published in the Federal Register; that is expected to happen this fall.
The rule currently requires water systems to test for lead at the tap in certain homes and sets a lead action level of 15 parts per billion (0.015 micrograms per liter). This means that if 10 percent of the samples from homes have lead or copper concentrations above the action levels, then the system must perform actions such as public education and replacement of lead service lines.
The proposed revisions maintain current action levels but require that "a more comprehensive approach" be taken by local water utilities. For example: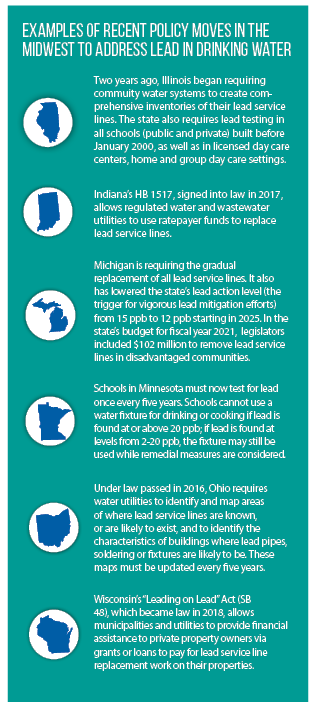 • Prepare or update an inventory of lead service lines, and "find and fix" causes of elevated lead levels. Currently, systems only must conduct inventories of their pipe material to identify enough sites for sampling tap water.
• Use corrosion control treatment. Such treatment will be required by all water systems if lead is found at or above 10 ppb. Currently, only systems serving more than 50,000 people are required to have corrosion control treatment in place.
• Replace lead service lines. Water systems will be required to replace their lines when a customer opts to replace the portion of the line that he or she owns. They would also be required to work with state officials to set an annual replacement goal if lead is found between 10 ppb and 15 ppb, or required to replace 3 percent of their known or potential lead service lines annually if lead is found above 15 ppb.
• Faster public notification of problems. Water systems will be required to notify the public within 24 hours of an action level being breached, make inventories public, and have regular contact with customer known to have lead service lines.
The new revisions also will require 20 percent of K-12 schools and licensed childcare facilities built before 2014 in a system's service area to be annually tested for lead.
The revisions will maintain the copper action level of 1,300 ppb (1.3 milligrams per liter).
Proposed legislation in U.S. Congress
Several bills have been introduced in the U.S. Congress to address concerns about lead in drinking water.
H.R. 3677 would lower the lead action level to 5 ppb by 2026, while H.R. 852 would require the U.S. EPA to establish a lead-contamination testing program for all schools. The latter measure would create a grant program to help school districts conduct lead testing and assist with remediation efforts. The replacement of lead service lines is included in bills (H.R. 4033 and S. 2466) that would invest $250 billion in water safety, affordability and sustainability.
Under a federal law passed last year, a state can use a portion of money from its Clean Water State Revolving Fund to address lead in drinking water. That authority, however, was only available for one year from the date it became law.
Policies in Canada on Lead
Canada regulates lead as a toxic substance under an environmental law passed more than 20 years ago. In March 2019, the Government of Canada lowered the national lead action level to 5 ppb; the previous level was 10 ppb.
Provinces decide whether to adopt the national standard or set their own. Alberta and Manitoba adopted the new standard while Saskatchewan and Ontario currently maintain the old 10 ppb level. Ontario MPP Jennifer French says the province's Drinking Water Advisory Council is studying whether to adopt the new standard, too.