Four takeaways from the November 2020 election results in the Midwest
---
---
1. Status quo: Incumbent governors win handily, no legislative chambers flip
One of the striking results of the November 2020 elections was how little changed at the state level, in terms of partisan control of legislatures and governors' offices. All nine incumbent U.S.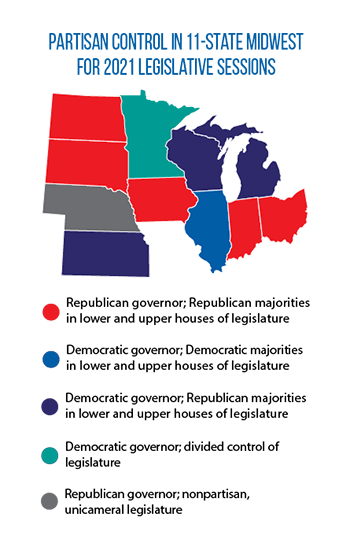 governors seeking re-election won their races, including Indiana Gov. Eric Holcomb and North Dakota Gov. Doug Burgum (both Republicans) in the Midwest. Burgum's margin of victory was the largest of any gubernatorial candidate in the nation this year; he received close to 70 percent of the vote in North Dakota.
Only two states in the Midwest had gubernatorial races this year, but control of 19 of the region's 20 partisan legislative chambers was at stake (there were no elections in the Michigan Senate).
Not a single chamber flipped. Democrats maintained control of the Illinois House and Senate as well as the Minnesota House. Republicans continue to have majorities (sometimes super-majorities) in all of the other partisan legislative chambers in the Midwest. Minnesota remains the only state in the nation with a divided partisan Legislature; Democrats control the House and Republicans the Senate.
2. Republicans will control redistricting in majority of Midwest's states
State legislative races held in the first year of a new decade go a long way toward determining which party will redraw the nation's political maps (U.S. congressional and state legislative districts). In the Midwest, the decennial redistricting process will be controlled by Democrats in Illinois and by Republicans in Indiana, Iowa, Kansas, Nebraska, North Dakota and South Dakota. (Though the Nebraska Unicameral Legislature is nonpartisan, a majority of the senators are Republican; the GOP also controls the governor's office.)
Minnesota's partisan divide will require some kind of agreement between the two parties for a redistricting map to pass the Legislature, while in Wisconsin, any plan passed by the GOP-controlled Legislature could be vetoed by Democratic Gov. Tony Evers. Two Midwestern states have new redistricting laws in place. Michigan's maps will be drawn for the first time by an independent, citizen-led commission. In Ohio, new rules and incentives strongly encourage the drawing of maps that receive bipartisan support in the General Assembly and/or among seven members of a Redistricting Commission: the governor, secretary of state, state auditor and four legislative representatives from both parties.
3. South Dakotans legalize marijuana; Illinois voters reject graduated income tax
This year's elections in the Midwest included ballot measures on marijuana, tax policy, payday lending and privacy. The results were mixed for supporters of these measures. South Dakota became the third state in this region to legalize the recreational use of marijuana, joining Illinois and Michigan. Fifty-four percent of South Dakota voters approved this constitutional amendment; an initiated measure to legalize medical marijuana won by an even greater margin (70 percent to 30 percent).
In Illinois, tens of millions of dollars were spent by supporters and opponents of a legislative-initiated constitutional amendment on tax policy. The proposal called for an end to a constitutional requirement that any state income tax be imposed at a flat rate. In advance of the election, the state General Assembly had passed a bill detailing its plans for implementing a graduated income tax. About 55 percent of voters, though, rejected the constitutional amendment. As a result, Illinois will remain among the three Midwestern states with a flat income tax; the others are Indiana and Michigan.
Other notable results from this year's ballot measures included:
Voter approval of a new cap in Nebraska on the annual interest rates that can be charged by payday lenders. The limit is 36 percent.
The addition of "electronic data" and "electronic communications" to a section of the Michigan Constitution that secures a person's "houses, papers and possessions" from unreasonable searches and seizures.
Voter rejection in North Dakota of a legislative-initiated proposal to change how the state's Constitution can be amended. As a result of the November vote, North Dakota remains one of five Midwestern states where voters have broad authority to change state constitutions without legislative input. This year's proposal would have required any voter-initiated and -approved constitutional amendment to go before the North Dakota Legislative Assembly. Lawmakers would then have had the chance to approve or reject the voter-approved amendment. Any amendment rejected by the Legislative Assembly would have not taken effect unless voters approved it a second time.
4. In unique election year, more voters turned out — and cast ballots in new ways
Voter turnout in all 11 Midwestern states increased significantly from four years ago, with rates in some states nearing 80 percent, according to an early analysis of state results. The U.S. Elections Project's data on turnout is based on the number of ballots counted vs. the total number of residents eligible to vote.
Using that measure, Minnesota's turnout rate was 79.9 percent, highest in the nation. Iowa, Wisconsin and Michigan were not far behind (see table). Nationwide, prior to Election Day, more than 100 million votes already had been cast, either through early in-person voting or by mail. The total number of early votes cast in 2020 equaled 73.6 percent of the total votes counted in 2016. Many states in the Midwest facilitated this historic change by sending vote-by-mail ballot applications to all eligible voters and/or by allowing residents to request ballots online.