States, tribes forging closer ties in advance of likely shipments of spent nuclear fuel through Midwest
---
---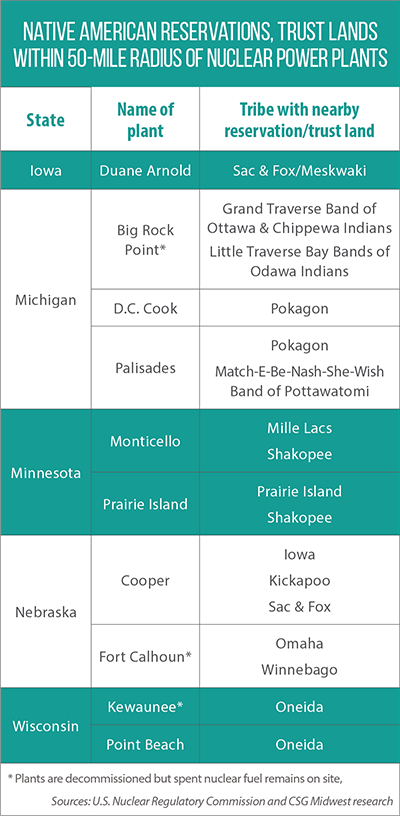 With two interim, private-sector storage facilities in New Mexico and Texas being considered for approval by the federal government, shipments of spent nuclear fuel could be leaving the Midwest's nuclear power plants in the next couple of years.
The safe transportation of this radioactive waste through the region is not just a high priority for states. These shipments will traverse through many tribal lands as well.
In advance of these potential new shipments, state and tribal leaders in the Midwest have been working to build stronger relations on issues such as preparedness, route selection and first-responder training.
This closer state-tribal partnership is being organized by a longstanding, multi-branch regional group of state legislators and other leaders: The Council of State Governments' Midwestern Radioactive Materials Transportation Committee (MRMTC).
In January 2019, under the leadership of then committee co-chair Greg Gothard, the MRMTC formed a special working group for states to improve outreach to the tribes.
Gothard works in the Michigan Department of Environment, Great Lakes and Energy, and in his state, three operating or decommissioned nuclear power plants are located near four Native American reservations and trust lands.
By working through a regional committee such as the MRMTC, he thought, it might be possible to overcome some of the challenges that states had encountered in the past regarding inter-jurisdictional cooperation.
For example, the Pokagon Band of Potawatomi Indians has land in Michigan and Indiana. Shipments departing Michigan-based power plants would affect Michigan, Indiana and the Pokagon Band one after another, if not simultaneously.
By working through the MRMTC, Gothard has been able to coordinate his outreach efforts to the Pokagon Band with his state counterpart in Indiana, Kaci Studer.
Gothard also has built relations within his own state. To start, he sought assistance from the Michigan Department of Environment, Great Lakes and Energy's tribal liaison (a similar position exists in many states). Then, once connected with the Michigan Tribal Environmental Group, Gothard gave presentations to the group about the transportation of radioactive materials and the status of Michigan's four nuclear plants.
"They wanted to know how the transporters of the waste and spent fuel are trained," he says.
As a result of Gothard's efforts, a representative of the Pokagon Band of Potawatomi has begun attending MRMTC meetings and joined the committee's work group. The MRMTC also hopes to begin working with the tribes on training and emergency-response exercises.
In the Midwest, seven nuclear power plants operate within 50 miles of Native American reservations and trust lands. In addition, three decommissioned nuclear power plants in the region still store spent nuclear fuel and are within 50 miles of Native American land (see table).
State governments routinely collaborate with local governments on emergency preparedness, but the relationship is different with Native American tribes. State and tribal leaders, though, can maintain their sovereignty while working together and learning from one another.
Part of relationship building is understanding the perspectives of others. To help members of the MRMTC learn about tribal history, customs and perspectives, the committee recently began opening its meetings by acknowledging tribal lands and nations.
This recognition of indigenous people as the traditional caretakes of the land seeks to pay respect, as well as increase awareness of history and the often-overlooks wisdom of Native Americans.