Capital Closeup | Not business as usual: COVID-19 protocols are in place in all of Midwest's legislatures for 2021 sessions
Rules vary widely from chamber to chamber
---
---
For a second calendar year, the nation's "laboratories of democracy" are having to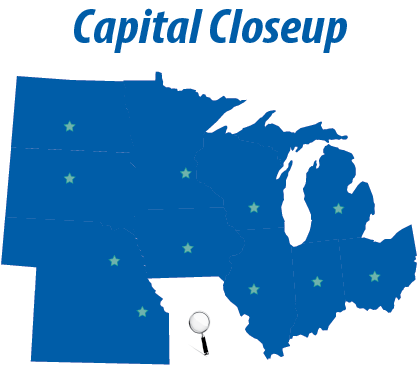 experiment with new ways of conducting legislative business amid the outbreak of a deadly infectious disease. The early results for 2021: a varied set of COVID-19-related rules and protocols in place for the start of session in the Midwest's 21 state legislative chambers; proposed new laws on how legislatures can meet during future outbreaks; and the implementation of technologies to ensure public access to the legislative process.
Here is an overview, based on a CSG Midwest review of legislative documents, discussions with legislative staff and news reports as of early January.
Minnesota House goes remote in 2021
At least for the start of the year, most legislative leaders in the Midwest chose to hold their sessions and committee meetings in person, in their respective state capitols. The Minnesota House is one notable exception. Session began there in early January with some members in the chamber, but most taking their oaths of office through Zoom, according to the online House publication Session Daily. For the entirety of the 2021 session, too, House leaders had procedures in place to allow for online legislating, including plans for all committee meetings to be held remotely. (The Minnesota Senate is employing a mix of in-person and online meetings.)
Prior to the COVID-19 pandemic, most states did not have specific laws spelling out when and how legislatures could meet remotely. States such as Minnesota have instead used changes in legislative rules. However, at the beginning of this year, bills were being introduced in some of the region's capitols to provide specific statutory authority.
A proposal in North Dakota (SB 2124) would allow the Legislative Assembly "to use any technology or electronic means available to conduct meetings and transact legislative business" when meeting in special session to "address a state of emergency or disaster."
Bills in Illinois (HB 5868 and SB 4030) outline a process for when and how the state General Assembly could conduct legislative business virtually — "in times of pestilence or an emergency resulting from a domestic or a foreign terrorist attack," and under rules that the House and Senate would be required to have in place.
"The intent of the legislation is to provide for the very rare circumstances where it is extremely dangerous or impossible to meet," says Illinois Rep. Ann Williams, sponsor of HB 5868. Wisconsin is one of the few U.S. states with a long-standing, comprehensive law on virtual legislating during publicly declared disasters. That law was used in 2020 to help plan and execute sessions in which legislators participated and voted on bills remotely.
Virtual option for individual members
In some Midwestern states, legislative leaders are holding in-person sessions while giving individual members the chance to participate virtually. That extends to voting on bills in states such as North Dakota, where new rules give "the same rights, privileges and duties" to members who are not "physically present." South Dakota's joint rules permit legislators to attend and vote remotely under certain circumstances and with the approval of leadership.
"Members of the Legislature have battled COVID themselves, had family members contract it, or been exposed to others who have had it," South Dakota Senate President Pro Tempore Lee Schoenbeck said prior to the start of session. "We know the situation in our state, and plan to do what we can to mitigate the spread. But we still understand that legislative business has to go on."
Late in 2020, Attorney General Derek Schmidt advised the Kansas Legislature that members should be "physically present" for votes in committee and on the floor. He based this advisory opinion on quorum rules and constitutional language requiring legislators to meet (which commonly means "come together," according to Schmidt) in the state capital.
"Bills passed by a procedure inconsistent with [these] requirements may be subject to challenge in court and will be invalidated if found constitutionally infirm," Schmidt wrote.
Mask requirements in some chambers
Kansas' legislative session began in January in person. According to the Topeka Capital-Journal, steps to mitigate the spread of COVID-19 in the state Capitol include having members of the House use the chamber's gallery to allow for social distancing and utilizing remote testimony on bills before legislative committees. Many other legislatures are employing these same strategies. Other protocols for 2021 include the installation of plexiglass barriers in committee rooms and on the chamber floor; new limits on the number of people in committee rooms; temperature checks for legislators, staff and the public; and COVID-19 testing.
In Indiana, the 100-member House moved its floor sessions to a larger government office building. It also started the year by holding only one floor session per week. (The House has typically met three times a week.)
Legislatures split on the question of whether to require the wearing of masks or simply encourage it, though the latter has been more common (see map). In some states, too, mask wearing is optional for members of the legislature, but mandatory for staff, visitors and/or the media. When Saskatchewan's new Legislative Assembly met for the first time in late 2020, members wore masks while in session. Plexiglass shields also were installed on members' desks.
Upgrades in technology in place
According to The Bismarck Tribune, North Dakota lawmakers used a portion of federal CARES Act dollars over the interim to improve public access to the legislative process — for example, technological upgrades to live-stream committee meetings and floor sessions and to allow remote testimony on bills. The Minnesota House expanded the number of committee meetings that can be live-streamed simultaneously (from two to five), with the goal of having "most, if not all, regular House activity … visible via webcast," according to Session Daily. In addition, to improve the functionality of remote legislating, the House is using a fingerprint authentication system. Each member was issued a fingerprint reader and had two fingers registered prior to session.
"Now, when a vote is taken, we use the fingerprint reader to verify who we are, and then vote online," says Minnesota Rep. Paul Anderson, noting that this change allows the chamber to bypass the cumbersome process of virtual roll-call voting. "When all the kinks get worked out, it should speed up the process of [online] voting," he added.
Capital Closeup is an ongoing series of articles focusing on institutional issues in state governments and legislatures.