Legislatures form new standing committees on mental health in 2021 to improve policy focus, outcomes
---
---
The one-two punch of the opioid crisis and COVID-19 has propelled mental and behavioral health to the top of state legislatures' agendas, so much so that new standing committees have been created in 2021 in the Illinois Senate and Ohio House.
They join extant committees in the Illinois House (Mental Health & Addiction) and Wisconsin Assembly (Mental Health), as well as the Minnesota House's Behavioral Health Policy Division.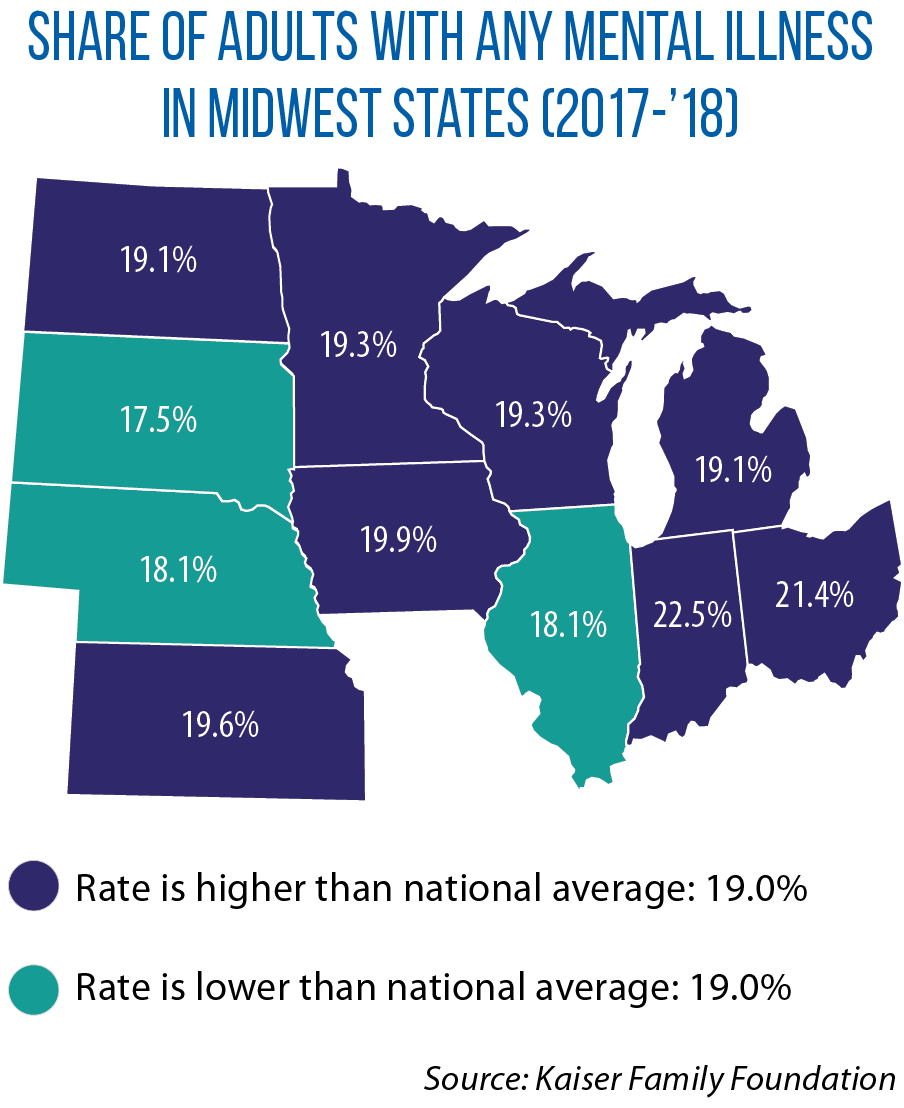 Proponents of separate mental/behavioral health committees say pushing that specific issue out of broader health committees gives legislators enough time for "deep dives" into a complex subject that defies quick and easy answers.
"A lot of times, HHS [committees] can get overwhelmed with a lot of things," says Ohio Rep. Sara Carruthers, noting that her chamber's health and human services committee handled 99 bills last session.
This year, she is serving as chair of the newly formed Ohio House Behavioral Health and Supports Committee.
"It's something we all knew was necessary because it's been necessary for quite some time," she says. "It's something we all knew was an issue and will be even bigger with COVID."
Illinois Sen. Laura Fine, chair of her chamber's new Behavioral and Mental Health Committee, agrees.
"Historically, mental health has gotten the short end of the stick, and we've seen the repercussions of that," she says, noting the effects on individuals and families, as well as costs to the state.
"This issue deserves its own committee. Everyone is impacted by mental health, whether that's yourself or someone in your family or a friend."
Pending the assigning of bills, Fine says the committee will begin its work by holding issue-oriented hearings on medical necessity — the question of medical providers, not insurers, determining a patient's course of treatment — and how to reduce the suicide rate in the Black community.
Indiana legislators chose a different approach to focusing more on behavioral health: instead of a new standing committee, they passed a bill in 2020 (SB 273) establishing a new commission to advise the General Assembly and make recommendations "on issues related to the overall improvement of the behavioral and mental health of Indiana residents."
The panel, which began meeting last year, includes a mix of legislators, directors of various state agencies, and experts in mental health.
It has been charged with preparing reports that address mental health system assessment and inventory, funding and data, services to youth and families, and system design and access.
Another common legislative strategy, in Indiana and elsewhere, has been to make mental health the subject of interim study committees.
"That's a good idea, but whenever you have a committee that big in terms of what it can study, as important as behavioral health is, you don't have a lot of time when you only meet four times a summer," says Stephen McCaffrey, the CEO of Mental Health America of Indiana and an inaugural member of the state's Behavioral Health Commission.
He adds that subjects such as mental health in schools have been gaining more and more attention during Indiana's regular sessions.
"The idea became, 'How can we find a forum to bring everybody together?' " McCaffrey says. "Hopefully it becomes a place where behavioral health issues that are difficult go for more study and in-depth discussion."
Jon Davis is CSG Midwest staff liaison to the Midwestern Legislative Conference Health & Human Services Committee.