New dates set for 2021 BILLD program; application deadline moved to May 14
BILLD News | March 2021
---
---
The Council of State Governments' Midwestern Legislative Conference has changed the dates of the 2021 Bowhay Institute for Legislative Leadership Development (BILLD) to Oct. 1-5.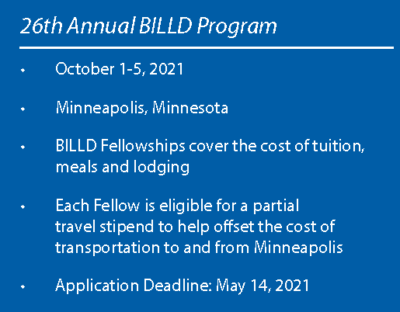 "With the ongoing challenges and uncertainties surrounding the COVID-19 pandemic, moving BILLD to later in the year helps ensure our ability to deliver an in-person program," says Indiana Rep. Holli Sullivan, chair of the BILLD Steering Committee.
"Not only will this help us to better protect the health and safety of our attendees, it also allows us to appropriately deliver the high caliber of training that
has become a hallmark of BILLD over the past two decades."
The 26th annual program will take place in Minneapolis, in partnership with the Center for the Study of Politics and Governance at the University of Minnesota's Humphrey School of Public Affairs.
Midwestern legislators interested in applying for a fellowship should be in their first four years of service. The deadline for submitting application materials is May 14. Thirty-nine fellowships will be awarded by the BILLD Steering Committee, a group of state and provincial legislators from the MLC's 12 member jurisdictions.
Fellowships cover the cost of attending the program; partial travel stipends are available to help offset travel expenses to and from Minneapolis.
The application can be accessed at here or by contacting CSG Midwest's BILLD program manager, Laura Tomaka: ltomaka@csg.org or 630-925-1922.