Financial support, liability shields are among ways states have tried to help businesses survive pandemic
---
---
Earlier this year, $216 million in state aid started going to some of Minnesota's hardest-hit businesses, the result of a bipartisan COVID-19 relief bill approved in late 2020.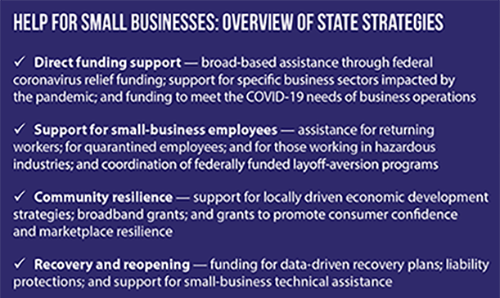 In Indiana, South Dakota and Wisconsin, pandemic-related liability protections were among the first bills passed in those states' legislatures in 2021.
Actions like these have been common across the Midwest (see sidebar article), with states trying to help businesses through an unprecedented year of economic disruptions and challenges.
"Our small businesses have made enormous sacrifices to their own bottom lines for the good of our state," Minnesota Gov. Tim Walz said after the December 2020 passage of his state's latest economic relief bill (HF45/SF31). As part of this $216 million package:
A total of $88 million in direct payments is going to businesses with revenue declines of 30 percent or more (bars, restaurants, breweries, bowling alleys and fitness centers all qualify).
More than $13 million in aid has been directed to Minnesota's convention centers and movie theaters.
Counties are getting $115 million for grants to local businesses and nonprofits.
In Ohio, Gov. Mike DeWine has proposed $1 billion in one-time expenditures for an "Investing in Ohio" initiative. It includes grants for bars and restaurants, the lodging industry and indoor entertainment venues; additional funds for an existing Small Business Relief Grant program; and money to help new businesses.
Indiana Gov. Eric Holcomb, meanwhile, prioritized another kind of relief this year: alleviating a "fear of frivolous lawsuits."
Legislators responded with the passage of SB 1, which gives businesses and individuals immunity from civil liability for damages if someone is exposed to COVID-19 on their property.
In Iowa, state officials are trying to help bring businesses back to life after they closed due to the pandemic by fast-tracking the process for reinstatement (a few days vs. several weeks).
"With reinstatement wait times significantly reduced, businesses can reopen their doors faster, which is good news for employers, employees and Iowans across the state," says Beth Townsend, director of Iowa Workforce Development.